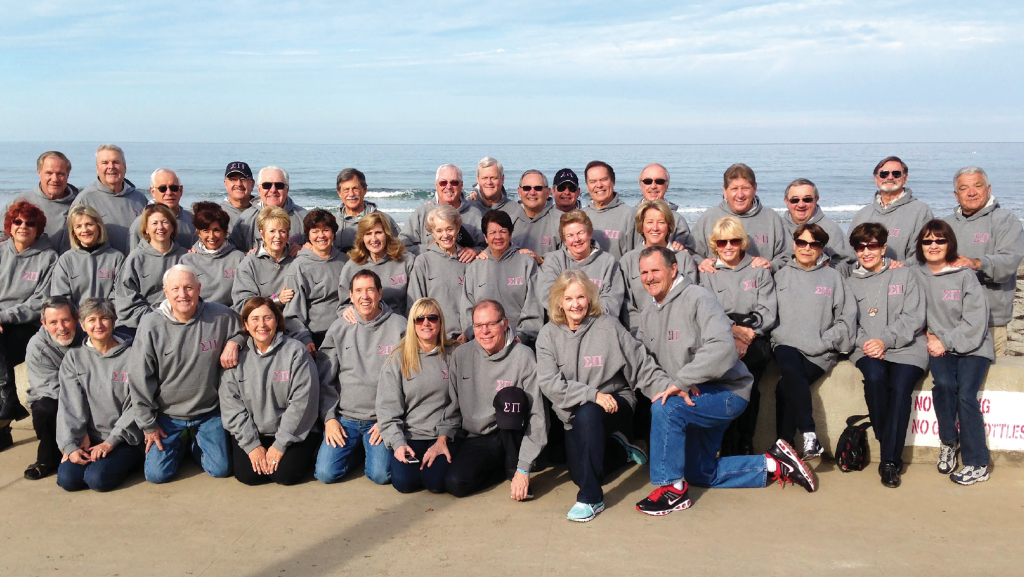 These brothers haven't stopped since their college days. They've gotten together every year for over half a century to celebrate their friendship and brotherhood. Nowadays, it is a year-end, black-tie, formal-only gala in commemoration of Orchid Ball memories as undergraduates.
How did this 50-year affair begin? After brother and professional dancer Bobby Burgess (BO, Cal State-Long Beach '63) – of Disney's original Mouseketeer Club fame – began regular appearances on the Lawrence Welk television show with live performances during each summer in South Lake Tahoe, a whim brought a small group of recent graduates together to cheer him on. Sitting in the front row for the Saturday night late show, they were more noticeably boisterous than the normal Welk crowd, much to the delight of the entertainers, including Welk himself. The tradition of getting together each year had begun.
After a decade of Tahoe shows, the venue changed to locations throughout California, Oregon, Arizona, and even Mexico. Each year finds the brothers and their ladies eager to see one another to catch up on new stories and events. The new millennium changed the venue yet again, by greeting this milestone when it arrived — New Year's Eve. And that is the way it has been ever since.
50-plus years of close friendship and fellowship seem more significant than accomplishment. Comprised of many professional pursuits – businessmen and executives, entrepreneurs, salesmen, entertainers, educators, political figures, attorneys, physicians and contractors – each experiences a deep connection from college days in Long Beach as a member of Sigma Pi Fraternity that has lasted throughout their adult life. Celebrating with a beach theme is a natural for this group, and retained for the past two year; first at the La Jolla Shores Hotel to bring in 2013, then at the Long Beach Hilton Hotel for 2014. Those events produced memories of volleyball, surfing, beach parties, boating, fishing, and coastal living while going to college at "The Beach."
After touring the local sites – most recently their alma mater and the old fraternity house where the current tenants were serenaded by the "old" voices – the big night arrives … kicked off by each brother marching in holding a life-size cutout of his graduation picture and a red rose for his lady.
After dinner? Why entertainment of course! This past year a floor show that included a dance by Bobby Burgess and a song by the Singin' Slicks, a group of brothers rejuvenated from the sixties.
Then, the New Year finally arrives and with it, a tradition that has become even more memorable with each passing year. The brothers form a circle to sing the Sigma Pi "Fireside Song", just like they did in college. The lyrics now mean even more to them with somber moments of reflection recalling brothers who have passed away. "… the circle changes with the years, the brothers come and disappear …".
After so many years, these brothers consider themselves fortunate to have joined Sigma Pi when they did, in the sixties, and that they continue to have a bond that has been lost by so many others. Fifty years of brotherhood – unique and quite extraordinary