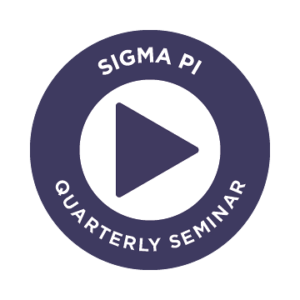 The Quarterly Seminar is a Virtual Program hosted by Sigma Pi every semester for all members that will contribute to the success of the chapter. This virtual program provides an opportunity for our members to connect between the Mid-Year Leadership Conference and the Back to School Summit where attendees will engage in topics pertinent to the success of their leadership, at that time, as they continue to expand their knowledge through conversation and networking.
For the March 2023 Quarterly Seminar, all sessions will be pre-recorded and made available below. Please click on the highlighted topics in order to view the recorded session links.
Quarterly Seminar – March 2023
Please complete the "Closing Survey" upon watching the sessions outlined below.
Presenters
We sincerely thank all of our speakers from the Quarterly Seminar!
Andrew Levey (UC Berkeley '84) – VP of Human Resources and Organizational Development, Community Partners-Los Angeles, CA
Jacob Camilleri (Saginaw Valley State '14) – Director of Affinity Engagement, Sigma Pi Fraternity
Greg Auteri (St. John's '20) – Past Chapter Sage, Iota-Tau
Chris Sharpe (Georgia '20) – Current Chapter Sage, Alpha-Phi
Alexander Pettigrew (Indiana of Pennsylvania '15) – Director of Programs, Sigma Pi Fraternity
Brett Bruner (Central Missouri '07) – Assistant Vice President for Student Affairs & Enrollment Management/Dean of Students at Missouri Western
Presentation Information
Transitioning Beyond Your Undergraduate Experience

This session provides an opportunity where attendees will be better prepared when it comes to career readiness. As members of Sigma Pi move closer to graduating they will be able to pull away tips and best practices from this session on interviewing and job seeking

Maximizing the Alumni/Volunteer Experience

Attendees will have the opportunity to further understand the importance of the alumni/volunteer role and how to maximize that experience. Attendees joining this session will learn more about ways to engage alumni and how to enhance the volunteer base of the chapter itself

Service and Philanthropy in Your Community

During this session attendees will walk through William J. Cutbirth, Jr. Award winning chapters in Philanthropy and Community Service. Attendees will leave this session with a greater wealth of knowledge in opportunities they can look to emulate in terms of running successful service events on their own campuses

Enhancing Relationship on Your Campus

Attendees will have the opportunity to delve deeper into the significance of maximizing connections on their respective campuses. With Brett's experience in Greek Life and higher education, attendees will learn and further explore additional avenues they can utilize in order to maximize their success on campus.
Past Quarterly Seminars
Quarterly Seminar- November 2022