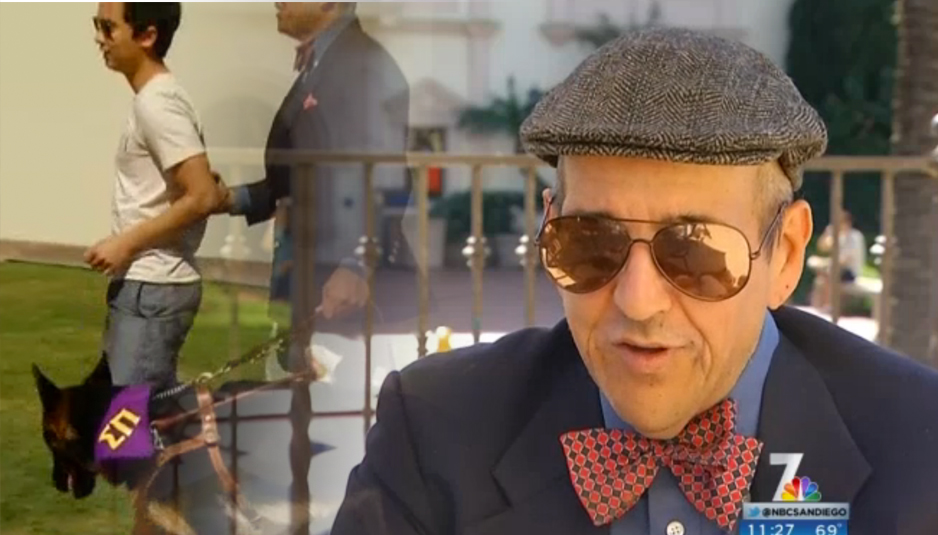 NOTE: This article has been modified from the original story which ran on the NBC San Diego website.
The Sigma Pi Colony at the University of San Diego has allowed Micheal Girard to have a sense of security that he hasn't had in nearly 20 years.
Micheal Girard was a student at USD in the 1990s when he was traveling on his motorcycle from California to New Mexico. It was then his life would change forever, Girard was hit by a car. The driver of the car would flee the scene leaving Girard severely injured.
The first thing Girard remembered was waking up in a hospital bed and getting told that he lost his eye sight in the collision. In the 20 years since the accident, Girard has learned to use all of his other senses effectively. However, with him being a student at USD, walking through campus was noticeably difficult.
Members of Sigma Pi saw this and wanted to take action. Over the past year and a half, Operation Bow Wow has been raising money to help Girard get the service dog that he needs.
With the help of other Greek and student organizations on campus, Sigma Pi was able to get Girard a 19-month-old German Shepard named Eric.
"I'm still overwhelmed by so many people's outreach. The support has touched me in ways that I can't even begin to describe," Girard said. "The kind support of the people from Greek life – that I find a new life with Greek life – and it can enable me to transform my very challenging life into a very remarkable life."
Jesse Nebrez became good friends with Girard after helping him to class and having casual conversations whenever he saw him on campus. Nebrez would soon learn the reason why Girard didn't have a service dog was because he could not afford the upkeep and medical expenses of one.
This is where Operation Bow Wow was founded, Jesse along with the rest of his colony members would go on to raise $10,000 through an online fundraising campaign.
A member of a USD sorority also helped the cause by reaching out to her father, Dr. Sarbjit Singh, a local veterinarian at Animal Medical Hospital of Poway and he vowed to provide medical care for the service life of Girard's dog.
"Most of the fraternities helped me before I tried to help myself," Girard said. "I have been so honored to be a recipient of so much service from people associated with Greek organizations."
Girard is thankful for all of the relationships he has made over the past two years and that they have given him a new sense of confidence.