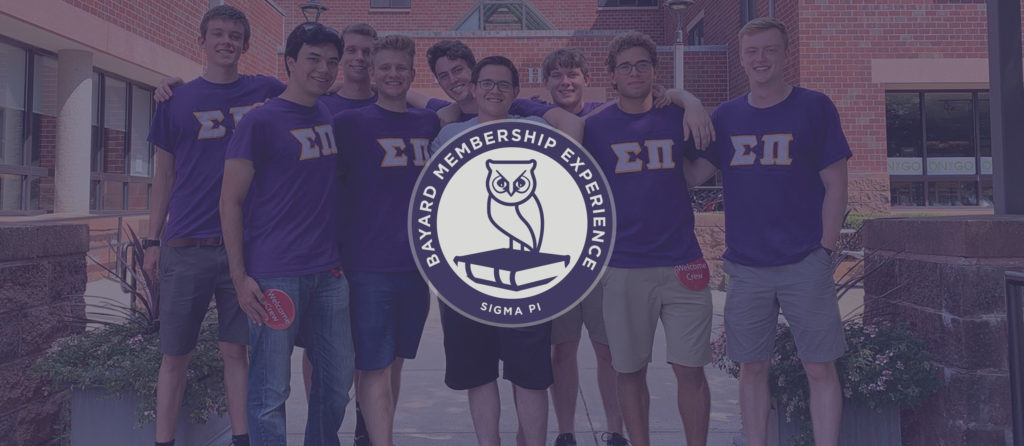 Nashville, TN (August 10, 2020) — Sigma Pi Fraternity recognizes that a global health crisis has changed the fraternal landscape. The Fraternity is committed to providing a relevant new member development program that directly responds to the needs of their undergraduate brothers. While current climate adjusts, and then when health and safety allow, this online program will be a primary example of an ongoing commitment to strive for excellence. The program provides a platform for every new member of Sigma Pi to be a better man and a better brother.  
To meet the challenges of this moment, Sigma Pi is proud to provide an innovative, structured, and virtual new member development program focused on data-driven priorities, including:
New member modules that outline the history, national and local operational structure, mission and vision of the Fraternity. 
Personal development segments that address conflict management, social media responsibility and leadership preparation. This varied and intentional curriculum invites new members to invest in the powerful outcomes of "making real the Fraternity's ideals." 
Sigma Pi has also prioritized risk-reduction education during those critical initial weeks of membership.
The Bayard Membership Experience is a direct response to the need for Sigma Pi brothers to build a sense of belonging and develop a commitment to the core values of the fraternity, even if current social-distancing practices demand a variation in member education. It is a strong start to their fraternal membership, and allows for all new members to learn, grow and explore the meaning of membership in a structured online environment.
"Our members may have been faced with uncertainty in what they could offer someone who might be interested in joining Sigma Pi, but now they have a program that provides the flexibility of being conducted in person or virtually," said Director of Education and Programs Alexander Pettigrew (Indiana of Pennsylvania '15). "We are really closing the gap on creating balanced members during the intake process, giving them insight into the national organization, skills that will be useful and their local chapter."
Named after the first two initiates of Sigma Pi Fraternity, Samuel and Maurice Bayard, this innovative program leverages their history and is designed to continue to build better men.
Executive Director Jonathan Frost (UMSL '99) says, "The Bayard Membership Experience was created to establish a standardized foundational understanding of the Fraternity as our undergraduate members embark on their quest for excellence. This program is truly a monumental moment for our organization, and our hope is that the new members joining Sigma Pi will be equipped to make a lasting positive impact on their chapters."
##
About Sigma Pi Fraternity – Sigma Pi was founded in 1897 at Vincennes University, in Vincennes, Indiana. Our Executive Office is located near Nashville, Tennessee. The Fraternity is one of the top men's collegiate organizations in North America, with more than 115 active chapters and colonies in the United States and Canada. With over 100,000 alumni and 5,000 undergraduates; our men strive for excellence by living our core values to promote fellowship, develop character and leadership, advance heightened moral awareness, enable academic achievement, and inspire service.
Media Contact:
Jonathan Frost, Executive Director/CEO
Email: jfrost@sigmapi.org