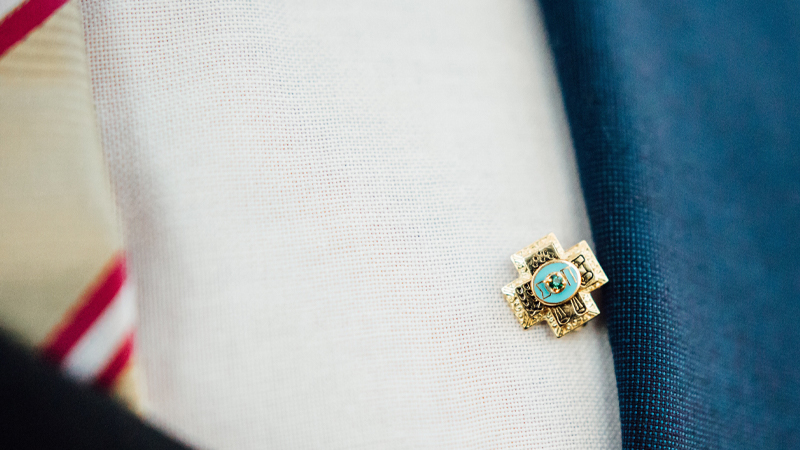 If you know a volunteer or undergraduate who should be recognized in the Quarterly, fill out this simple form. The volunteer recognition is not limited to Chapter Advisors and Province Archons, and the undergraduate recognition is not limited to Sages.
Volunteer of the Quarter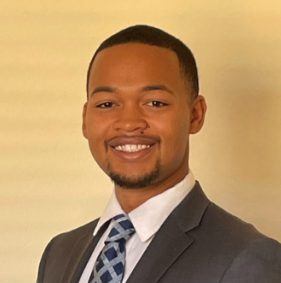 Not a Four-Year Commitment
What Sigma Pi Means to Eugene Calhoun (Arkansas '17)
Will Marsh (Pennington & Company), contributing writer
The start of college was a dark time for Eugene Calhoun (Arkansas '17). Having served five years in the Marine Corps, being a divorced father of two, and going through bankruptcy, he found himself lonely at the University of Arkansas. Eugene visited 11 fraternities before he found Sigma Pi—the brotherhood that changed his life. 
"As soon as I joined, my depression and loneliness faded; those dudes were excited about me and what I could bring," he said. "They put me under their wing, and I decided to put them under mine."
Eugene was determined to share his life lessons with Alpha-Sigma Chapter, encouraging the small group to work hard and enjoy college life responsibly. He also learned leadership lessons that helped him transition back to civilian life. Instead of the "listen now, ask questions later" military mindset, he learned to discuss motivation and strategy with his fellow brothers. "You can't just not explain stuff and expect things to get done," he realized.
As a local alumnus, Eugene continued to stress these lessons to his growing Chapter—even before he became the official Chapter Advisor three years ago. He gladly accepted the role of keynote speaker at the Engage Fayetteville event in September 2023, as requested by his friend and mentee Jake Reed (Arkansas '19), Sigma Pi's Director of Support Services.
Eugene's speech was on accountability, a value he instilled into Alpha-Sigma as they grew from a small, rebuilding Chapter into one bringing in 30- to 60-member classes today. "When I joined, the class size was three. That shows the amount of dedication you have to pour in if you love your brotherhood."
Eugene also wants brothers to understand, like he learned at Alpha-Sigma, that Sigma Pi is not just for four years. "This Fraternity can give you so much if you're willing to do the work and remember that you always represent Sigma Pi," he said. "Any time that Sigma Pi calls, I'm going to answer the phone. They want me to speak, I'll be there. It's a no hesitation for me." 
You can reach Eugene at eugene.calhoun@tasksaver.co.
About Eugene
Eugene Calhoun is the CEO/Founder of BizTech Academy; he completed his MBA at Suffolk University in 2023. With over 10 years of experience in Operations and Management, Eugene works closely with senior executives to improve various departments such as Human Resources and Finance. 
Eugene's experience comes from a lifetime passion to help as many people as he can. This was shown throughout his military career, during his transition into the healthcare sector, and now helping people learn the skills to create a positive future for themselves. In addition to Sigma Pi, Eugene volunteers for various organizations that share in his values.
---
Undergraduates of the Quarter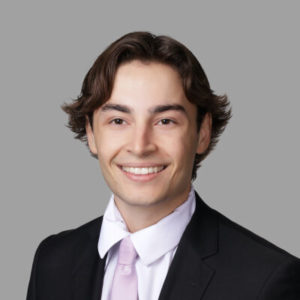 Cameron Vazeen (UC Irvine '21) on Contracted Recruiter Program
Program Details
Sigma Pi is reimagining the fraternity recruitment landscape through the new Contracted Recruiter Program, which entrusts students with spearheading recruitment on campuses.
The core belief is that peers recruiting peers can encourage genuine conversations and a sense of relatability. Sigma Pi members are matched with potential members who share similar academic interests to bridge gaps and foster authentic relationships. Beyond recruitment, the program emphasizes mentorship from participating members. 
Why Cameron Joined
Cameron Vazeen (UC Irvine '21) can attest to the program's ability to connect young men across campuses through organic interactions. As the current chapter sage of Eta-Upsilon, he chose to join Sigma Pi with friends during freshman year. As a member, Cameron has recognized self-growth while gaining communication and organization skills by serving the chapter.
"The more I came to know everyone involved, I was 100% sure I made the right choice."
During a chapter meeting, Eta-Upsilon's alumni advisor introduced the Contracted Recruiter Program. Cameron and fellow members expressed interest, and Todd Miller (UT-Martin '83) personally visited for a full presentation.
Recruitment Innovations
"It's been awesome," Cameron said about visiting Indiana University through the program. Having the chance to explore a different campus and culture, Cameron enjoyed gaining a new perspective on college life.
"What we're able to do comes down to student-to-student connections. People feel more connected to someone also in college versus someone doing a job."
The Contracted Recruiter Program helps potential new members envision themselves in Sigma Pi more than ever before. Cameron and fellow members involved are excited to pitch an attainable Sigma Pi experience to students on college campuses while forming unique bonds as brothers and mentors.
Sigma Pi is excited for this innovative recruitment experience through the Contracted Recruiter Program, and members like Cameron are paving the way for genuine connections between chapters.