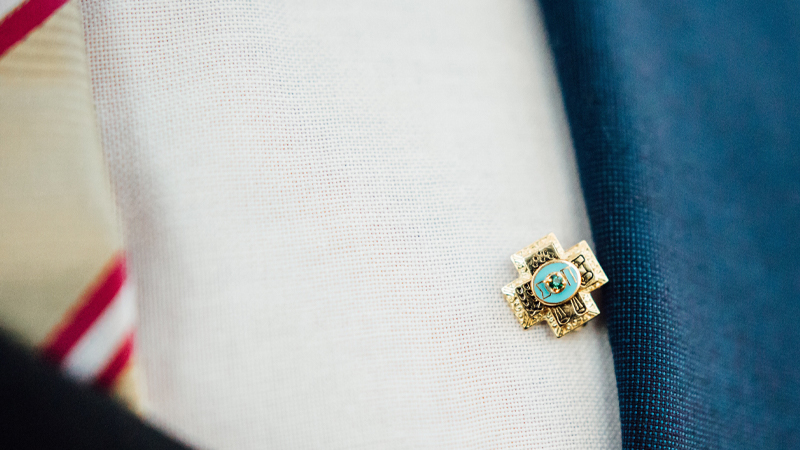 If you know a volunteer or undergraduate who should be recognized in the Quarterly, fill out this simple form. The volunteer recognition is not limited to Chapter Advisors and Province Archons, and the undergraduate recognition is not limited to Sages.
Volunteer of the Quarter
Alpha-Delta Alumni Board
We are proud to recognize the Alpha-Delta Chapter Alumni Board as the Volunteer of the Quarter. The Alumni Board consists of the following Alpha-Delta Chapter Brothers:

Charlie Shell ('91), Chapter Advisor
Bill McKnight ('59), House Corp President, Alumni Advisor
Alan Thomas ('79)
Ben Venable ('97) 
These men have provided countless hours of their time over this past fall as they had to assist the Executive Council in defending Alpha-Delta Chapter from unconfirmed and unsubstantiated allegations of policy violations with Auburn University. As a group, they fervently shared the roles and duties of consulting, advising, reviewing, assessing, and mentoring to seek the truth and provide the young men with much-needed support in navigating this experience. The initial sanctions by the University called for two years of loss of recognition and one-year disciplinary probation.  Despite their best efforts to have the sanctions removed completely, Auburn University officials chose to reduce the initial sanctions and suspend university recognition of Alpha-Delta Chapter through January 2024.
With this, the Alpha-Delta Chapter Alumni Board will be taking on a new role in advising. Alpha-Delta Chapter will still maintain operations in Auburn, AL, throughout this period, a first-ever experience for this storied Chapter that has been in continuous operations as a Chapter of Sigma Pi since February 26, 1926. Prior to that, Alpha-Delta was known as Pi Omega Phi, a local Fraternity that merged with Sigma Pi. 
So, for the first time in their over 100-year-old history, these brothers will provide 117 Sigma Pi students with the mentoring and coaching they need to operate as a Chapter of Sigma Pi, which is not recognized as a student organization at a college/university. They hope to return to campus as a student organization in January 2024. We look forward to working with these men and knowing that our mission – to inspire, promote, and support the lifelong development of our brothers – continues with this Chapter of nearly 2,000-lifetime brothers and their families.
---
Undergraduate of the Quarter
Matt Miller (Delaware '21)
Matt Miller has been one of the largest contributors to getting Iota-Beta Chapter rechartered this past year at the University of Delaware. Matt has been on the Dean's list multiple semesters in a row while studying Economics, all the while acting as Sage for his chapter. As a current senior, many of the freshmen and sophomores in Iota-Beta look up to Matt because of his work ethic and his positive attitude toward any situation. We wish him the best of luck in his career following his graduation this spring!