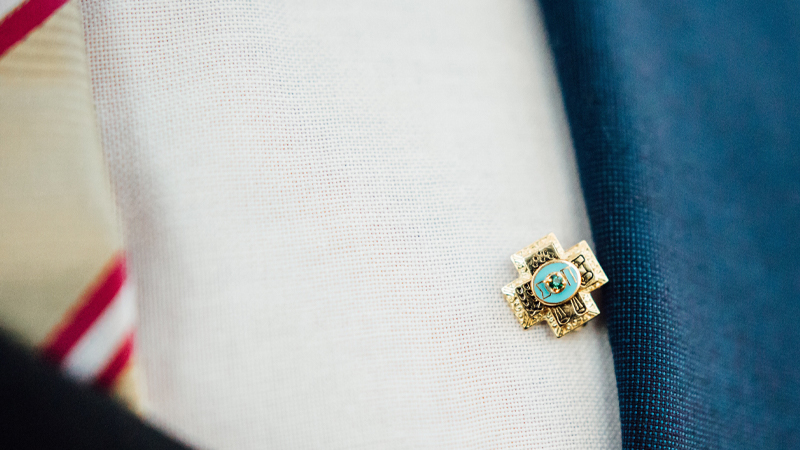 If you know a volunteer or undergraduate who should be recognized in the Quarterly, fill out this simple form. The volunteer recognition is not limited to Chapter Advisors and Province Archons, and the undergraduate recognition is not limited to Sages.
Volunteer of the Quarter
Larry Rovira PGS (Cal State Fullerton '80)
Larry Rovira PGS (Cal State Fullerton '80) has held many roles within Sigma Pi, including: Second Counselor, Chapter Advisor of Epsilon-Nu at Cal State Fullerton, Alumni Comptroller, Province Archon of Southern California Province, Grand First Counselor, Grand Fourth Counselor, Grand Third Counselor, Alumni Club Vice President, Grand Second Counselor, Educational Foundation Trustee, Grand Sage, Past Grand Sage, Educational Foundation Trustee again, Educational Foundation VC of Development, SPEF Development Committee Chairman, NIC Delegation, Educational Foundation VC of Administration, House Corporation Member and served once more as the Past Grand Sage.
Larry currently serves in two roles: the New Member Education Advisor for Epsilon-Nu Chapter and the Alumni Club Secretary for the Orange County Alumni Association (OCAA) that recently won their 8th Most Outstanding Alumni Club Award at our 55th & 56th Biennial Convocation. Larry has been a significant part of why OCAA has been successful over the years. He helps rally alumni to come back for events and to attend the golf classic hosted by OCAA, which will have its 31st Annual Golf Classic on November 21st, 2022. This Golf Classic is special because Larry and fellow southern California alumni have come together to create a Chapter Educational Fund (CEF) called the Southern California LEAP fund, which stands for Leadership Education and Programming. It allows ALL of our Southern California chapters to use it for regional workshop support, reimbursement for educational training, flights to educational programs at Convocation, etc.
Larry intends to raise $100,000 over the next ten years, so our Southern California members are better educated and have the resources and access to such programming. Larry is an exemplary member, and his time, energy, and engagement he has given to the organization is what all alumni should strive for.
---
Undergraduate of the Quarter
Christopher Harkins (Mississippi '19)
Christopher 'Toph' Harkins (Mississippi '19) is a senior majoring in Exercise Science with a focus on Physical Therapy. Toph aims to get into the medical sales industry upon graduation in Memphis, TN.
Toph served as the Recruitment Chair at the University of Mississippi this past year, which led the largest Sigma Pi Recruitment Class nationally at 125 members.
In his free time, Toph enjoys working out, basketball, and golf!