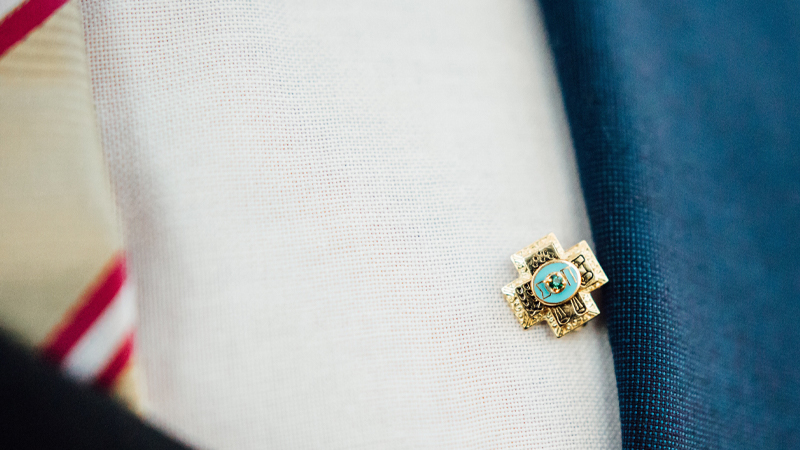 Province Archon of the Quarter
Ian Itschner (Oregon State '91) Pacific Northwest Province 
It is our honor to recognize brother Ian Itschner, Province Archon of the Pacific Northwest, this quarter. Itschner has been a long-standing volunteer within Sigma Pi dating back to 1993, where he began his service as an alumni volunteer as Chapter Director for Omega Chapter. Since then, Itschner has been a continued alumni volunteer serving in many different capacities. Itschner has been serving as Province Archon for the Pacific Northwest since 2006 and has continued to be a valuable resource to the chapters he oversees. Because of the unprecedented times, our chapters are currently facing, Itschner has taken it upon himself to go through the Phired Up Virtual Recruiter Certification and began to develop a deep understanding of Chapter Builder to assist his groups better when the recruitment process starts at their universities. And because of this devotion to helping his groups during these difficult times, they are better prepared to face the future's uncertainty. 
Chapter Director of the Quarter
Michael McDonald (Cal State Fullerton '78) Cal State Fullerton
It brings us great pleasure to recognize Michael Mcdonald as Chapter Director of the Quarter. His dedication to the success of his chapter is unparalleled. He maintains constant communication with the national office to offer advice and receive consultation, ensuring that the men of Epsilon-Nu Chapter can lead a successful chapter. This dedication as an alumnus exemplifies the qualities that all alumni should possess. McDonald has been serving as Chapter Director since 2019 and has proven to be a shining example for alumni volunteers. 
Sage of the Quarter
Tier 1 – Arthur Decker (Cornell '19)
For the Tier 1 Sage, we recognize Arthur Decker of Mu Chapter at Cornell. Decker, with the assistance of his Philanthropy Chair, took it upon themselves to have the entire chapter register to vote for the upcoming presidential election. This sparked a desire for other fraternities and sororities at Cornell to follow suit and inevitably get their respective chapters to register. While many people have been reluctant to do anything in the past couple of months, Mu Chapter has been proactive in an outstanding way. Previous to his role as Sage, Decker served as the chapter's Recruitment Chair, where he secured a pledge class of eight in the fall and 14 this last spring. 
Tier II – Pablo Luis Sollecito (East Carolina '17)
It has been difficult for many college students to do anything outside their academic lives during these unprecedented times. However, Pablo Sollecito is a pleasant exception to this. As the newly elected Sage of Eta-Kappa Chapter at East Carolina, he has displayed outstanding leadership in providing community service to a local church. Sollecito and other chapter members have taken time out of their schedules to help St. Paul's Episcopal Church in Greenville, North Carolina. Despite many churches limiting services and providing community outreach, St. Paul's has continued to hold food drives. The Eta-Kappa Chapter has assisted with unloading the monthly food trucks and helped with set-up for this drive.  
Tier III – Drew Carpenter (Middle Tennessee '18)
Theta-Omega Chapter at Middle Tennessee. Carpenter has been actively involved within Theta-Omega Chapter since he was initiated in the fall of 2017. In the spring of 2018, he became the Herald of Theta-Omega Chapter and continued to serve as the Third Counselor in 2019. Carpenter has been highly active within his chapter, and now he has taken it upon himself to join Sigma Pi's Diversity, Equity, and Inclusion Task Force. This task force is charged with providing recommendations for leadership development and educational programs on issues that include cultural differences, unconscious bias, racial inequality, gender identity, sexual orientation, ability, age, and religious views to allow members of Sigma Pi to strive to live out the ideals. While this task force is new, Drew has joined with the same enthusiasm and determination that he has brought to his chapter. 
Tier IV – Francisco Vazquez (Valparaiso '19)
As Sage of Beta-Pi Chapter at Valparaiso, brother Francisco Vazquez has led his Chapter to make their campus feel safer during these difficult times. They recognized an opportunity to ensure their campus has proper protective equipment during the pandemic and took steps to help their camps. As part of their Chapter's ACE Project, the brothers of Beta-Tau have partnered with their university to provide a hand sanitizer station to promote proper health and safety practices. They situated the hand sanitizer station in front of their student union to ensure they targeted a high traffic area.