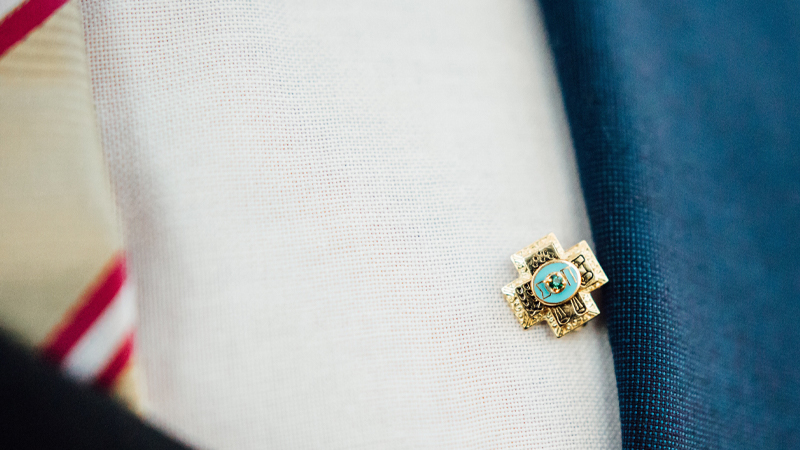 Province Archon of the Quarter
Ian Wolf (Rutgers '12)
Ian Wolf has truly gone above and beyond as the New Jersey Province Archon. He currently supports 11 chapters and continues to stay actively involved. This academic year, Wolf has planned out four gathering events for his chapters including: Province Workshop in September 2019, Elected Officer Training in December 2019, Ritual Workshop in March 2020, and New Member Experience in April 2020. After graduating from Rutgers University, his work as a Sigma Pi from New Jersey has been, and still continues to be, appreciated by both fellow alumni and undergraduate members alike. Wolf certainly continues to keep raising the bar and set a standard for what it truly means to be an alumni volunteer of this Fraternity.
Chapter Director of the Quarter
Drew Reiter (Florida State '14)
Drew Reiter, although a recent graduate from Florida State, has made huge strides to get the Eta-Epsilon Chapter back on track. He has taken the reins to create positive relationships with the undergraduates, alumni, university, and the Executive Office. He has even gone on to create an alumni advisory board to help better educate the active chapter in various areas including: finances, recruitment, academics, and others that will be determined later on. He has quickly learned to understand both the changing Greek Life culture at FSU, and what other Sigma Pi chapters do across the nation so that he can take those best practices and implement them into Eta-Epsilon. While a young alumni volunteer, he definitely shows a passion for making Sigma Pi better everyday, starting with Eta-Epsilon Chapter.
Sage of the Quarter
Tier I:  Peter Koukoumanos (Oregon State '18)
Peter Koukoumanos is the tier I sage of the quarter from Omega Chapter at Oregon State. This past quarter, Koukoumanos was re-elected to serve as Sage for the Chapter given his huge success during his first term. Koukoumanos set the bar high with a goal for a larger new member class, with 26 men accepting their bids this past fall, this increased membership significantly being the chapter currently holds 56 men as active members. With a great pulse for the chapter, he has mobilized their chapter operations to elevate morale, achieve the goals of the chapter, and maintain momentum for the future. 
Tier II: Tom Curran (Old Dominion '17)
Tom Curran just finished his term as Sage for Theta-Eta and definitely left his legacy on the chapter. He's continued to sustain a strong brotherhood throughout the membership which has led to a positive identity on their campus. Leading his chapter in philanthropic and community service events has strengthened their relationships with other organizations on campus, as well as, those in the surrounding area. Their recruitment and fundraising efforts have been phenomenal. Curran has truly been a motivator and influencer for his chapter and at Old Dominion. His drive and perseverance have become something that will be passed on to future executive councils.
Tier III: Anthony Zampese (San Diego '17)
Anthony Zampese, previous Sage for Epsilon-Chi, is the tier III sage of the quarter. Finishing off his second term as chapter Sage for his young chapter, Zampese has shown strides of leadership that left an impact for the Chapter. This past quarter, Anthony discussed the vision for the chapter while preparing for recruitment this coming spring. Anthony also developed and executed a transition workshop to the incoming executive council to better prepare them for the coming year. A hallmark of leadership is not only caring about your time in service but for the men who will succeed you.
Tier IV: Francis Raymond Doud Jr. ( (Detroit-Mercy '18) 
Francis Doud Jr., has shown great leadership this past quarter. This past fall, the chapter brought in a new member class that increased chapter membership by 33%. Maintaining great communication with the Executive Office, completing reports in a timely manner, and inspiring a new generation of leaders are just a few accomplishments that he has under his belt this past quarter. Exemplifying the stronger connection that Doud developed between his chapter and the larger Fraternity, he also organized a visit from the Grand Sage to the chapter, which was the first time a sitting Grand Sage visited Gamma-Alpha Chapter in many years.