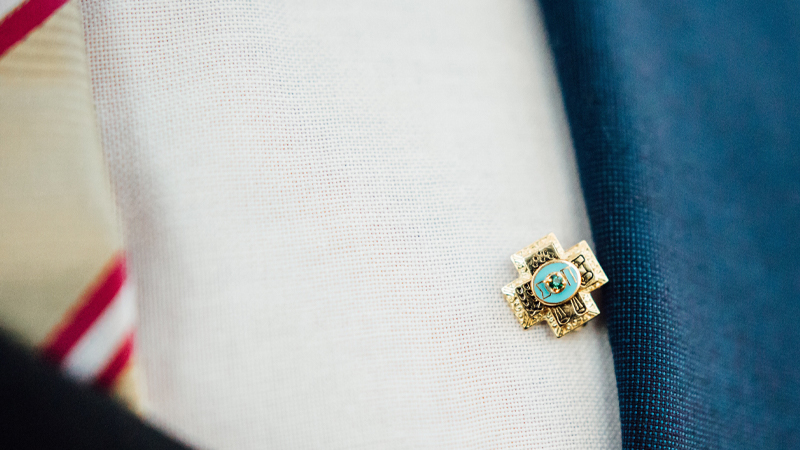 Province Archon of the Quarter
Todd Griffin (East Carolina '90) Appalachian Province

It is our honor to recognize brother Todd Griffin, Appalachian Province Archon, this quarter. Todd has been serving as a Province Archon since 2019 and has shown tremendous leadership skills in helping his Province move forward. Because of his leadership Todd has added six chapters to his Province including, MTSU, Murray State, Morehead State, EKU, UK, and Louisville.
Todd continues to work with multiple chapter advisors to improve the operations at each chapter. He is also apart of the Province Archon Task Force that looks for ways to improve the volunteer experience with Sigma Pi.
Todd resides near Raleigh, NC with his family and is the Director of Business Development at RGIS.
---
Chapter Advisor of the Quarter
Daniel Daugherty (Morehead State '88) Epsilon-Lambda Chapter

"Daniel Daugherty is Mr. Sigma Pi in many ways. He serves on the Housing Committee for Kentucky and serves as the Chapter Advisor to Epsilon-Lambda Chapter. Not to mention his support and mentorship to Delta-Rho's Chapter Advisor and his support of the rebirth of Iota-Omicron Chapter. Daniel is always there to lend a hand or, more importantly, great advice!" – Todd Griffin (East Carolina '90), Appalachian Province Archon
---
Sage of the Quarter
Tier 1 –  Jared Dodson (Colorado '19)

Jared Dodson is a rising junior with Zeta-Delta Chapter at University of Colorado Boulder.  Jared is from the Los Angeles area and is currently studying Real Estate and Business where holds a 3.7 GPA.  Jared loves his chapter and spending his weekends in the mountains.  He is currently an intern with a prestigious real estate brokerage firm in the Boulder area.  
During the course of his tenure as Sage, he has shown exemplary commitment to helping his chapter grow (48 New Members) and succeed this is most evident in his defense of the chapter in various situation's and his valiant effort in trying to find his chapter a new home Jared has gone to great lengths to try to do this, he has been reaching out to nationals and every other resource he can find. He has done all during a time with restrictions placed upon them from both the state and local authorities amid the Covid pandemic.
---
Tier II – Evan Williams (Missouri S&T '20)

Evan Williams is a senior studying information and technology and hopes to land a job in Cyber Security. His hometown is St. Louis, MO, and he enjoys the outdoors, photography, and video games. During his term, the house was back to in-person classes but still restricted on social events due to covid. This allowed the house to grow in brotherhood and still have a "normal" semester while working around covid restrictions.
Evan and the executive board worked with the building association to develop multiple scholarships tied to academics which encourages the chapter to focus on grades. Evan holds a 3.6 GPA, so he leads by example in this area. Evan wanted to make sure transitions for future executive board positions went smooth, so he pushed for improved documents to make this happen. He also kept the house on track to get the points needed for chapter awards. A Sage is elected to office for their leadership abilities and passion for the house, and Evan is no exception.
---
Tier III – Brady Fernandez (Cal State Chico'19)

Brady Fernandez from Loomis, CA is a rising senior with Theta-Mu Chapter at California State University – Chico.  He is studying Criminal Justice with a minor in Pyscology, while also trying to obtain his paralegal certificate.  In his free time he enjoys playing and watching football, he also enjoys the outdoors (hiking/camping), weight lifting, technology, and leading whenever he can.  He has worked hard to maintain a high GPA in order to pursue his dream of attending law school.  
He has been very instrumental in having his officers attend various educational training sessions during the past few months.  He helped the chapter in attaining the Grand Chapter Award for this past fiscal year for efficient operations with a score of 1720.  With all the strict Covid restrictions in place by the State of California and CSU – Chico the chapter was able to bring in 9 new quality members during the Spring semester.  Their New Member class was one of the biggest on their campus.  He was named The Outstanding President of the Year for Chico State IFC 2021.  He has worked closely with PGS Larry Rovira to develop a newsletter to help establish Alumni engagement for the chapter.  He has completed the Greek Leadership Academy through Chico State.
---
Tier IV – Ben Jones (Oakland '18)

Ben Jones from Sandusky, MI  is a rising senior with Zeta-Pi Chapter at Oakland University.  He is studying Mechanical Engineering where he maintains a 3.0 GPA.  In his free time Ben enjoys music and sports, especially basketball and golf.  In the upcoming school year Ben plans to stay involved in chapter leadership by assuming the role of First Counselor and House Manager.
During the past year as Sage Ben was  able to accomplish many things amid the Covid restrictions that were placed on the chapter by both the State of Michigan and Oakland University.  He was able to secure housing for the chapter with double occupancy.  The chapter went out and was able to recruit and initiate 11 quality members. He was also instrumental in helping the chapter win the Grand Chapter Award for efficient operations with a score of 1,780.