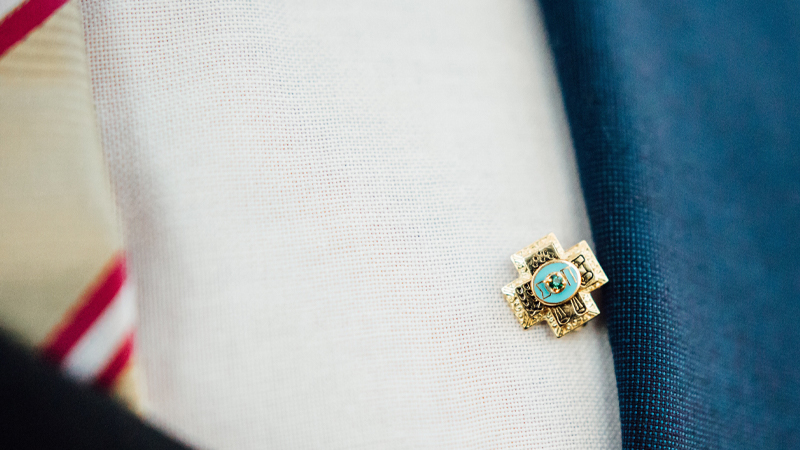 Province Archon of the Quarter
Kevin Carey (Illinois Wesleyan '09) Illiana Province
Carey serves as the Diversity, Equity, and Inclusion Chair and 2020-2022 Elections Board Chairman for Sigma Pi. In December, he held a virtual officer transition workshop with his entire Province. Lastly, he was a speaker at the 2021 Mid-Year Leadership Conference, where he presented on crisis communication, de-escalating situations, and enforcing your chapter's standards.
Chapter Director of the Quarter
Patrick Gallahue (Fitchburg State '11) Fitchburg State
Gallahue serves as Chapter Director of Fitchburg State. His chapter won the Grand Chapter Award, Grand Council Award and has consistently been on top of reporting. Gallahue wanted to highlight that none of the accomplishments from this year would have been possible without the help of the previous Chapter Director, Ben Robinson. Despite the restrictions from Massachusetts and Fitchburg, the chapter has created a meaningful experience for its members. The chapter worked to recruit actively and had a safe and successful recruitment. They were also able to hold their yearly philanthropy with Our Fathers House, a local homeless shelter. In addition to all the hard work they put into the fraternity's philanthropic aspects, they were able to hold an alumni golf outing a few weeks ago.

Sage of the Quarter
Tier 1 – Tom Wilson (UCLA '19)
Wilson of Upsilon Chapter at the UCLA is recognized as the Tier 1 Sage. The chapter held a toy drive and raised over $321 which they used to buy toys that were donated to the Ronald McDonald House. Despite California having strict COVID restrictions, the chapter took it upon themselves to utilize Venmo for fundraising and had chapter members post on social media to spread the word.

Tier II – Richard Pope (Wake Forest '19) 
Pope of Alpha-Nu Chapter at Wake Forest is recognized as the Tier 2 Sage. One of the philanthropic events the chapter  participated in this fall was landscaping for Habitat for Humanity in Winston-Salem.
Tier III – Sean Moser (Ohio Northern '18)
Moser of Zeta Chapter at Ohio Northern is recognized as the Tier 3 Sage.  Their chapter maintained an active philanthropy throughout the Fall semester. Despite the ongoing pandemic, the chapter found ways to raise money for suicide prevention and awareness. In years past, the chapter has held a potluck where the money from the tickets sold would be donated to the Amazing Day Foundation; however, due to COVID restrictions, the men had to get creative. This year the chapter went door to door delivering food to those who paid for a ticket and a meal.

Tier IV – Carter Lipari (Drury '18)
Lipari of Epsilon-Rho Chapter at Drury is this quarter's Tier 4 Sage. This past November the chapter held the Relay for Harmony House. The chapter raised $936 which translated to running 9,360 meters. Harmony House works to advocate for survivors of domestic violence and promote the principle that all individuals have the right to a life free of abuse.