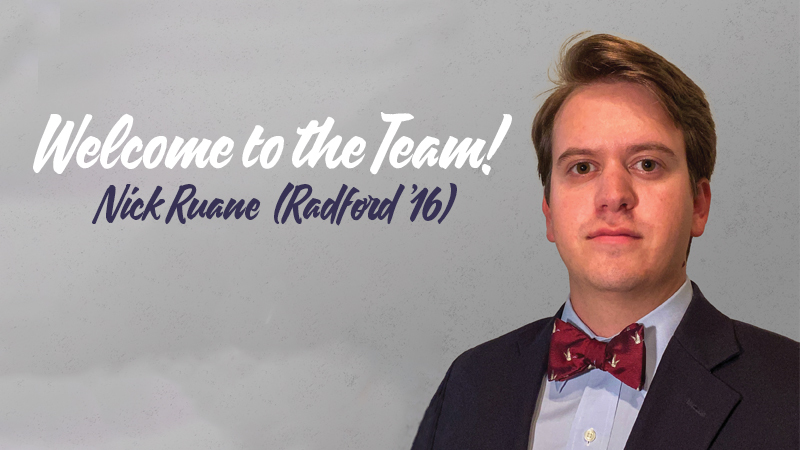 NASHVILLE, TN – The Executive Office of Sigma Pi is proud to announce that Nick Ruane  (Radford '16) was hired as a Chapter Management Associate within the Chapter Management department. He officially began serving in the new role on April 1, 2020.
In the role of Chapter Management Associate, Ruane will support the needs of chapters and their volunteers while creating and maintaining relationships with host universities.
Ruane graduated from Radford University, where he majored in political science with a concentration in foreign affairs and minored in Arabic. During his time as an undergraduate, Ruane was an active member of Radford's Inter-Fraternity Council serving as the Programming and Athletics Chair and then the Vice President of Administration. Ruane also had the privilege to work as an administrative assistant for the Commonwealth's Attorney in Pulaski County, Virginia. 
Within Theta-Lambda Chapter, Ruane served as Fourth Counselor. His senior year, Ruane was encouraged by one of his Theta-Lambda brothers to come out of his hiatus of playing lacrosse and join the club team. Through this opportunity, Ruane got to play in tournaments at various schools across the South and mid-Atlantic. 
As an avid outdoorsman, Ruane enjoys spending his time off fly fishing, and once the global pandemic is over, he plans to enjoy the live music Nashville has to offer. 
Ruane said, "I am very excited for the opportunity to represent this Fraternity at a national level, and I look forward to cultivating a strong relationship with our chapters throughout North America."
About Sigma Pi Fraternity
Sigma Pi was founded in 1897 at Vincennes University, in Vincennes, Indiana. Our Executive Office is located near Nashville, Tennessee. The Fraternity is one of the top men's collegiate organizations in North America, with more than 115 active chapters and colonies in the United States and Canada. With over 100,000 alumni and 5,000 undergraduates; our men strive for excellence by living our core values to promote fellowship, develop character and leadership, advance heightened moral awareness, enable academic achievement, and inspire service.