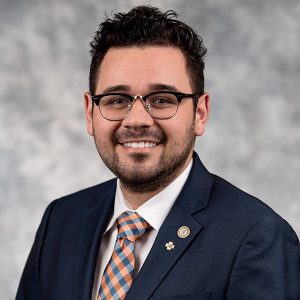 LEBANON, TN – The Executive Office of Sigma Pi is proud to announce that Joshua Borjas (Cal State Fullerton '17) was hired as a Chapter Management Associate within the Undergraduate Member Services department. He will officially begin serving in the new role on June 5th, 2019.
In the role of Chapter Management Associate, Borjas will support the needs of chapters and their volunteers within the western half of the country while creating and maintaining relationships with host universities.
Borjas recently graduated with a bachelor of arts in human communication studies, organizational communication. His impressive background features numerous leadership positions in which he enacted change and made significant improvements to the organizations while in his role. During his time as President and Chief Executive Officer of the Cal State Fullerton Student Government Association, Borjas advocated for over 42,000 students and lead 35 student leaders while serving on a variety of committees and boards.
As a Founding Father of the Epsilon-Nu Chapter, he made notable strides in raising philanthropic dollars, he enhanced the image of the Fraternity on campus and recruited the largest new member class of all IFC chapters on campus. Borjas has been awarded four awards for his outstanding leadership initiatives, one of them being the Harold Jacobsen Award.
Borjas stated, "I am very excited to serve you all as your Chapter Management Associate. With my five years of my undergraduate leadership at Cal State Fullerton, and being a re-founding father to Epsilon-Nu Chapter, I feel confident in my skills to help develop our great fraternity reach to a new standard of excellence."
About Sigma Pi Fraternity
Sigma Pi Fraternity was founded in 1897 at Vincennes University, in Vincennes, Indiana. Our Executive Office is located in Lebanon, Tennessee. The Fraternity is one of the top men's collegiate organizations in North America, with more than 120 active chapters and colonies in the United States and Canada. With over 100,000 alumni and 5,000 undergraduates; our men strive for excellence by living our core values to promote fellowship, develop character and leadership, advance heightened moral awareness, enable academic achievement, and inspire service. Sigma Pi is the only Greek-letter organization with an international service program, The ACE Project, specifically designed to give back to our host institutions.