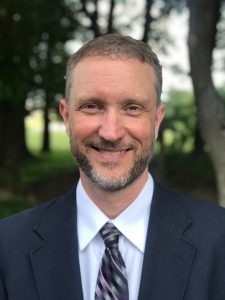 LEBANON, TN – The Executive Office of Sigma Pi is proud to announce that Scott Quinlan (Fairmont State '95) was hired as the Director of Chapter Management within the Undergraduate Member Services department. He will officially begin serving in the new role on June 5th, 2019.
In the role of Director of Chapter Management, Quinlan will oversee the services and training offered to undergraduate chapters and develop and execute strategies for improvement, while also supervising the Chapter Management Associate team.
Quinlan has served in various management roles for over nine years and holds expertise in new business development, customer services, human resources, and crafting results-oriented marketing plans to meet goals. In 2012, Quinlan started a company, Team Trivia TN, which promotes a unique brand of trivia and bingo games to local restaurants which in turn, boosts business on slow nights for the establishments. Quinlan's self-starter attitude and experience in operations and office management make him the ideal candidate for the role.
"Scott's professional background in entrepreneurship, business development, and customer service will be integral in the building of our service model for undergraduate chapters, their officers and volunteers,"  Executive Director Jonathan Frost said. "I am excited to have him join our team and utilizing his experience to continue to grow our service model."
During his undergraduate experience, he served as the sage of Gamma-Epsilon Chapter. As a leader of his Chapter, he gained valuable leadership and management skills that proved useful in his professional life.
"I would like to thank the Executive Office for this opportunity. I look forward to the challenges that this position brings, and am excited to work with all of our undergraduates, alumni, and volunteers to make this Fraternity better. I believe…" Quinlan says.
About Sigma Pi Fraternity
Sigma Pi Fraternity was founded in 1897 at Vincennes University, in Vincennes, Indiana. Our Executive Office is located in Lebanon, Tennessee. The Fraternity is one of the top men's collegiate organizations in North America, with more than 120 active chapters and colonies in the United States and Canada. With over 100,000 alumni and 5,000 undergraduates; our men strive for excellence by living our core values to promote fellowship, develop character and leadership, advance heightened moral awareness, enable academic achievement, and inspire service. Sigma Pi is the only Greek-letter organization with an international service program, The ACE Project, specifically designed to give back to our host institutions.