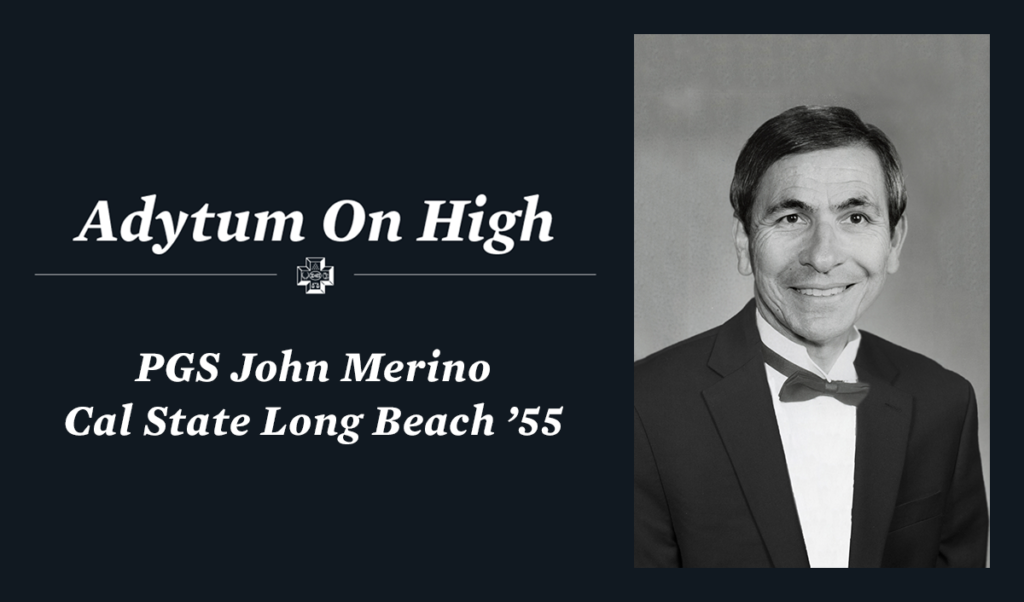 Past Grand Sage John Merino (Cal State Long Beach '55) passed to the Adytum on High on May 11, 2023. He was 89 years old.   
PGS Merino joined Sigma Pi his sophomore year while attending California State University-Long Beach. He dedicated many years of service to the Fraternity at the national level, including serving as Grand Fourth Counselor from 1980 to 1982, Grand Third Counselor from 1982 to 1984, Grand Second Counselor from 1984 to 1986, Grand Sage from 1986 to 1988, and Past Grand Sage from 1988 to 1990.  Additionally, he held a trustee position with the Sigma Pi Educational Foundation from 2000 to 2003 and again from 2008 to 2012, plus a Secretary position from 2003 to 2008. His dedication to local chapters in his area went above and beyond, and his impact has been felt throughout many generations in Southern California.
His service to Sigma Pi started in 1959 when he became the Chapter Advisor for Beta-Omicron at Long Beach State. He was named Long Beach State's advisor of the year during his first-year tenure.  He later encouraged two of his students at Mater Dei High School to start a colony at Cal State Fullerton in 1976.  Merino served as the first Chapter Advisor at Epsilon-Nu at Cal State Fullerton until 1997, and then served as Chapter Advisor at Beta-Omicron (Cal State Long Beach) until 2022.  He also served for 18 years as Alumni Club President of Beach Cities Alumni Club. PGS Merino also served as House Corporation President for Beta-Omicron and House Corporation Treasurer for Eta-Upsilon at Cal-Irvine. 
Thanks in part to his dedication to the Fraternity, in 2000, PGS Merino was awarded the highest honor bestowed upon an individual member, the Founders' Award.
Professionally, PGS Merino served as a high school administrator for the largest Catholic school west of the Mississippi River, Mater Dei. That role allowed him to be instrumental in the formation of many chapters of Sigma Pi in Southern California including Fullerton, Loyola Marymount, UC Irvine, University of San Diego, UC San Diego, and USC. Merino had directly recruited over 400 MDHS students to join Sigma Pi on their individual campuses.
Memorial donations may be made to the Sigma Pi Educational Foundation at this link.
About Sigma Pi Fraternity – Sigma Pi was founded in 1897 at Vincennes University, in Vincennes, Indiana. Our Executive Office is located near Nashville, Tennessee. The Fraternity is one of the top men's collegiate organizations in North America, with more than 100 active chapters and colonies in the United States and Canada. With over 118,000 alumni and 5,000 undergraduates; our men strive for excellence by living our core values to promote fellowship, develop character and leadership, advance heightened moral awareness, enable academic achievement, and inspire service.