Sigma Pi Fraternity, International is proud to announce two new Province Archon appointments.
Derick Rheaume (Eta-Eta, Bridgewater State '03) has been named Northeast Pennsylvania/Long Island PA. The position had previously been held by Anthony Manjone (Theta-Phi, Penn College '11), who stepped down after serving in the position for the last several years.  We thank Anthony for his service.
Rheaume will work with the undergraduate chapters at Cornell (Mu), East Stroudsburg (Beta-Psi), Hofstra (Eta-Gamma), and St. John's Colony , as well as alumni clubs and house corporations in the province.
"I am honored and excited to be appointed to Province Archon of Long Island and Northeastern Pennsylvania and I look forward to working with the groups in the province to build an even stronger and more fulfilling brotherhood," Rheaume said.
"It is always nice to have alumni step up and help Sigma Pi," said Director of Alumni Services Jason Beck.  "I have known Derick for quite a while now, and he is a hard worker.  I know he will bring his experience and dedication to the position of Province Archon to help our chapters in the region.  Additionally, he will still be working with our Colony at St. John's University as they move along their Quest for Excellence."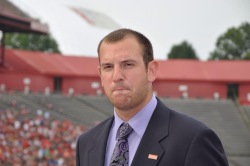 Additionally, we are proud to announce that Ian Wolf has been named New Jersey Province Archon.  The position was previously held by Dwayne Harris (Delta-Epsilon, Seton Hall'90) who stepped down after serving in the position for the last several years.  We thank Dwayne for his service.
Wolf will work with the following undergraduate chapters: New Jersey Tech (Alpha-Mu), Seton Hall (Delta-Epsilon), Rutgers (Gamma-Eta), Fairleigh Dickinson (Epsilon-Xi), Rowan (Zeta-Chi), Montclair State (Iota-Iota), William Paterson (Theta-Tau), Monmouth (Delta-Beta), and College of New Jersey (Theta-Delta).  He will also work with alumni clubs and house corporations in the province.
Wolf said, "I am very excited to be appointed the Province Archon for New Jersey! I hope to bring new ideas and perspectives to the province based on my background in higher education and student affairs.  I want to connect young alumni to other chapters and events around the state."
"I'm very happy that Ian has agreed to serve as the next New Jersey PA," Beck said.  "He will continue the standard of excellence that our New Jersey chapters and alumni have come to expect."
Sigma Pi Fraternity was founded in 1897 at Vincennes University, in Vincennes, Indiana. Our Executive Office is located in Lebanon, Tennessee. The Fraternity is one of the top men's collegiate organizations in North America, with more than 120 active chapters and colonies in the United States and Canada. With nearly 100,000 alumni and 5,100 undergraduates; our men strive for excellence by living our core values to promote fellowship, develop character and leadership, advance heightened moral awareness, enable academic achievement, and inspire service. Sigma Pi is the only Greek-letter organization with an international service program, The ACE Project, specifically designed to give back to our host institutions.