Sigma Pi Fraternity, International is proud to announce two Province Archon appointments. Brent Smith (Theta-Epsilon, Indiana University of Pennsylvania '02) has been named Keystone Province Archon. The position had previously been vacant. He will work with the undergraduate chapters at Theta (Penn State), Theta-Epsilon (Indiana University of PA), Theta-Iota (Penn State-Altoona), as well as alumni clubs and house corporations in the province. Brent will be making the transition after spending the last six years as the Chicagoland Province Archon.
"I'm really excited about coming home," he said. "When you look at the history of the fraternity in Pennsylvania, there's a lot – from the chapters to the great alumni. Being part of that at the volunteer level is something that I am looking forward to. I want to help continue building out chapters in the area and help write the next chapters of Sigma Pi history in Pennsylvania."
Brent will be joining the faculty at Pennsylvania State University this fall. He has been in a clinical position with ATI Physical Therapy in Joliet, IL since 2006, including the past four years as a Physician Extender at Hinsdale Orthopedic Associates. He received a BSEd from Indiana University of Pennsylvania (IUP) in Athletic Training and Health & Physical Education and completed a Master's degree in Kinesiology with a concentration in Athletic Training from Indiana University in Bloomington. Smith went on to earn a Doctor of Health Sciences degree from A.T. Still University in Mesa, AZ.
Brent, an Athens, PA native, was a colonizing member of Theta-Epsilon Chapter, where he was active in chapter leadership and served as Sage. He is a past Executive Office staff member, having served as a Colony Development Consultant. Since his time on staff, he has served in a number of volunteer roles, including Chapter Director at Beta, Chapter Director at Theta-Epsilon, and most recently as the Chicagoland Province Archon.
Brent and his family will reside in State College, PA.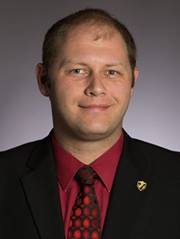 Sigma Pi is also proud to announce that Brother Matt Smith (Beta-Tau, Valparaiso '05) has been named as Chicagoland Province Archon. Matt will work with the undergraduate chapters at Phi (University of Illinois), Beta-Chi (Loyola-Chicago), and Beta-Tau (Valparaiso), as well as alumni clubs and house corporations in the province.
Matt received his Bachelor's Degree from Valparaiso University and is currently pursuing a Master's of Science in Information Technology. He is a resident of Valparaiso, Indiana and works as a Technology Assessment Consultant for Valparaiso University. Matt received the George T. Kilavos Chapter Advisor of the Year Award from Valparaiso in 2010 and was also awarded the Lyle H. Smith Award for Most Outstanding Chapter Director from Sigma Pi. Matt has also served as an alumni volunteer on the Judicial Review and Ritual Committees.
"I hope to simply help the chapters and brothers in the Chicagoland Province to be successful as fraternity men and Sigma Pi brothers," Matt said. "This is an exciting time for Sigma Pi and I look forward to the chance to help the Chicagoland Province excel in our mission to Advance Man's Quest for Excellence!"
Sigma Pi Fraternity was founded in 1897 at Vincennes University, in Vincennes, Indiana. The Executive Office is located in Lebanon, Tennessee. The Fraternity is one of the top men's collegiate organizations in North America, with more than 120 active chapters and colonies in the United States and Canada. With nearly 100,000 alumni and 5,500 undergraduates, our men strive for excellence by living our core values to promote fellowship, develop character and leadership, advance heightened moral awareness, enable academic achievement, and inspire service. Sigma Pi is the only Greek-letter organization with an international philanthropic program, The ACE Project, specifically designed to give back to our host institutions.