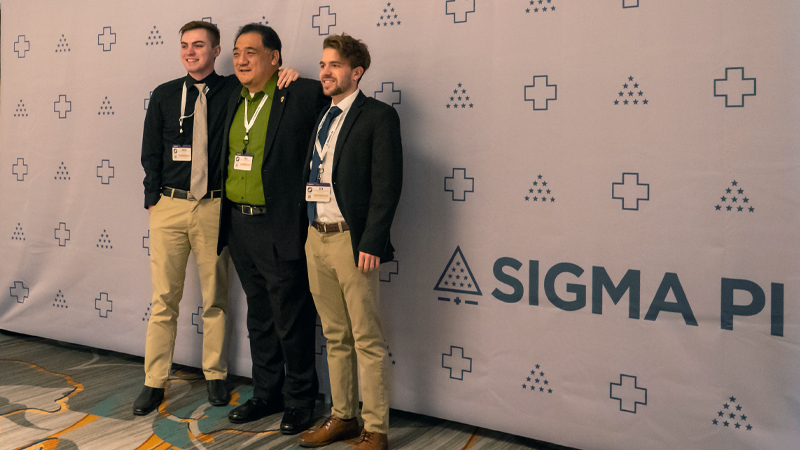 With January honored as National Mentoring Month it is important to highlight the impact a mentor has on a student that can be life-changing. Volunteering your time as an alumni mentor not only benefits the undergraduate members with the critical guidance they need to succeed, it also provides the alumni volunteer with a personally rewarding and fraternally enriching experience.
Here are five benefits of being a mentor for Sigma Pi Fraternity:
Help undergraduate men shape their career goals.
Enhance your leadership skills.
Support undergraduate men to develop a lifelong passion for Sigma Pi. 
Create long-lasting relationships with undergraduate, alumni, and fellow volunteers.
Assist Sigma Pi Fraternity's immediate growth and long-term sustainability.
Did you know there are other volunteer opportunities with Sigma Pi other than the Province Archon or Chapter/Colony Director positions? Different volunteer opportunities include: 
Alumni Advisory Board Member
Each chapter/colony is expected to have an Advisory Board to help take some of the work off of the Chapter/Colony Director. Advisory Boards exist for one reason – to support the efforts of the undergraduate chapter/colony. 
Alumni Clubs are a great way for brothers to stay connected with other alumni in the area. Many alumni live and work far from their chapters and alumni clubs are a great way to reconnect with the brotherhood. Through the alumni clubs, members meet brothers from other chapters and continue the lifelong membership of Sigma Pi even after departure from campus life. 
Speaker/Facilitator at a Workshop or Conference
Sigma Pi also has at least one international conference each year that volunteers can request to speak at or help facilitate. If you would like to speak at a local chapter or province workshop please get in contact with the appropriate volunteer to set that up.
Contributor for The Emerald
The Emerald is a great way to contribute to the written work of the Fraternity that will live on forever. From event coverage, to recognition of a member or chapter accomplishment, there are many great articles to feature. 
Becoming an alumni mentor for Sigma Pi means so much more than just volunteering your time. As a mentor, you will have the opportunity to provide guidance to undergraduates, helping them grow as individuals and as leaders. 
To learn more on how to volunteer, visit https://sigmapi.org/fraternity/volunteer/.