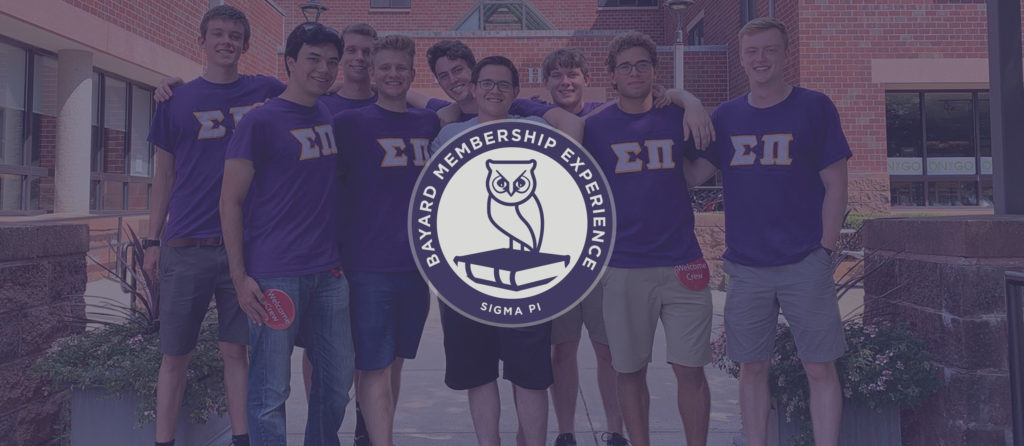 In case you missed it, the following article is from the Summer 2020 issue of The Emerald. To read the issue, visit here. 
While fraternal organizations such as Sigma Pi excel at facilitating meaningful interpersonal interactions and connections among members, they also exist to help members develop knowledge and skills for success in college and beyond.
In today's digital world, technology does not just allow for more opportunities and ways to connect and communicate. It also provides powerful opportunities for learning, growth, and skill development. Sigma Pi, in partnership with Plaid, an organizational management firm, are proud to announce the Bayard Membership Experience, an enriching and robust online new member development program that works to understand and innovate on the needs and interests of today's collegiate members.
Through six courses, Sigma Pi will provide content that introduces new members to the history, values, and structure of the organization at both the national and local level, as well as delves into important topics for personal growth such as financial literacy, time and stress management, event planning and management, and an overview of the fraternity and sorority life community. Intended to be completed through a three-week period, the Bayard Membership Experience will help ensure new members are well-acclimated with the chapter, community, and national organization. Additionally, they will be better prepared for success and excellence beyond the chapter experience, making them not only better brothers, but better men. 
Sigma Pi and Plaid's partnership extends beyond the Bayard Membership Experience to include online resources for new member educators and chapter leaders who support member development efforts. These resources will introduce and explain the Bayard Membership Experience to new member educators and provide guidance on how to effectively implement the program within their chapters. It will also provide training on hazing prevention and how to conduct new member education in a healthy and safe manner.
Why Online Education?
Online education has improved significantly in recent years and is no longer seen as an alternative to traditional learning, but as an effective avenue to introduce foundational content and reiterate critical concepts. 
Online learning is not regulated to educational institutions either, and has become a powerful resource and training tool for corporate and non-profit organizations throughout the world. Beyond the increased use of digital learning in classrooms and boardrooms, there's an added need for virtual content as we navigate the current and post COVID-19 landscape. Therefore, as we work toward redefining a new normal, digital programming will play an important role in ensuring our ability to adapt and grow as an organization.
In an effort to provide the most robust and comprehensive program for our brotherhood, we found that online education offers numerous benefits to learners and educators alike. For students, digital programming can feel like a customized solution, where they can enjoy a "right time, right pace" experience to learning. This affords each student flexibility in the rate at which they succeed. Further, the majority of today's new members are part of Generation Z (born 1995-2010), a cohort who prefers interpersonal learning experiences with a desire to self-pace, reflect, and learn on their own schedule.
For educators like Sigma Pi, online learning makes it easier and more efficient to disseminate information to many students at once. Additionally, online education creates consistency in the lessons and content students' receive. By developing a standardized online learning program, all new members of Sigma Pi will be introduced to the organization in the same manner, creating a strong and unified foundational base.
Course Development Processes
The Fraternity's ongoing partnership with Plaid has made it possible to establish a fully integrated educational experience, which includes:
the Tightrope program for risk prevention education, chapter advisor training to educate advisors on their roles, responsibilities, and methods for mentoring today's college students;
the online officer transition module for all incoming officers, and;
curriculum for the Mid-Year Leadership Conference.
With the addition of the Bayard Membership Experience, Plaid and Sigma Pi will be able to further develop excellence in learning throughout each phase of a brother's life.
Benefits to New Members
For new members joining the organization, learning about Sigma Pi will be easier and more accessible than ever before. The Bayard Membership Experience will deliver fresh, consistent, and relevant information to new members, providing numerous benefits at the onset of their Sigma Pi experience.
With the ability to learn at their own pace, new members will not have to wait until a chapter meeting or a new member education meeting. And no longer will new members have to catch up if they miss a meeting because they will have the ability to log on and learn about Sigma Pi at times that best meet their availability and learning preferences. Additionally, once new members access the Bayard Membership Experience online, they will maintain 24/7 access to the content and resources.
Understanding and innovating on student's needs and expectations for education will provide chapters with new avenues of development and strengthen their ability to live up to the purpose and principles of Sigma Pi.