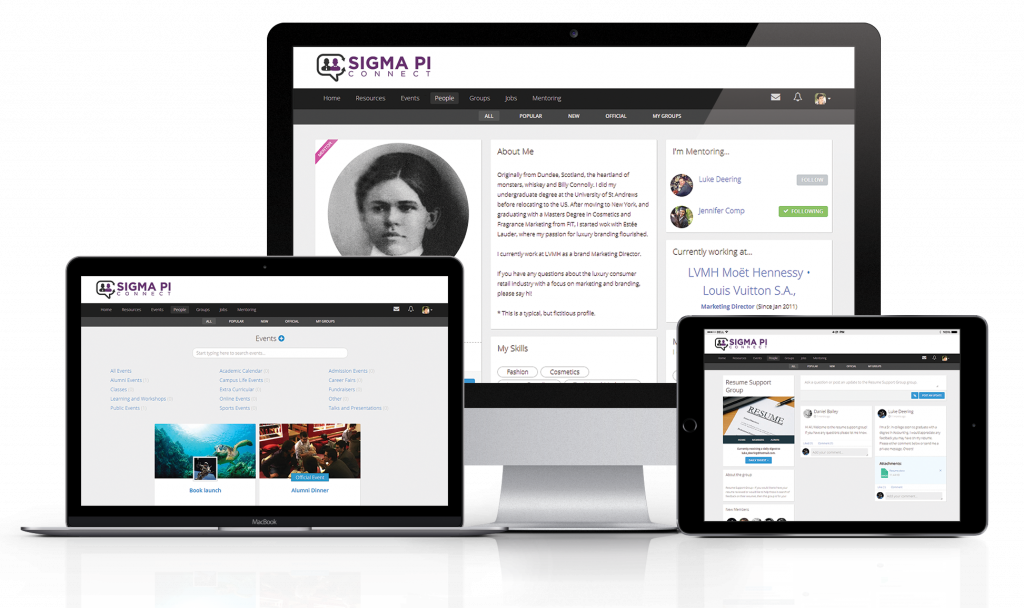 An online skill share and mentoring network to help all Sigma Pi members connect with employment, internship and mentoring opportunities.
Sigma Pi Fraternity, International is proud to announce the development of a unique platform that will harness the power of its network of brothers, Sigma Pi Connect. This new, exclusive community will allow users access to online career development and mentoring opportunities, and will help members connect with employment and internship possibilities.  Sigma Pi Connect is set to launch on January 29, 2016.
In a partnership with UK-based startup VineUp LLC, Sigma Pi members can create profiles on the online platform, then search for brothers to connect with based on shared interests, career goals, geographic location and more. Once connected on the site, Brothers will be provided with resources on how to foster a positive mentoring relationship. The platform will also feature a jobs and internship board for members to further share and search for career opportunities with brothers.
"Our goal with Sigma Pi Connect is to help our undergraduate members increase the size of their professional and entrepreneurial network through the generation of mentor mentee relationships with our alumni," said Alumni Services & Communications Consultant Phil Aiello (Wisconsin-Oshkosh '15). "The community includes more than 8 million employment and internship opportunities from around the world. Also included are opportunities provided by our administrators, our graduates, and our ambassadors."
Registration for Sigma Pi Connect is now open. All initiated Sigma Pi Brothers will receive an email from the Executive Office with their exclusive invite link and signup instructions in the coming weeks. Sigma Pi Connect will officially launch at Mid-Year Leadership Conference on January 29, 2016. To learn more about the full features of Sigma Pi Connect along with screenshots and video tutorials, please visit www.sigmapiconnect.com.
Sigma Pi Fraternity was founded in 1897 at Vincennes University, in Vincennes, Indiana. Our Executive Office is located in Lebanon, Tennessee. The Fraternity is one of the top men's collegiate organizations in North America, with more than 120 active chapters and colonies in the United States and Canada. With over 100,000 alumni and 5,300 undergraduates; our men strive for excellence by living our core values to promote fellowship, develop character and leadership, advance heightened moral awareness, enable academic achievement, and inspire service. Sigma Pi is the only Greek letter organization with an international service program, The ACE Project, specifically designed to give back to our host institutions.