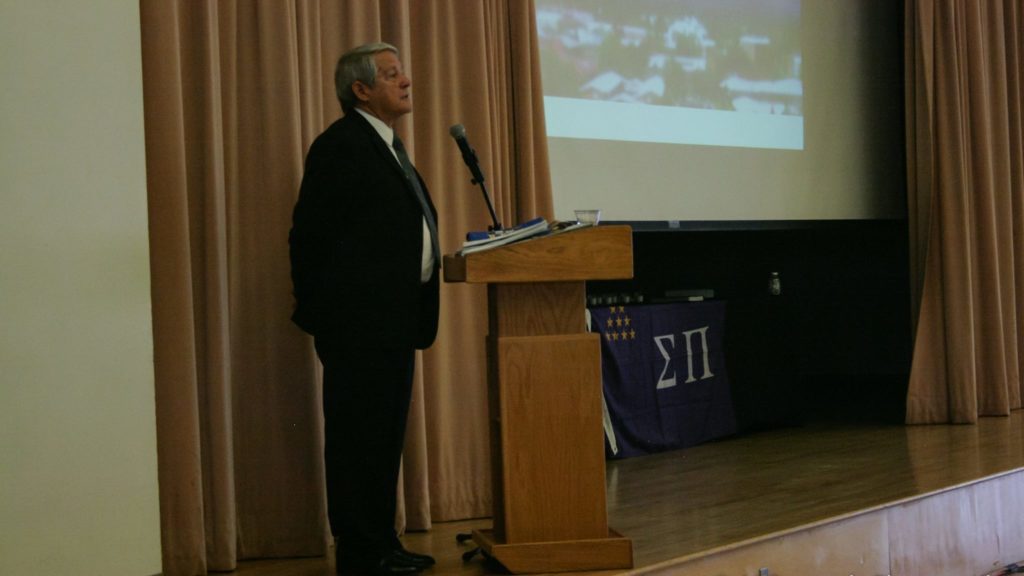 In case you missed it, the following article is from the Summer 2020 issue of The Emerald. Written by Eric Babbitt (Northern Arizona '17). To read the issue, visit here. 
Most fraternities have a "big brother" mentoring program designed to pair upperclassmen with underclassmen new members. This program is designed to provide each new member with someone who is committed to his personal success and well-being. As years go on, men adopt new members as a "little brother" during each recruitment intake, and thus a family is born, groups of big and little brothers who often would share a more personal connection with each other than others in the chapter. This tradition is almost sacred in fraternities. 
Brother Tony Juarez ('66) had been an incredible asset to Beta-Iota Chapter throughout our 69 years. In addition to his many contributions as an undergraduate, Tony has become one of our alumni's most prominent members. His efforts to connect all the brothers in (and of ) Northern Arizona has not gone unnoticed in our fraternity. Tony often coordinated and hosted reunions in Arizona during the chapter's absence from 1991-2016, despite residing in Colorado. 
Coincidently, I was interested in returning Beta-Iota Chapter to Northern Arizona as a freshman student in 2014. I was shocked to learn that our Chapter was the first fraternity founded in April 1951 on campus. Our history included many brothers who significantly impacted the university; Walkup Skydome, Eastburn Education, Tinsley Hall, Gillenwater Hall, Rolle Activity Center, and more. If I could name a building after my big brother Tony Juarez, I would. 
Beta-Iota was recolonized in 2016, and nearly 30 alumni from the years of 1960-1990 were in attendance, discovered, and invited by Tony. At colonization, he reignited the alumni's passion for Sigma Pi by adopting me as his little brother. He believed the relationship between a big brother and his little brother is so profound and that the modern-day founding fathers should be no less included in this sacred tradition. The remaining undergraduate members of the Executive Council were also adopted by other brothers in Tony's era (the mid-1960s). Traditionally most big brothers are only a few months or years older than his little brother, but this relationship included a 50-year age gap. This generational gap is a strange and rare occurrence but was so much more rewarding than a peer-to-peer relationship.
Also, at colonization and on behalf of all our alumni, Tony presented three undergraduate leaders with a $300 scholarship to pay for initiation dues at chartering. Tony had generated enough support for the colony so that these scholarships could be funded. Through Tony, Bob Halford (Northern Arizona '64) was immediately involved in the colony's efforts to recharter. They believed the new men needed to look professional and wear our letters in pride. Every colonist received their first chapter shirt at colonization, and a fund was established to provide every colonist a purple and gold tie to add to their wardrobe. These ties continue to be gifted to every Beta-Iota initiate. 
Our history and connection to the past alumni may have been lost without Tony's support. His oversight as the colony developed is an integral part of our success. Since colonization, Beta-Iota and its representatives have not once paid for registration or travel to the conferences of Sigma Pi; alumni have provided all of this. Myself and others had the opportunity to attend Convocation 2016, MYLC 2017, and SPU 2018. At every conference, we learned best practices and gathered more ideas to benefit Beta-Iota. The experiences at these conferences were invaluable to our quick and efficient chartering timeline. Beta-Iota chartered April 1, 2017, only 356 days after colonization. Many more alumni attended to initiate the new founding fathers and to return Beta-Iota to campus officially. Most of the chapter wore their purple and gold ties for the special occasion.
Tony's involvement didn't stop there. His dedication to supporting the new chapter long-term led him to start a fundraising campaign to generate additional donations to assist the chapter. In less than six months after chartering, Tony and Beta-Iota alumni surprised the undergraduates with a check for $30,000. These funds are supervised by the Chapter Director and disbursed to the chapter via application and approval. Purposes include marketing/ promotional items, conferences, chapter travel, and more. 
As the initial student attempting to restart Beta-Iota Chapter in 2014, I could not imagine the support I would have to make this dream of mine come true. Tony has mentored me personally, professionally, and fraternally, ever since I pledged into this brotherhood. As a founding father, a chapter officer, and now an alumnus of the Executive Office, Tony was available to mentor and support me. He has introduced my chapter brothers and me to hundreds of Northern Arizona brothers and truly has demonstrated that our fraternity is not four years, but for life.
Anthony "Tony" Juarez passed away on April 20, 2020. My chapter and I are eager to honor Tony's memory and his dedication to our fraternity. The best way to celebrate his life is to celebrate the brotherhood that connects us, and in these efforts, we will continue to build a support group for our chapter for decades more.