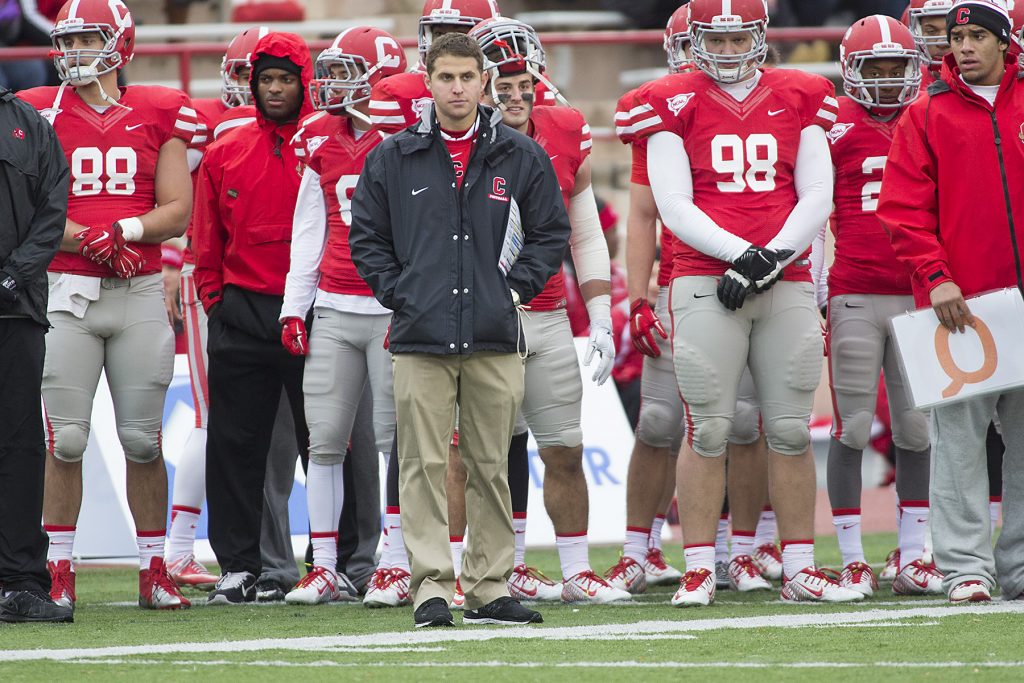 Aaron Klein (M, Cornell '12) is the ultimate sports junkie. The son of two Erie County social workers, Klein grew up in Amherst, NY, just a few miles from the University at Buffalo campus. Klein lettered in three varsity sports, including being named to the Western New York All-Academic Baseball Team. He recalls spending summer afternoons in June with his father, sharing their time together embracing a wide range of sports, including football, lacrosse, baseball, soccer and bowling.
It may come as no surprise that Klein embarked on his Quest for Excellence by seeking a career in athletics, landing the position of Director of Football Operations at Cornell University. Aaron sat down with The Emerald to reflect on his experiences as a Sigma Pi.
Freshman year, the thought of joining a fraternity piqued Klein's interests. "I never thought much about the greek system, but once I got settled into life on campus I knew that I wanted to pledge. I know it sounds cliché, but I decided to pledge Sigma Pi because from the first day I walked into the house during rush week it felt like a place I could call home," said Klein. He recalls brotherhood interactions that solidified his decision. "I became very sick during rush and had to go to the health center, and it was a brother in Sigma Pi that rushed over to pick me up and take me back to my dorm. This summer I was honored to be a guest at that brother's wedding." Mu Chapter Brothers also supported Klein during a tragic family matter. "My father passed away suddenly in the middle of the pledging process, and the support I received from the brotherhood inspired me to really dedicate myself to serving the Fraternity." This experience led him to fulfill three semesters as treasurer, while additionally holding chair positions for new member education, rush and brotherhood. "I was part of the first pledge class back [after Mu was suspended for a year], so my class always had to put in a tremendous amount of effort to return the house to its position as one of the top fraternities on campus," he said. "Our chapter often took for granted the incredible chapter house that we were blessed with. Frequently we struggled cleaning the house after parties, which in my mind showed a lack of overall commitment and pride to maintaining our house. That said, the fraternity had an incredible sense of brotherhood. We organized large events such as our annual trip to a Bills game, competed intensely in intramural sports (even winning the Cornell Fraternity All-Sports Championship my junior year), and each year held a huge Super Bowl party where the brotherhood teamed up to move all the couches in the house down to the basement."
Among all of his successes as an active member, Klein reminisces on his favorite experiences. "I brought back a lost brotherhood tradition which included a trip to see a Buffalo Bills game. An opportunity for approximately 40 brothers, disregarding which team any others are rooting for, to get together to tailgate, and enjoy game day." Klein said. He also reflected on his expanded knowledge of networking thanks to Sigma Pi. "The experience I accumulated as treasurer and residential advisor helped me tremendously on the job."
Today, at 23, Brother Klein works as the Director of Football Operations at Cornell University – A big dream for any football fan.
"After I completed my undergraduate degree at Cornell I enrolled in the MBA program at Cornell's Samuel Curtis Johnson Graduate School of Management. During my studies, I continued to work as a student assistant for the Cornell Football team. Less than a month from graduation I found out that my supervisor with the team, the Director of Football Operations, was retiring from the position and I decided to apply for the vacancy." With his expansive experiences in networking, and with previous experience working for Cornell Athletics as an intern, Aaron knew he was the best candidate to fulfil the director position. "I helped coordinate Cornell Football's annual alumni golf outing and had the confidence to network with alumni I had never met before because I had become comfortable with the process through my experiences in Sigma Pi." Klein said. It just so happens that the first day of the job – July 14, 2014 (and just seven weeks after finishing his MBA) – was the same day as a Staff Appreciation outing organized by the Head Coach. "We went on an afternoon boat cruise on Cayuga lake and then ate dinner together… It was incredible to surround myself with my new co-workers, and to be welcomed so quickly. Everyone was eager to begin working with me." Aaron's responsibilities as Director of Football Operations include managing all forms of team and alumni communication, including websites and social media platforms, as well as handling all travel logistics for away games, and coordinating team events.
Aaron gives this advice to undergraduate brothers: "Networking is essential, but often people focus on quantity rather than quality. We often look to have more friends on Facebook or more connections on LinkedIn rather than developing strong ties with people that could become champions for us," said Klein. "When looking for a job focus on the 'who' and not the 'what' or 'where.' Find a leader, a visionary, someone that you want to work for and learn from. If you can find someone to work for that will inspire you to be great, you have a far better chance at success," he added. "It's that same person that will one day recommend you for your 'big break.'
Additionally, when networking. "Always make a presence, and introduce yourself when you meet someone. Remind them how you met them later on."
Aaron also still has a presence at Mu Chapter, and continues to give back. "My semesters as [Mu chapter's] treasurer, and the relationships I've developed with the chapter's alumni leaders, propelled me to serve as the president and treasurer of Mu Chapter's own Sigma Pi Educational Foundation. The fundraising experience I accumulated is vital to success in a position such as mine within college athletics," Klein said.
You can find Cornell Football on Twitter @BigRed_Football, or on Instagram @CornellFootball to follow Aaron's Quest for Excellence.