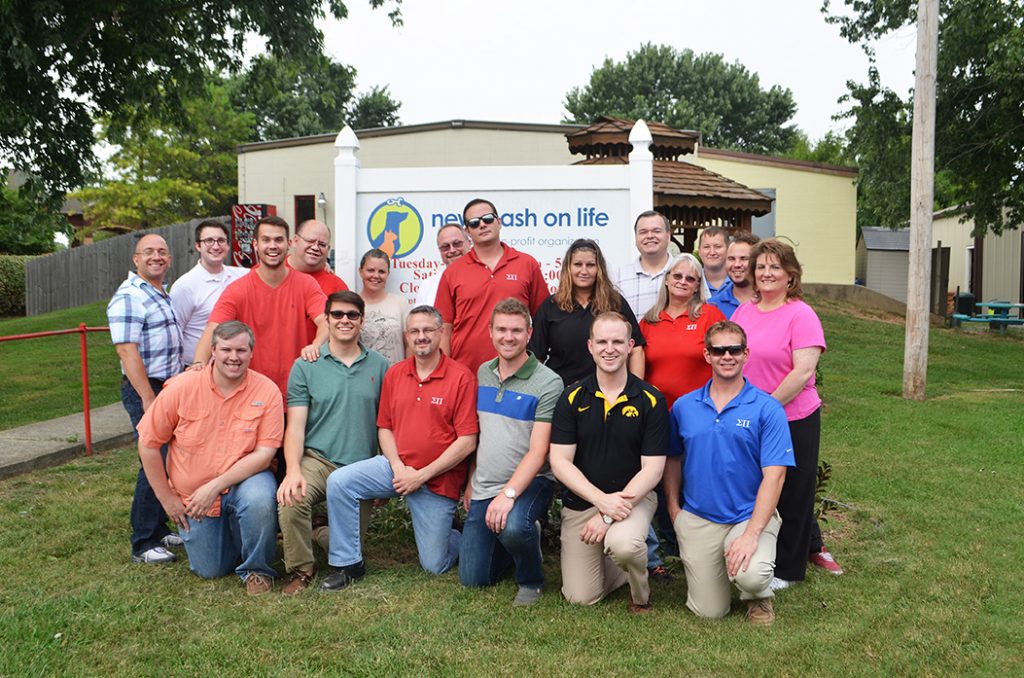 On July 30, 2014, the entire staff of the Sigma Pi Executive Office volunteered at the local animal shelter, New Leash on Life, in Lebanon, Tennessee. As an international fraternity, we ask our chapters to do community service in their cities/communities. So, it is only fair that we do likewise and help set the example for our undergraduates.
We went to New Leash on Life, an animal welfare organization, and helped the staff there with a major project that they needed assistance with. New Leash on Life is a no-kill animal shelter that receives no funding from taxpayers. They survive on donations alone. The staff there needed to clean out and reorganize their large garage storage area, but did not have the manpower to get the project done.
Every member of the Sigma Pi Executive Office staff participated in this event. 20 of us each spent two hours working together to complete the project. 40 man (and woman) hours were donated to this community organization. Yes, it was a warm afternoon in late July in middle Tennessee. Yes, there were some unpleasant smells. But, together we did it. And, as a reward we were allowed to have some "play time" with some of the animals who are housed at the shelter.
Our supervisor for the afternoon, Office Manager Ann Shapiro, kept saying, "I can't believe you guys got all this done. This would have taken us forever to get organized."
I can say that I was truly impressed with my fellow co-workers. No one complained about having to participate. No one said, "I don't want to do this." We all worked together on this project. The feeling of giving back to Lebanon, a community that has welcomed Sigma Pi with open arms since our relocation in late October 2013, was overwhelming. Knowing that the work we were doing benefited these lovable cats and dogs made it all the more rewarding.
Some of our alumni clubs hold community service events in their regions, and they should be thanked for their efforts. More participation from alumni would be great. As for our undergraduate chapters, you see that not only do we "talk the talk" about community service, but we also "walk the walk." For those who regularly participate in community service projects with your chapter, I say "Thank You!" Keep up the good work. For the others, hopefully our actions at the Executive Office will help motivate you to be a part of your chapter's community service efforts.
For more information about New Leash on Life, visit them at: http://www.newleashonline.org/ or see their Facebook page at: https://www.facebook.com/newleashonline?ref=br_tf. A special thank you to their Office Manager Ann Shapiro, Executive Director Amy Haverstick, along with Directors Davina Herr, Alex Keith, Holly Liter, Colette Lanham-Stoffell, and Judy Wallace. The President of New Leash on Life is Angela Chapman, Vice President of Operations is Sue Tompkins, Secretary is Leah S. Cesternino, and the Treasurer is Dawn Hall.