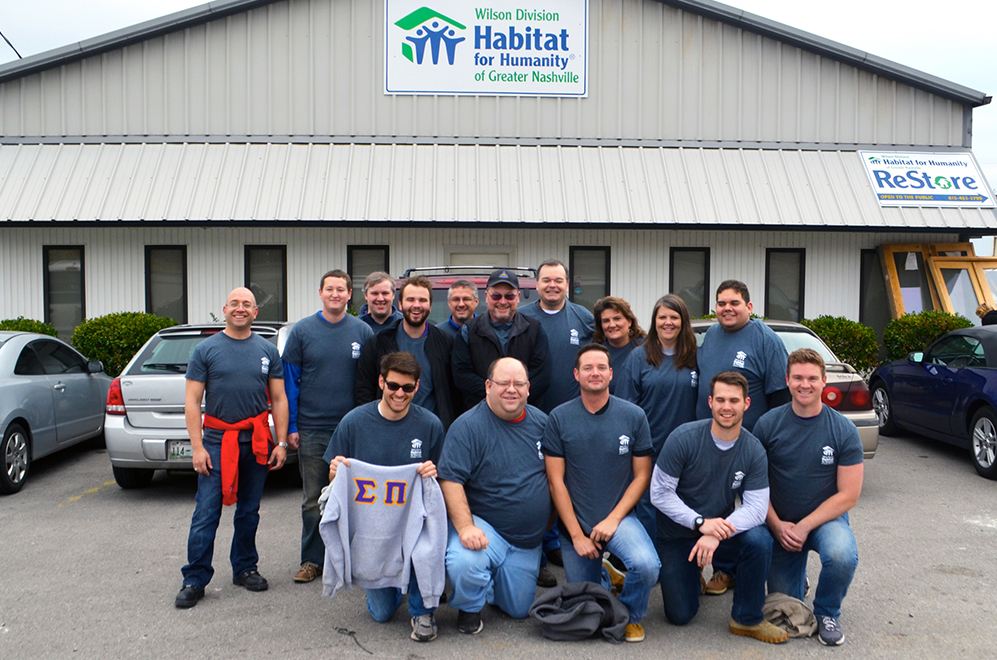 The Executive Office staff of Sigma Pi Fraternity, International took some time on Tuesday, December 9, 2014, to volunteer with Habitat for Humanity at their ReStore location in Lebanon, Tenn.
According to their website, Habitat for Humanity ReStores "are nonprofit home improvement stores and donation centers that sell new and gently used furniture, home accessories, building materials, and appliances to the public at a fraction of the retail price.  Habitat for Humanity ReStores are proudly owned and operated by local Habitat for Humanity affiliates, and proceeds are used to build homes, community, and hope locally and around the world."
"Community service is a big part of being a member of Sigma Pi," said Executive Director Michael Ayalon (Epsilon-Omicron, Buffalo '97). "Through our volunteer involvement in Habitat for Humanity, we have a greater appreciation of the blessings we have in life, a stronger connection to the Lebanon community, and a stronger desire to help others. We look forward to even more opportunities to serve."
In all, 17 members of the Executive Office staff volunteered three hours each, totaling 51 total hours of service.
Kim Schick, Wilson ReStore Manager, had this to say about the efforts of the Executive Office Staff: "To all the wonderful volunteers at Sigma Pi that helped us move over 500 extremely heavy doors; your group did more in one day then what we could have done in 3 months!  We have been selling these doors like crazy, now that the public has access to them.  It was as if we won the lottery the day Mr. Ayalon called and said there was a group of fraternity members and staff that wanted to volunteer here.  All of us here were thanking God that day.  Honestly, we had no idea what we would have done without all of your efforts.  Thank you, thank you, thank you; we are so fortunate to have you in our community."
For more information about Habitat for Humanity ReStore, visit their website at www.habitat.org/restores.