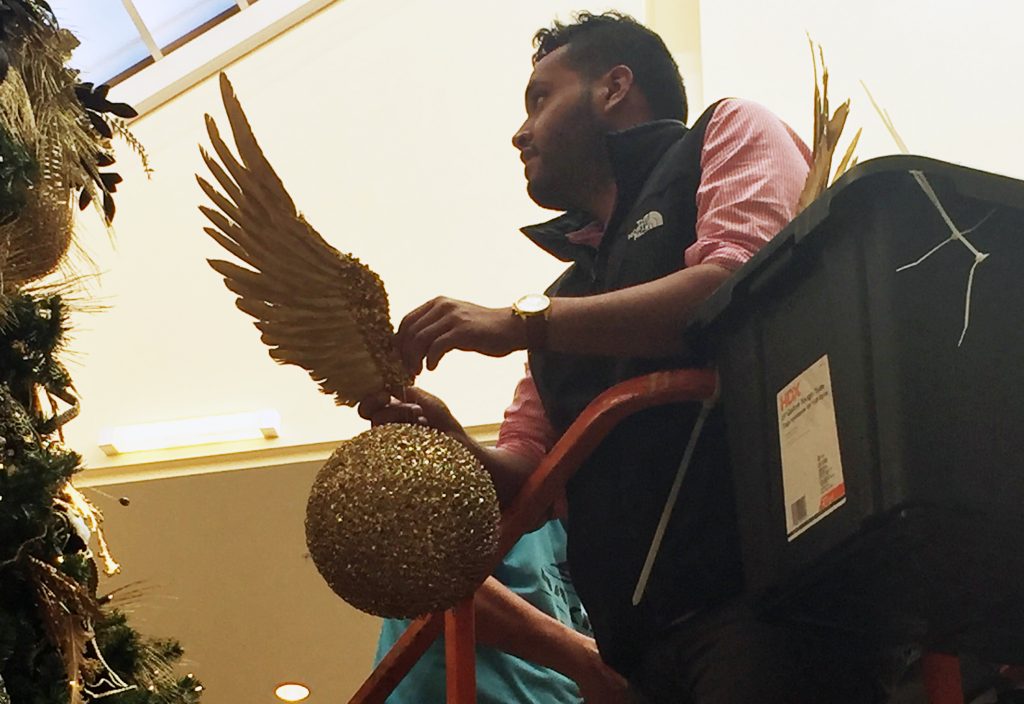 For the last 10 years, Eta-Mu Chapter has worked closely with the local Ronald McDonald House to give life to the "Gift of Life Gift of Love" event. Every year in November our chapter revives a call from the Ronald McDonald house informing us that they need our help once again, Gary (Director of the event on behalf of the Ronald McDonald house) lets us know that everything is set up and ready to go. Over the span of a week our brothers move the parts to a 20+ foot tall Christmas tree as well as various decorations and ornaments to build a winter Wonderland in our local mall. Eta-Mu Chapter is responsible for assembling the tree from start to finish. Once the tree is built we decorate it with ornaments that are available for purchase by the public during the Holiday Season. When the tree and designated area is finished we hold a Tree Lighting Ceremony that is open to the public to come and learn more about the Ronald McDonald House and the families that they help. Local Businesses can take this time to donate money to the Ronald McDonald house and in return they receive a plaque that gets put on the tree for the community to see.  The Tree Lighting Ceremony is where Sigma Pi is recognized in a positive light to the public and community. During the Holiday Season the brothers that are staying in the local area during winter break help to keep this beautiful tree maintained. Once winter break ends and the new semester starts, Our chapter connects with the Ronald McDonald House to get a schedule to start taking down the tree and transport it to a local storage unit for holding until next year.
Steps your chapter can take to initiate something like this are as follows:
Reach out to your local Ronald McDonald House and volunteer to help them with any events they are doing. (Most locations do a similar event for Gift of Light Gift of Love.)
FOLLOW UP!!! This is possibly the most important step. if you do not follow up with the organization you are making plans with, they may start to view your chapter as not being interested and then they may not be willing to work with you anymore.
Be persistent, Most organizations are very busy so being persistent can really help them remember about events that you are doing with them.
Attendance. Show up, work hard. to a non profit company, volunteers are very helpful but these organizations will not work with people that do not show up.
Once you have established an event, Market it! email blasts, radio ads, TV commercials etc. Ask the organization if they have any current ways they use to get information out to the public, most organization will be more than willing to help with PR especially if it means better return on the event.
If successful, follow up again and let the company know that you are reliable and dependable and would love to help them with any further events in the future or simply make the event an annual thing.
Closing, let your school and Greek
advisors know about the event and how successful it was, send out information to your alumni and national office.
If a small Chapter of 12 members can use the above strategy to establish and aid in an annual event that generates $95,000 and 253 combined man hours, then so can you.