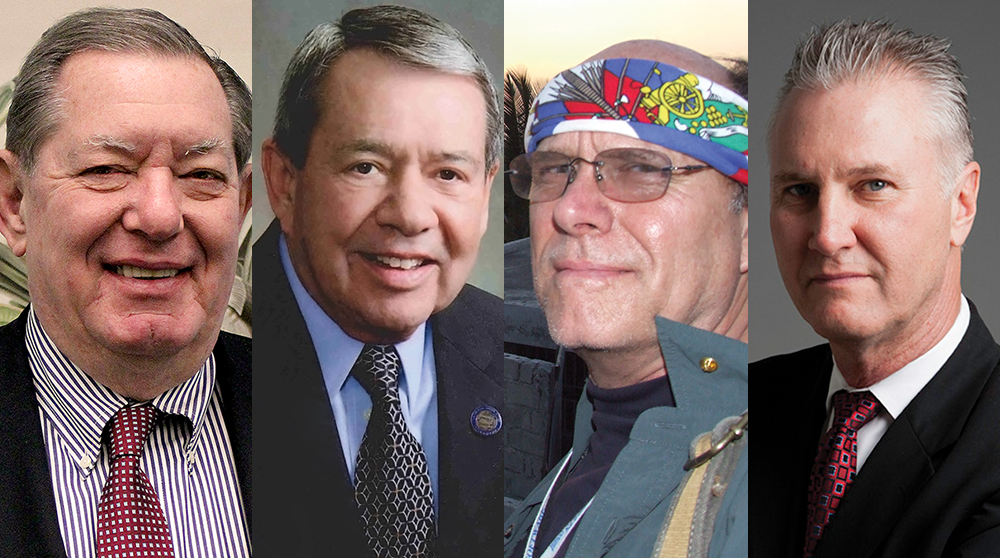 The Founders' Award is the highest and most prestigious honor which the Fraternity bestows upon an individual brother. The selection is based upon outstanding contributions or exceptional service in business, a profession, education, or humanitarianism, including service to Sigma Pi or the fraternity system as a whole.
Through the years, the Fraternity has developed programs for the recognition of outstanding brothers, alumni, and chapters. Since 1962, Sigma Pi has recognized several of its most outstanding alumni brothers through the presentation of the Founders' Award. Before each Convocation, the Grand Council selects the recipients from among those brothers recommended by chapters and alumni clubs.
The presentation of the Founders' Award to recipients takes place during the closing banquet of each Convocation. Since its inception, 92 outstanding brothers have had the prestigious Founders' Award bestowed upon them.
The Founders' Award was the brainchild of Past Grand Sage J. Robert Odaniell (BN, SIU–Carbondale '51). He presented the concept in 1961 at the Grand Council retreat in St. Louis, Missouri. During the 26th Biennial Convocation in French Lick, Indiana, the Grand Council presented the first Founders' Awards to Byron R. Lewis (A, Vincennes, F, Illinois '05), Curtis G. Shake (A, Vincennes '06) and Robert W. VanHouten (AM, NJIT '30).
JAMES KEENE
MU, CORNELL '57
For over 60 years, Brother James Keene has lived the Sigma Pi creed as a stellar supporter of both Mu Chapter at Cornell University and as a civic leader in his community. After pledging the Fraternity in the fall of 1953, James has served with dedication, devotion and passion in order to establish Mu Chapter as not only as a strong organization, but also to complement its stability in both housing and scholarship funding.
As a civic leader, James served unselfishly while giving back to his community and the theatre arts. He was the Founder of both Opera Omaha Council and of the Brownville Concert Series. He has served as President and Chairman of Opera Omaha; Chairman of the Omaha Symphony Foundation, President of the Omaha Symphony Men's Council; as a Trustee of the Joslyn Art Museum in Omaha, Nebraska; Advisory Board for the Johnson Art Museum in Ithaca, New York; and finally as former Trustee for Doane College in Crete, Nebraska.
His current civic involvement includes Member of the President's Council for the Colonial Williamsburg Foundation, Williamsburg, Virginia; Board Member and Co-Chair of private fund raising for the Nebraska Shakespeare Festival in Omaha, Nebraska; Member of the Cornell University Council in Ithaca, New York; and Board Member, Co-Chair and Program Director of the Brownville Concert Series in Brownville, Nebraska.
Keene and his wife, Ruth, were recognized by the Governor of Nebraska with The Nebraskland Award in recognition to their service to the entire State of Nebraska, and also The Governor's
Arts Award, for their significant contribution to the artistic life of the State of Nebraska. In 2012, in recognition of his long service to Mu Chapter, the chapter and alumni establishment of a special fund in James' name to assist the chapter Sage financially, and the commissioning of an oil painting of him that hangs in the Chapter House in Ithaca.
Keene's dedication to scholarship, art, and Sigma Pi has been marked with excellence. We are proud to recognize his accomplishments by presenting him with a 2014 Founders' Award.
---
PGS JIM VERPLANCK
BETA-MU, MISSISSIPPI '61
PGS Jim Verplanck's renowned career Public Administration and Urban Planning has received recognition from several planning and professional organizations, as well as government agencies. Verplanck enrolled at the University of Mississippi in 1958 to pursue a degree in Public Administration, and pledged Sigma Pi in the fall of 1958. Verplanck's undergraduate leadership experiences include serving as Third Counselor and Sage, representing Beta-Mu Chapter on IFC and involvement in intramural sports. Verplanck sought employment with Sigma Pi in February 1962 as a field representative, and worked to establish a colony at the University of Texas.
Jim was elected to the office of Grand Fourth Counselor in 1972, Grand Second Counselor in 1974, Grand Sage in 1976 and Past Grand Sage in 1978. Verplanck is listed among the top 50 Lifetime Donors to the Sigma Pi Educational Foundation. Some of Jim's most cherished moments in Sigma Pi were his years at Ole Miss and the continued brotherhood he has maintained with his fellow chapter brothers. The time he cherishes the most was spent as a Field Representative achieving success in working with chapters, establishing colonies, chartering new chapters and networking with Grand Council members. Verplanck always looked forward to Council meetings and is proud of his Grand Council service.
With a commitment to fellowship within the communities he led, and his service to Sigma Pi, Jim Verplanck will be honored at Convocation with a 2014 Founders' Award.
---
MARK REED
ALPHA-PHI, GEORGIA '69
Mark Reed's lifelong commitment and achievements within the United States Armed Forces, the religious ministry and Sigma Pi validates Reed's dedication to the creed of Sigma Pi.
Since pledging Sigma Pi at the University of Georgia in 1965, Reed has made real the Fraternity's ideals through his military and ministry service. His ability to bring to life the values truth, justice and strong character to life guided his service to our nation during his tenure in the U.S. Army.
During his outstanding career, Reed has been recognized with numerous honors including a Vietnam Service Medal, Vietnam Campaign Medal, American Defense Medal, Soldier of the Quarter, Bangkok Detachment Soldier of the Month and an honorable discharge.
Reed additionally served as a member of the Men's Ministry Servant leadership team and Editor of the Ministry Newsletter for the Fellowship Bible Church. Reed additionally attended numerous ministry mission trips around the world, concentrating on Haiti since 2003.
Reed's lifelong commitment of service to Sigma Pi began during his undergraduate career when he served as his chapter's rush chairman, social chairman, Second Counselor and Sage. Reed later served as Chapter Director, Province Archon, and President of the Alpha-Phi housing corporation. His contributions to his chapter remains paramount. Beyond his chapter, Reed served as Founder and first president of both Atlanta and Georgia Alumni Clubs, chairman of the 44th Convocation in Tampa, FL, chairman and member of the Sigma Pi Fraternity International Housing Committee, and a previous board member of the Sigma Pi Fund.
Reed's quest has been marked with excellence, and it is for this reason that he will be honored at Convocation with a 2014 Founders' Award.
---
JOHN SHIGLEY
BETA-SIGMA, NORTHERN ILLINOIS '78
Since 1986, John Shigley has built a professional reputation in three different countries as a leader in the Gaming Industry.
Shigley pledged at Northern Illinois University (Beta-Sigma) in Fall of 1974 and graduated with a Bachelor of Science Degree in Accountancy in 1978. Shigley sponsors the John and Winifred Shigley scholarship to one NIU graduate accountancy student each year. In 2009, Shigley was presented the Outstanding Alumni Award for the College of Business at NIU. He is a member of the American Institute of Certified Public Accountants and an active member in the Beta-Sigma alumni
association.
In 2000, John joined Caesars Palace as Executive Vice President, and later, President. Among his accomplishments, Shigley invited the Celine Dion organization and opened a restaurant with a James Beard award winning celebrity chef.
In February of 2002, John was recruited to work for rival MGM Resorts International as EVP of New York New York Hotel, a $400 million operation. Later, Shigley joined the executive committee of the MGM Grand Hotel as EVP and CFO, a $1.1 billion operation. In two years, Shigley implemented cost savings of $16 million. In 2008, Shigley took over all operations of the MGM Grand Hotel.
In March of 2011, Shigley was named President and COO of MGM Grand Ho Tram, Vietnam, the first international quality casino resort casino in Vietnam. In May of 2012 he was named Executive Vice President-Far East Marketing for the MGM Macau, Macau SAR, China. Currently, John is responsible for restructuring and improving the profit of the high-end casino marketing department in the world's largest gaming market. He also serves on the team designing the new $3 billion MGM Cotai project in China.
Shigley's dedication to scholarship and culture lends support for his recognition at Convocation with a 2014 Founders' Award.