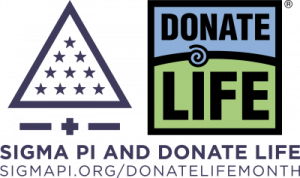 Facts About Donation and Transplantation
Nearly 115,000 men, women and children currently await lifesaving organ transplants and another name is added to the waiting list every 10 minutes.
On average, 22 people die each day because the organs they need are not donated in time.
On average, a single donor can save or heal the lives of more than 75 people.
Registering to be a donor is quick and easy. Go to DonateLife.net today to sign up and save lives!
By registering your decision, you save your family from the burden of having to make the decision for you.
April is National Donate Life Month
Here are some ways your chapter can make a difference on campus and in the local community:
Share your decision to save lives with your friends on social media. Make sure to include a link on your post so that they can register too.
Reach out to your State Team contact to find out how your chapter can support Donate Life events in your local community.
Plan a campus registry drive and/or host a seminar to educate others about donation and transplantation. Invite a student or teacher touched by donation or transplantation to share their story.
Celebrate Donate Life Blue & Green Day! Participate in our Facebook photo contest by taking a chapter picture with everyone dressed in blue and green attire. Better yet, recruit other organizations or your entire school to take part!
Find Your Local Contact
Click here to find your local contact, and utilize them to help your chapter in preparation for your Donate Life event.
Policies, Constitution, & Bylaws