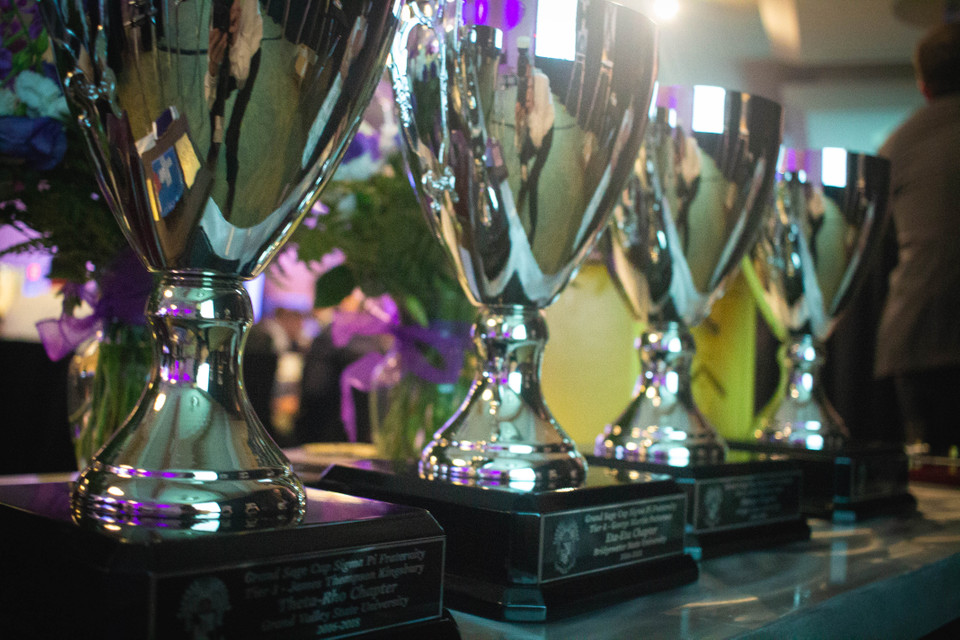 The Grand Sage Cup award is presented biennially to honor the top chapters in each tier which demonstrated superior overall operations. These winners are selected from the Grand Council Award winners. The tiers from which the four winners are selected are based upon the number of fraternities represented on an individual campus. The four chapters that are honored have excelled in every way over the past two years. Determining the winners is a difficult process, but these four chapters all represent what a top chapter should be. 
Rolin Rosco James Tier, Tier 1 Winner
Omega, Oregon State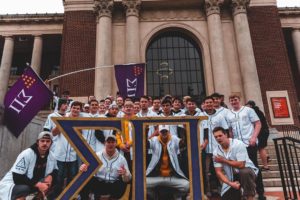 First up, we have the Rolin Rosco James Tier which encompasses Tier 1 with 20 + fraternities on their campus. This winning chapter was able to be a part of the top 5 highest fraternity GPAs on campus, during the biennium, with most recently holding a chapter GPA average of 3.26, well above the fraternity average. This chapter's roster has consistently been at or above their campus average of 50 members.  They also raised nearly 12,000 philanthropy dollars. Additionally to name a few of their many awards: IFC Chapter of the Year – Runner Up, Top 5 IFC GPA, and  Intramural Football Champions. 
"This accomplishment can absolutely be attributed to the active brothers. With only sporadic alumni involvement they have self-fueled excellence," said Pacific Northwest Province Archon, Ian Itschner (Oregon State '91). "Three of their practices have stood out over the past years.  Brotherhood is a business – Governance, management, planning, and paperwork are all part of a successful business and they put the needed energy into these.  The Creed directs us to be well rounded – A successful man does not just focus on social interaction.  Philanthropy, scholarship, recruitment, etc. all get strong focus and participation.  Ritual bonds us – Weekly formal dinners, periodic candle passing, and fully embracing all Sigma Pi ceremonies clearly makes an impact on these brothers. I am proud not only of their award, but of their constant effort to improve.
Congratulations to Omega Chapter at Oregon State on winning the Rolin Rosco James Tier Grand Sage Cup. 
William Raper Kennedy Tier, Tier 2 Winner
Gamma-Gamma, Central Missouri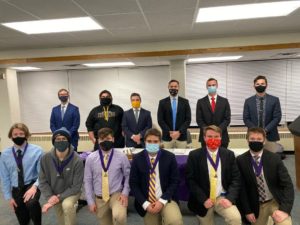 For Tier 2, the William Raper Kennedy Tier has 10-19 fraternities on campus. The brothers of Gamma-Gamma Chapter logged over 5,000 community service hours over the last two years. Additionally, they hold the title for largest chapter on campus, including awards for: largest fraternity, largest recruiting class, and Homecoming royalty. This biennium they were also awarded  the Grand Chapter Award. 
"Congratulations to Grand Sage Cup winners Gamma-Gamma Chapter at the University of Central Missouri," said Missouri Province Archon, Paul Kee (Purdue '88). "As a group, they have found a great balance in doing what is right, making choices based on our Ideals and Values, and with a little direction, can excel even further than they have done on their own, continuing their tradition of excellence by developing engaging programs for their members…honoring tradition, but seeking new ways to keep their programming fresh."
Congratulations to Gamma-Gamma Chapter at Central Missouri on winning the William Raper Kennedy Tier Grand Sage Cup. 
 James Thompson Kingsbury Tier, Tier 3 Winner
Epsilon-Nu, Cal State Fullerton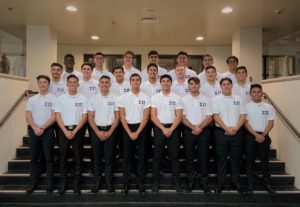 Next up the James Thompson Kingsbury Tier includes Tier 3 with 6-9 fraternities on campus. The winning chapter of Epsilon-Nu has logged 8,000 community service hours and raised over 10,000 philanthropy dollars over the last biennium in their tier, and they have also won awards in Pursuit of Excellence for: best Brotherhood, Scholarship, and Philanthropy.  
"Epsilon-Nu Chapter has met and conquered daunting challenges since its re-chartering on campus at California State University, Fullerton (CSUF), in April 2017," said Epsilon-Nu Chapter Director Michael McDonald (Cal State Fullerton '78). "The dedicated Brothers, from those that helped re-colonize and re-charter our chapter, to the current Active members, have worked tremendously hard through their dedication in building a great and respected Chapter in an extremely short period of time."
"With the dedication of our Brothers, along with the partnership and mentoring of our four co-advisors, including myself as the Chapter Director, we have accomplished a great achievement. The awarding of the Grand Sage's Cup was unexpected, but we are humbly grateful and appreciative, for the recognition bestowed upon us by Sigma Pi Fraternity & Foundation for our hard work, dedication, and leadership."
Congratulations to Epsilon-Nu Chapter at Cal State Fullerton on winning the James Thompson Kingsbury Tier Grand Sage Cup. 
George Martin Patterson Tier, Tier 4 Winner
Iota-Tau, St. John's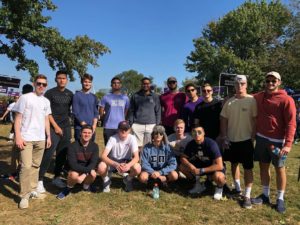 Finally, the George Martin Patterson Tier encompasses Tier 4, with 1-5 fraternities on campus.  The brothers of Iota-Tau Chapter had the most community service hours as well as the highest dollars raised during the biennium. This chapter won multiple IFC awards on their campus including: Outstanding Leadership Involvement, Excellence in Brotherhood Development, Outstanding Interfraternalism, Man of the Year, and more. Outside of this, Iota-Chapter also won the William J. Cutbirth Jr. Award, the Louis Foley Award, and the Grand Chapter Award this biennium. 
"The past years have certainly impacted and changed college life in many ways. For Iota-Tau, we've always sought to continue to find ways to have a direct and positive impact at St John's University," said Iota-Tau Chapter Director, Paul Yougnand (St. John's '15).  From our colonization, we leveraged our brother's talents, skills, and diversity to help us to deliver meaningful programming to the university that has added value to Student Life at the University. Being in NYC during the global health pandemic, we felt compelled to do even more and assist our greater NYC community as well. Given all this, being awarded the Grand Sage's Cup was a recognition that acknowledged our chapter's ingenuity and creativity and its leadership in executing on and living out our Fraternity's ideals."
Congratulations to Iota-Tau Chapter at St. John's on winning the George Martin Patterson Tier Grand Sage Cup.