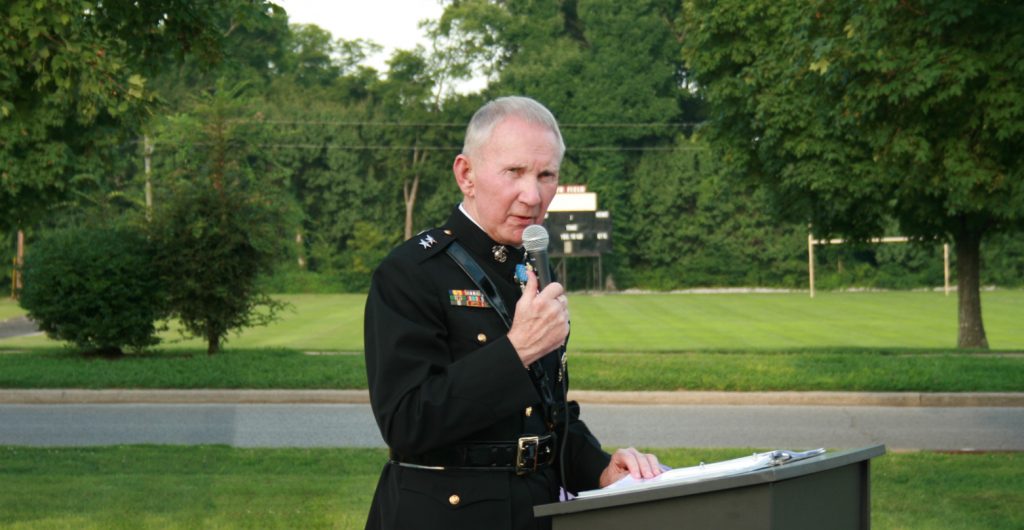 *NOTE: This article originally ran in the Summer 2015 issue of The Emerald.
More history was made at The Mitchell House on Saturday, July 18, 2015, where Sigma Pi officially unveiled the Veterans Memorial to hundreds of guests. The memorial–a striking nine-foot tall polished granite centerpiece, topped by the Sigma Pi Greek Cross, sitting on an 8-by-8-foot center foundation, surrounded by four 8-by-8-foot bricked arms consisting of bricks and pavers to recognize and honor the veterans who were members of Sigma Pi–was gifted to Sigma Pi by generous donations from 50 individual alumni. An aerial view discloses that the Veterans Memorial is in fact a representation of the Sigma Pi badge/pin. The Walk of Honor leading up to the memorial has additional bricks and pavers, which can honor non-veteran Sigma Pi brothers and other non-Sigma Pi veterans. These bricks and pavers will be sold by the Educational Foundation to fund scholarships to Sigma Pi veterans. Behind and framing the memorial are three 30' tall flagpoles flying the American flag, the Canadian flag and the Sigma Pi flag.
The dedication commenced at 6:00 PM with Executive Director Michael Ayalon (Buffalo '97) welcoming the attendees and then directing all to face the flags where the Pledge of Allegiance was recited, the Canadian Bill of Rights, and the Creed of Sigma Pi. PGS Frank Fryburg (Penn State '49) delivered the invocation.
Ayalon then introduced our featured speaker, Major General James Livingston (Auburn '62), USMC – Medal of Honor recipient. General Livingston gave an inspirational speech, sharing that we are here today to honor all Sigma Pi veterans, past, present and future, touching on the legacy of Sigma Pi, from its four cadet founders to those special Sigma Pi alumni who served our country and made the ultimate sacrifice. He pointed out how Sigma Pi men have always stepped up to serve their country, be it under arms or in other ways of serving, including education, business, government or other ways, and that Sigma Pi prepares our men to that end. He compared Sigma Pi to the Marine Corp in that they are both a brotherhood of like-minded men, with a legacy of greatness and success. He started and ended his speech with the phrase "Sigma Pi – Semper Fi."
Veterans Committee Chairman Mark Reed (Georgia '69) spoke next. He gave historical context about how the Veterans Memorial came to be, from its inception as an idea for honoring our veterans that he and GS E. Andrew Morris (Murray State '70) discussed some years before. He shared how Morris contacted him in 2014 and asked him to become Chairman of a new Veterans Committee and that the first goal was to design and construct a suitable Veterans Memorial. Since there were no funds available for such an undertaking, Mark reached out to 50 individual alumni who donated $1,000 each, raising $50,000 to construct and maintain the Memorial. He said a specifal thank you to his eight-man committee, the 50 original donors and the contractors who built the Memorial.
Morris was the final speaker, and gave an overview of the entire process and the ideas behind wanting to honor our Sigma Pi veterans. He pointed out that Sigma Pi is the only fraternity that has and wears the Greek Cross. He also noted that there were over 1,000 bricks in the Memorial's Greek Cross, but that the grounds of the Mitchell House were not big enough to hold all the bricks representing those Sigma Pi brothers who have served our country. He said the Veterans Memorial may be the most important part of The Mitchell House – no veterans, no Sigma Pi. Sigma Pi exists because the U.S. exists, and the U.S. would not exist but for our veterans who served, fought and died to make sure our country existed. He quoted President Ronald Reagan who said, "Freedom is not free. It can not be passed on to the next generation. They must earn it." He told the undergraduates that this should be an event they will remember for the rest of their life. He commented, "what a great day for Sigma Pi, as the sun gets ready to set and we unveil the monument, and we honor those men who served, and we cherish them."
[button link="http://sigmapi.org/veterans-memorial/" color="purple" icon="" size="small"]Click here for more information about the Veterans Memorial[/button]