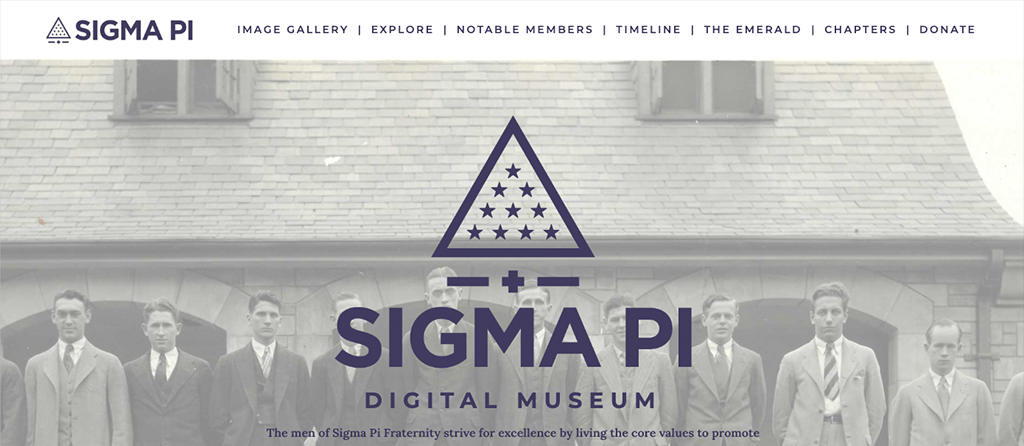 NASHVILLE, TN (October 12, 2023) — Sigma Pi Fraternity and HistoryIT are excited to announce the launch of the Fraternity's digital museum. The Fraternity's partnership with the innovative digital preservation company ensures that the organization's history and legacy are accessible to members and alumni across the globe.
Since its establishment in 1897, Sigma Pi Fraternity has been dedicated to nurturing a brotherhood that is unwaveringly committed to the lifelong development of our brothers.
"Our digital museum marks a pivotal moment in the history of Sigma Pi, ensuring our legacy's accessibility to all brothers," said CEO Jonathan Frost (UMSL '99). "Through our partnership with HistoryIT, we've preserved these memories for everyone to explore. This is just one step in preserving our timeless traditions and values for future generations."
The Fraternity's digital museum is the culmination of a partnership that strategically assessed and selected the items for digital collection. With these records now securely stored in Odyssey, HistoryIT's proprietary digital preservation software, they are easily accessible and searchable by anyone, anytime, anywhere.
Sigma Pi Fraternity stands amongst other forward-thinking men's fraternal organizations that have made the visionary investment in digitally preserving and safeguarding their rich legacy for the benefit of generations to come. To ensure the continued growth and enhancement of our digital museum, we invite our dedicated members and alumni to be part of this historic preservation effort. Your generous donations will enable us to further enrich our digital collections, adding new layers to our storied history and making it more accessible and engaging than ever before. Together, we can preserve and share the timeless traditions and values that define Sigma Pi Fraternity for future brothers and the global community. Gives can be made online at sigmapi.org/donate. 
"The materials we use to communicate our history are constantly at risk of deterioration or destruction," said Kristen Gwinn-Becker, PhD, Founder & CEO of HistoryIT. "Digital preservation ensures that those essential photos, documents and memorabilia survive beyond our lifetime. The process also allows us to share those stories in unique, accessible formats, including Sigma Pi's new digital museum." 
Explore the timeline of the Fraternity, the stories of Prominent Sigma Pi members, search for chapter members, family, and friends, or simply explore the extensive collections of photographs and artifacts at sigmapi.historyit.com.
Thank you to our partners at HistoryIT for helping us share our legacy for current and future generations of Sigma Pi. 
About HistoryIT
HistoryIT is dedicated to giving history a future. We offer a comprehensive set of services and software that empower any organization to transform archival materials, regardless of their current condition, into a 21st Century digital collection.