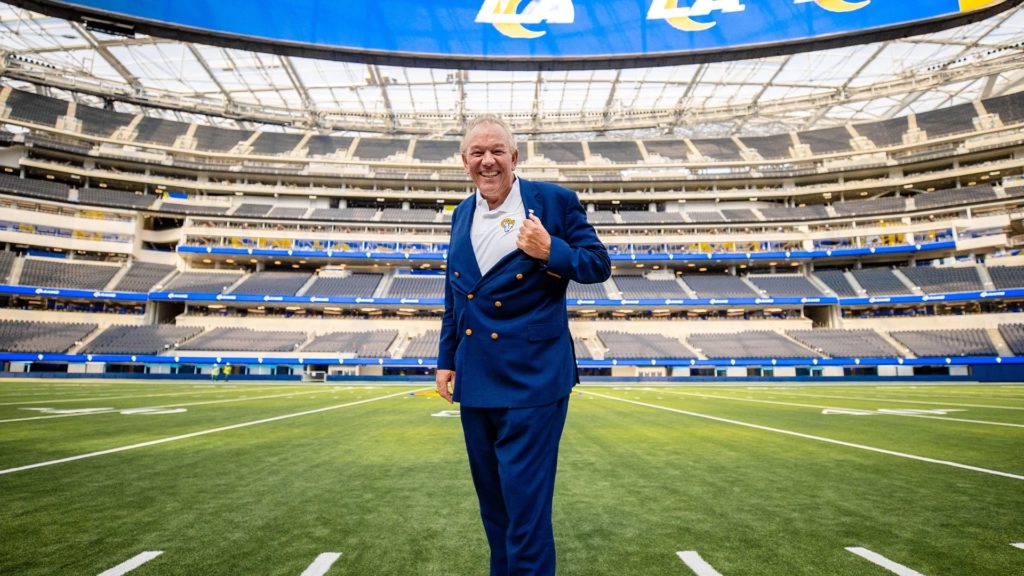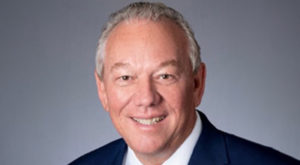 Sports fans may recognize Sam Laganà (Loyola Marymount '85) when they hear his voice: he's been the stadium announcer for the Los Angeles Rams since 2016 and has lent his voice and energy to many other sporting events for over 37 years. He coined the NFL team's now-famous battle cry, "Rise with the Rams!" and popularized the team chants "Whose House? Rams House!" 
"It all goes back to playing sports myself and getting hurt," Sam recalls. "Our basketball coach, Jerry Marvin, says, 'Go on over there and announce the game; you know what's going on.'" Since then, through many years and gigs, Sam has put his all into his announcing work, exciting fellow fans, and building positive energy in those around him.
Sam's early days of announcing largely took place in his years as a student at Loyola Marymount. In that sense, he can trace both that and his educational career to his college days—and his fellow Sigma Pi brothers.
Heading in the Right Direction
When Sam pledged with Epsilon-Sigma Chapter, he found kindred minds in the brotherhood—young men who loved sports and social events and who cared about their academic success. "We had a rather small pledge class of about 10, and we learned about each other (and the other members, of course) in a real positive way." Sam and his brothers bonded through working on campus, studying together, and exploring their college community. Several of those brothers have remained Sam's closest friends and have been in one another's weddings. Sam even officiated the wedding of brother Chris Harrer (Loyola Marymount '85).
Many of Sam's brothers were active in service organizations, such as Crimson Circle, and they helped him build relationships with university administrators and members of the athletic department. "These two things, coupled together, probably had an indelible mark on my career path." After college, Sam worked in various athletic administration roles, later transitioning to education as associate vice chancellor of Pepperdine University. In October 2020, after 19 years at Pepperdine, he was invited to apply and eventually accepted the role of CEO & President of Notre Dame High School in Los Angeles.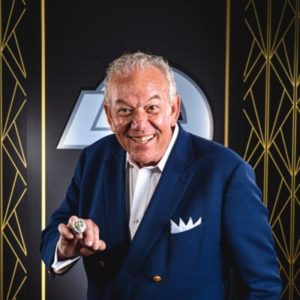 Finding the Right People
Sam is pleased with progress at Notre Dame so far—particularly working with families and officials to navigate the pandemic to create a safe, positive student environment. "We're focused on building a strong community with good connectivity and holding our position as the preeminent Catholic coeducational college preparatory school in the City of Angels." Brother Laganà finds his background in public speaking to be worthwhile for his first role as head of a school. 
"At Pepperdine, I was in the unique role of stewarding relationships and providing insight to our leadership," he said. "Now as the leader, I am looking for good insights and people to help me make good decisions on behalf of the institution." Sam looks forward to continuing his educational work for years to come.
Using Your Voice
"The Rams are one of the most dynamic professional sports teams, so it is a privilege to spend a part of my life tied to the Los Angeles Rams and promoting what is good in our city." Announcing the team's first home game in 2016 was a major career highlight, with 100,000 people in attendance—though that was soon eclipsed by the team's first game with SoFi Stadium as their new home. "The 78,000 fans were awesome that night as we debuted the first major facility built for football in nearly 100 years in LA."
From beach volleyball to tennis to college basketball, and from London to Madison Square Garden, Sam's voice has taken him far. "The joy of watching people compete, speaking about it with those who care about the competition, and infusing a little bit of enthusiasm with a love of sport makes all the moments I get to share with people a great highlight," Sam says. "Maybe I'll get to announce the Olympics in Los Angeles in 2028—that would be a mind-blowing experience to welcome the world to the games and my city."
Brothers All Over
In social circles, education, and on sports fields, Sam often finds himself running into fellow Sigma Pi brothers. On the social side, that includes fellow Epsilon-Sigma brothers, like, Pat Torsney ('88), Joe Kennedy ('85), Dante Puccinelli ('86), and Ed Panconi ('82). Other Sigma Pi alumni, such as Sherdrick Bonner (Cal State Northridge '91) and Larry Rovira (Cal State Fullerton '85).  Joe Washington (Loyola Marymount '89), a sports production executive for NBC/Comcast, met up with Sam at SoFi Stadium in the press box when the Raiders competed against the Rams this summer.
"There are many people whom I have known over the years that I did not know were in the Fraternity, but through this magazine and other interactions, I have formed bonds and learned that they had wonderful experiences, like I did, in Sigma Pi. To see how the Fraternity helps young men who may not be able to afford their collegiate experience with scholarships is impressive," Sam said. "These are all positive and wonderful attributes that the Fraternity offers. Life is all about relationships!"
You can connect with Sam at Sam.Lagana.US@gmail.com.