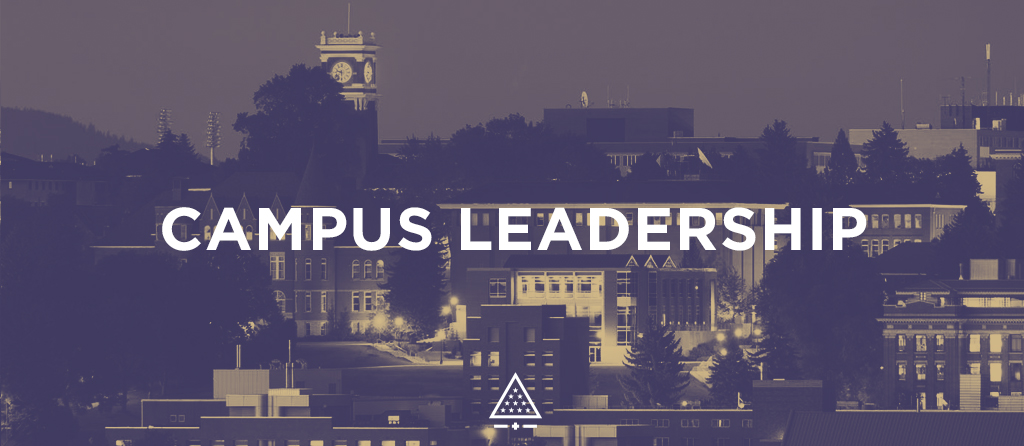 The following contribution is from Kyle Heimbigner  (Washington State '10) who was previously part of the Executive Office of Sigma Pi as Assistant Director of Visual Media, and is now an active member of the Marketing & Communications Task Force. 
Membership in Sigma Pi opens a variety of doors for our undergraduates. During their collegiate years, our men can enjoy many experiences that follow our core values and have the power to shape the rest of their lives. Most of these experiences occur within the chapter and the Fraternity as a whole, but the Sigma Pi experience can go beyond that. 
One such opportunity is to become an Interfraternity Council (IFC) officer. 
Over the past several years, Iota-Nu Chapter at Washington State has had three of its members elected to the IFC. Dr. Jeremy Lessmann (Franklin and Marshall '88) has been the Chapter Director for Iota-Nu since the group colonized in 2007 and has always urged its members to become involved in the wider Fraternity and Sorority and campus community at Washington State. 
"Leaders in the chapter, both formal and informal, should take their skills to the larger community and help shape the direction of Greek Life through IFC," Lessmann said. 
The Sigma Pi experience can be augmented by pursuing more opportunities for excellence.
"Greek life has an entirely different meaning when you look outside your chapter and can see the greater community issues and attitudes," Aaron Fandel (Washington State '17) said.
Fandel currently serves as the Washington State IFC President for the 2020 calendar year, after serving as the Director of Policy and Procedure in 2019. He follows in the footsteps of Tyler O'Brien (Washington State '16) and Andrew Luedeke (Washington State '17). 
O'Brien served as Director of Service and Philanthropy from January to September 2017 and then Vice President from September to December of the same year. In 2018, he became IFC President with Luedeke as his VP.
Benefits of Serving on IFC
One benefit of being on IFC is the opportunity to affect change on issues that impact the larger Fraternity and Sorority community. These issues include communal health, sexual violence prevention, diversity and inclusion, and hazing prevention, among numerous others. 
"He (O'Brien) told me about the great things WSU's IFC was working on and how, if we ran, we could make a positive difference, at a macro level, within the Greek community," said Luedeke. "Tyler, who had helped recruit me to Sigma Pi, once again sold me on IFC."
All three believe their roles with the IFC have enhanced their personal and professional development.   
"IFC has taught me greater respect for challenging circumstances, and I've learned a lot about my own leadership abilities," Fandel said. "I've led from the front, and I've pushed people from the back; you must know how to balance the two." 
Luedeke expanded on this topic by noting how the combination of Sigma Pi and IFC has influenced his life's trajectory. 
"Sigma Pi led me to be a good community member, scholar, husband (as of September 19, 2020), and servant leader," Luedeke said. "IFC put an emphasis on leadership and boosted me into career fields I didn't ever think I'd be a part of."
For O'Brien, his time on IFC has helped him prepare for law school.  
"Being involved in IFC made me a stronger communicator, risk manager, and advocate." O'Brien said, "It takes research and an understanding of the legal authority of a public university system."
Advice on Running for ICF
The three chapter brothers were quick to advise fellow Sigma Pi, who are considering running for IFC.
Fandel believes it is essential to start as soon as possible and focus on serving people. He says that students don't want to be lied to and have the capacity to lead when given a chance. 
Luedeke's advice for those seeking an IFC office is straightforward. He says to seize the opportunity and take the chance. The outcome can be greater than expected.  
O'Brien's biggest piece of advice is to be passionate and have a powerful reason to run. During his freshman year, one of his close friends was sexually assaulted. Later the same semester, another student in his dorm attempted suicide. 
"I heard stories like them again and again from people in all facets of student life." O'Brien said, "I joined the IFC in my sophomore year because I wanted to advocate for sexual violence and suicide prevention." 
Lessmann is proud of how Fandel, Luedeke, and O'Brien have handled their leadership roles, especially in difficult times. O'Brien and Luedeke were elected as the Fraternity and Sorority Life at Washington State was coming out of a self-imposed social moratorium, while Fandel is leading the community during the COVID-19 pandemic. 
 "(All three) have left their mark on Greek Life at WSU and in the long run it will be for the betterment of the entire system," Lessmann said. 
Becoming an IFC officer is an opportunity to showcase the lessons taught by Sigma Pi.  
"IFC is a great experience for any young man – and because Sigma Pi has already instilled the values needed to succeed within any IFC role, our brothers are uniquely able to serve their communities, their fraternity, and Greek life as a whole," Luedeke said.