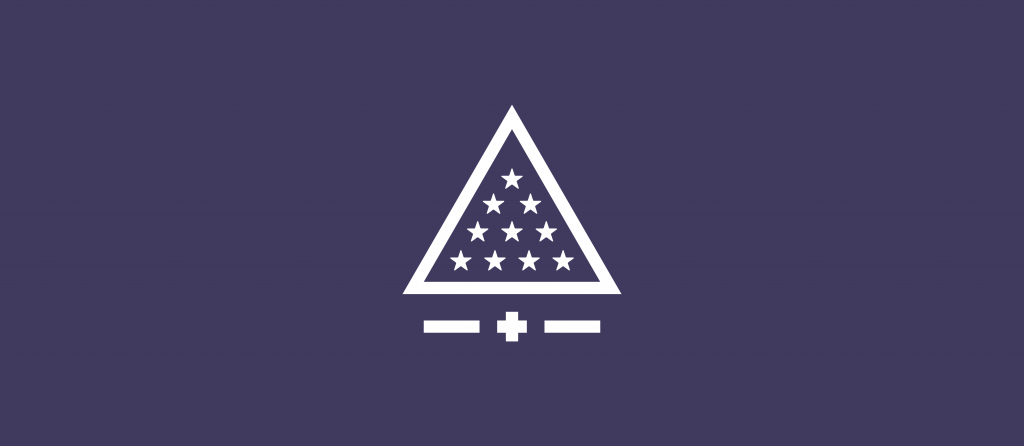 Written by Jeremy Lenart (Monmouth '19)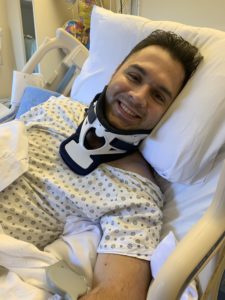 "The test of a true man's character is how you overcome adversity. It is not what happens to you; it is how you react." Those wise words were spoken by Bryan Duarte, an alumnus of Delta-Beta Chapter at Monmouth University in New Jersey. Duarte is a recovering quadriplegic who has regained the ability to walk and use his arms after a devastating car crash. He has exemplified that motto in his everyday life and continues to be a motivation for his friends, family, and people who live with paralysis.   
Duarte graduated from Monmouth University in the spring of 2014. During his time there, he served many different committee roles and was a Chapter Sage. His hard work and determination landed him a job at a loan firm, and he moved to New York City. In a short period of time, Duarte was named the number two loan officer for his company. He and a few friends went out to celebrate his accomplishment and watch the opening night of football; Bears vs. Packers. At the end of the evening, Duarte called a taxi for a ride home. The next thing he remembers is waking up in a hospital bed with no feeling from the neck down. The driver of the cab had crashed on the highway, and Duarte suffered a C5 spinal cord injury. He had a broken vertebra and a bruised spinal cord. The doctor explained to Duarte and his family that spinal cord injuries are not curable and that he might never regain feeling back in his body.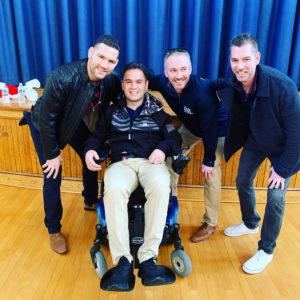 A rush of fear, sadness, and disappointment came over Duarte, but he said, "I continued to put good thoughts in my head." He was immediately brought into surgery, and he kept telling the doctors to do a good job in hopes of motivating them. When he awoke from the surgery, Duarte could feel his mother tugging on his toe, and he said, "Ma, you're touching my toe!" Duarte described it as a good moment, and it gave his family a small beacon of hope. Despite this progress, Duarte was still in immense pain and could not move his body three weeks after the surgery. Being the tough guy that he is, Duarte put on a strong act and pretended that he was okay; however, those were some of his scariest days. When it got dark, and Duarte was alone, he asked himself questions like, "Can I do this? Can anyone get through this?" Even the best men would question their strength in moments like that.
While Duarte had his doubts about recovery, he did not want his legacy to be, "he got injured and withered away in bed." Through intense physical therapy and determination, Duarte slowly regained control of muscle groups. Little by little, he worked those groups and nerves to build back his strength. Within five months after the injury, Duarte was able to move his hands again, and he immediately went back to work. He said, "some 85% of people who suffer from this kind of injury do not go back to work. I didn't want to be that statistic." At this point in his life, Duarte was no stranger to adversity. He did not grow up with a lot of money and is a first-generation Latino who has also faced personal and professional discrimination. This injury was just another obstacle in his path that he would tackle because he said, "I hate self-pity."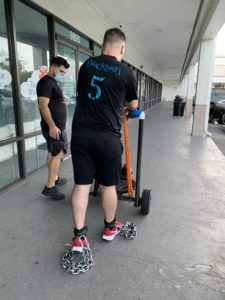 Today, Duarte lives completely independently and continues physical therapy for 2-6 hours a day. He has regained 60% of his motor function, but he still feels pain and has some permanent damage from the injury. Duarte said, "I believe I'm blessed, and I use the lessons from recovering from this injury to my advantage." He is performing at a higher rate in the office than ever before and is on his way back to being one of the top 1% of mortgage lenders in the country. Duarte has also discovered a newfound purpose to help the disabled community thrive. He is a mentor to other people experiencing this type of injury and currently checks in on ten quadriplegic patients each week, which brings him great joy.   
During his college years, Duarte was the epitome of social excellence. Full of life and confidence, he walked onto campus, ready for the next chapter in his life. Duarte branched out his freshman year in hopes of finding his clique. He enjoyed hanging around with the soccer team and different fraternities, but he always knew that Sigma Pi were the alpha men on campus. Duarte would go to rush events for other fraternities, and he constantly witnessed fistfights between the brothers. He explained that brothers are supposed to stick together and look out for each other rather than fight amongst themselves. He loved the brothers of Sigma Pi because they had that same mentality. He felt like he could relate to them. He also noticed that Sigma Pi was very business professional. They were winning awards and had great rush events. With Sigma Pi, Duarte felt he was getting the best of both worlds. 
By his junior year at Monmouth, Duarte was elected Sage of Delta-Beta Chapter. He set out clear goals and made sure he did what was best for the overall chapter rather than himself. Through his leadership, the chapter won many campus awards that year. Some of them included five different community service awards, and Increased Membership Award, and the Outstanding Fraternity Advisor Award. Additionally, Duarte led the charge to have the Outstanding Fraternity Advisor Award renamed to honor Delta-Beta Chapter's long-term advisor, Dr. Joseph B. Mosca. Along with that, Duarte won personal awards like Outstanding Fraternity Man of the Year. During his time as Chapter Sage, Duarte also led Delta-Beta Chapter to a Grand Chapter Award and placement in the 900 Club for Chapter Efficiency.
There is so much to be said about Bryan Duarte. He excelled at Monmouth University and did right by the Sigma Pi name. After he graduated, he became a donor to the Sigma Pi Educational Foundation both to give back to the next generation of the fraternity and as a way to express his thanks for the two Foundation scholarships that he won during his undergraduate years. Despite being a young alumnus, Duarte also started an annual scholarship for Delta-Beta Chapter undergraduates called the Achieving Excellence Award, which has been awarded for each of the last four years. Post-graduation, things were going well until his life came to a screeching halt when his taxi driver crashed. His doctors told him he would never walk again. Most people would have given up right there and chosen death over that sentence. But not Duarte. No matter how scary or painful it got, he kept pushing on because "when everything is falling around you. You got to take control and make the best of the situation."