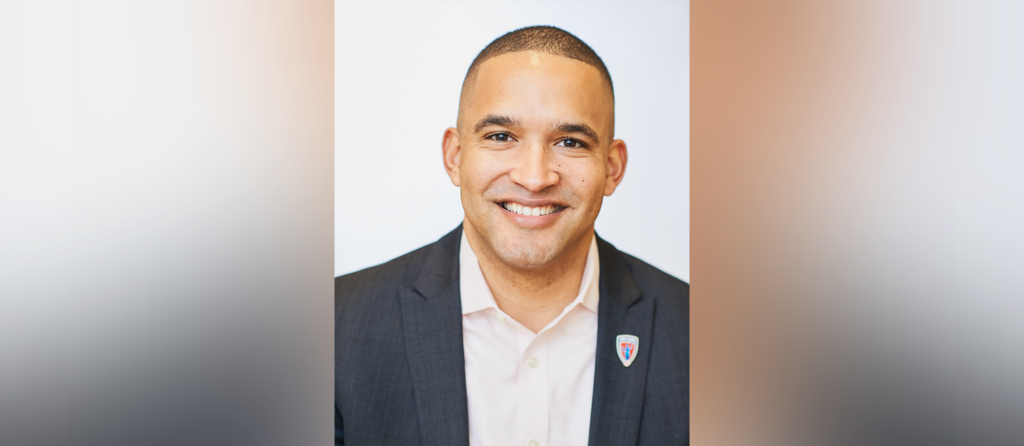 For Eric Cole (Ferris State '07) and others in the marketing field, building positive relationships is key to a successful career. That's a skill that Eric can trace all the way back to Sigma Pi Fraternity.
Eric was the first in his immediate family to graduate college, and at Ferris State University, he wanted to immerse himself in the culture and find the best opportunities. He explored the fraternity scene with his dorm friends, where he learned about Sigma Pi and hit it off with the brothers at Theta-Theta Chapter (who would become lifelong friends). "Sigma Pi's values and what they stood for aligned with how I wanted to grow as a person and a leader," Eric said.
The fraternity taught Eric about leadership and its importance to maintaining a well-run organization. Eric went on to hold several leadership positions at Theta-Theta and was involved in several other groups on campus—as were most, if not all, of his pledge class members. The skills he learned helped him become an effective leader in the fraternity, on campus, and throughout his career.
Doing What You Love
Eric has always had a passion for sports, so when he learned there was not a sports management track, he built one himself through the marketing department in the College of Business. Combining his coursework with career shadowing and internships in the athletics department helped prepare him for a sales career in the sports industry, in which he has happily worked for 11 years. He spent the first 10 years in ticket sales, hospitality, and leadership positions, starting with the Indiana Pacers. He then moved on to work for teams and organizations such as the Philadelphia 76ers, New Jersey Devils, University of Notre Dame Athletics, Legends Global Sales, Learfield, and Indy Eleven.
Eric's last job in ticket sales brought him back to Indianapolis to work with the United Soccer League's Indy Eleven, where he oversaw the Ticket Sales, Retention, and Hospitality department. Then in 2021, he returned to the Pacers as a Corporate Partnerships Sales Director. In this role, he helps brand partners and clients reach their marketing objectives through working with the NBA, WNBA, G-League, and eSports.
When Eric is asked what he specifically does on the job, he often starts by highlighting traditional sponsorship deals and naming rights, such as the Pacers' venue, Gainbridge Fieldhouse, or the Motorola patches on the team jerseys. But Eric and his team offer many more strategies and services as well, such as ads through social media, TV, radio, or print—or even temporary and permanent signage within the venue.
Making Connections
All these options allow for endless creative opportunities, which is what Eric loves most about his job. "We're talking to CMOs and VPs of Branding for various prominent brands, discussing their short-term and long-term goals, and how we can help meet them through our many customizable approaches."
Those deals and partnerships all come down to building relationships, which Eric largely credits to his time as a recruitment chairman in Sigma Pi. "I was out there trying to 'sell' our fraternity, to have aspiring members join us over the others." He also formed relationships among the fraternities and sororities on campus when he became IFC president at Ferris State. 
Overall, it's not too different from what he now does for a living. "It starts off with a relationship and developing trust with these individuals to utilize us and help grow their business."
Building Our Future
Speaking of relationships, Eric's biggest advice to undergraduates is to network and make connections as often as possible. Whether through the many brothers in diverse professions nationwide, or other local and professional contacts, there are countless ways to branch out. "If you reach out to those people and have a conversation, that could potentially turn into a career path—or other opportunities may arise from those relationships." He also encourages brothers to do the best they can in their current roles, as that dedication can also build strong connections and open new doors.
Eric's Sigma Pi friendships have lasted through the years; most of the men in his wedding were fraternity brothers. After years of being immersed in his career, he decided to give back to the brotherhood by getting involved; he now sits on both the Sigma Pi University Board and the Diversity, Equity, and Inclusion task force.
"I wanted to utilize my platform and skills to make a difference for our brothers," he said. "I may have a different perspective from other people, and these groups gave me a chance to contribute to the fraternity, just like it contributed to me." As Sigma Pi nears its 125th anniversary, Eric is excited to help the fraternity grow stronger for the next 125 years.
Eric lives in Indianapolis with his wife and two children, and when he's not working in sports, he enjoys staying active—through basketball, fitness, or anything of the sort. He stays in touch with fellow brothers through various events.
If you'd like to connect with Eric or learn more about his career, you can reach him at e.cole7@yahoo.com.