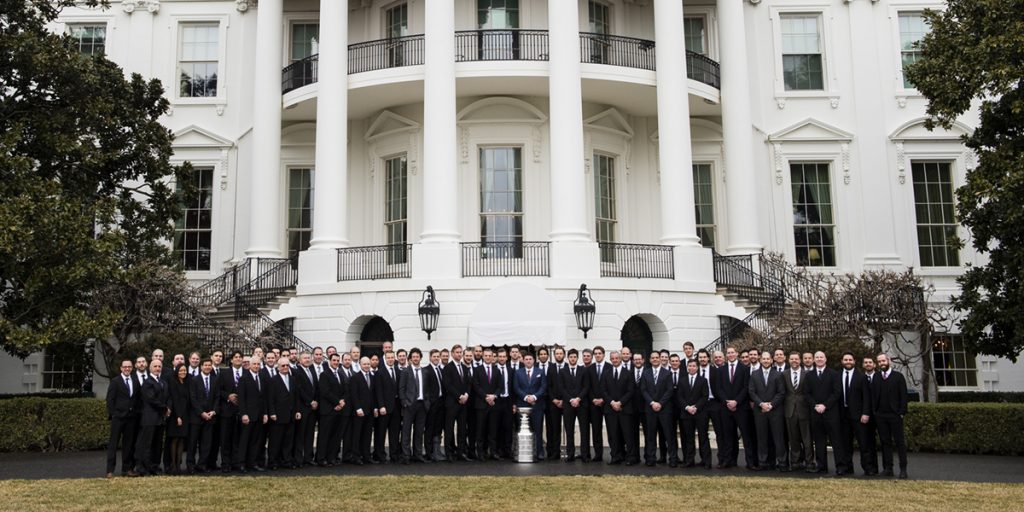 Note: The following was written by Joel Goodling (Theta-Epsilon, Indiana of Pennsylvania '04), who currently serves as a Live Remote Television Producer at Fox Sports West. 
I can't ice skate, I have the stick handling skills and coordination of a two-year-old, and if I lost a tooth I'd be bed ridden for approximately four-to-six weeks. Yet, there I was, in the White House, with the 2014 Stanley Cup Champion, Los Angeles Kings.

As luck would have it, my place of employment happens to be Fox Sports West and we are fortunate to cover some pretty successful teams in the Los Angeles area (Kings, Angels, Clippers, and Ducks). I've been a live remote television producer for Fox Sports since January 2013 covering the various regional pro teams and broadcasting the pre and postgame shows. So where the team goes, we go. And on February 2nd, 2015 the Kings were going to the White House. Our TV crew was lucky enough to tag along with our team partner that day.

The entire experience took about five hours. It started with a nice walk through the east wing, past the Presidential library and onto the South Lawn were we snapped some photos with the Cup. Then we went upstairs and were able to wander through the Green, Blue, and Red rooms as the team was instructed about meeting the President. Then it was show time in the East Room as President Obama honored both the Kings and the LA Galaxy (both teams are owned by AEG). The team presented The President with a commemorative hockey stick to highlight the ceremony.

On a personal level it was an honor just to be invited by the Kings and an experience I'll never forget. I always knew taking those three credits of Poli-Sci at Indiana University of Pennsylvania (Theta-Epsilon) would earn me a trip to the White House some day!