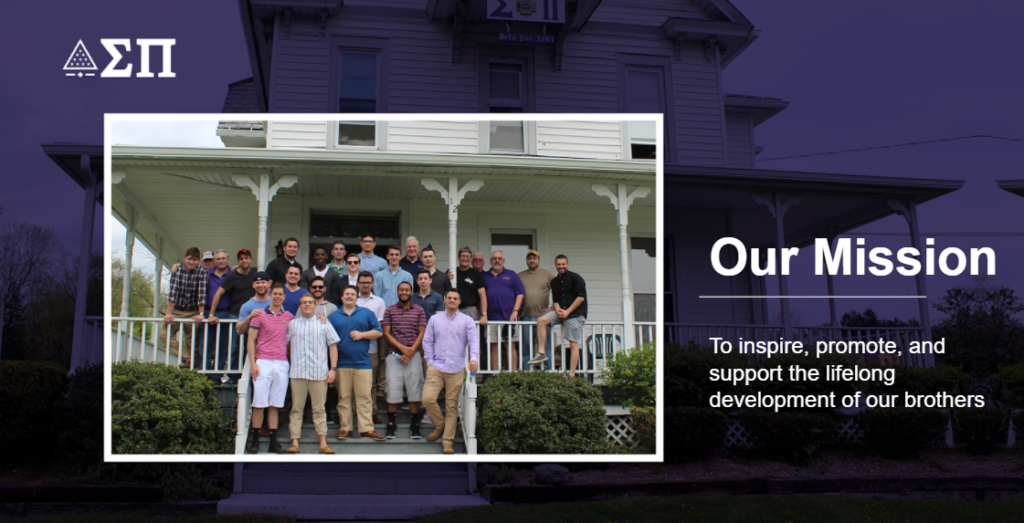 Brothers and Friends,
I hope this edition of The Sigma Pi Quarterly finds you and your family in good health. 
First, I want to thank all of our donors who provide philanthropic support to help us meet our mission by making a financial investment into scholarships, Chapter Educational Funds, and educational programs. The value of Sigma Pi is truly enhanced when our alumni and friends join us on this journey to develop young men into leaders. As of September 30th, we are up 119% in gifts and 71% in donors from this same time last year. We know that you have many choices on where you make charitable gifts, and we thank you for making Sigma Pi a priority in your plans. This past fiscal year, your support allowed us to give out over $100,000 in scholarships and grants to support the development and educational aspirations of our brothers. *For our 2020-2021 donors, please know an Annual Report will be coming this December as we have just completed our audits.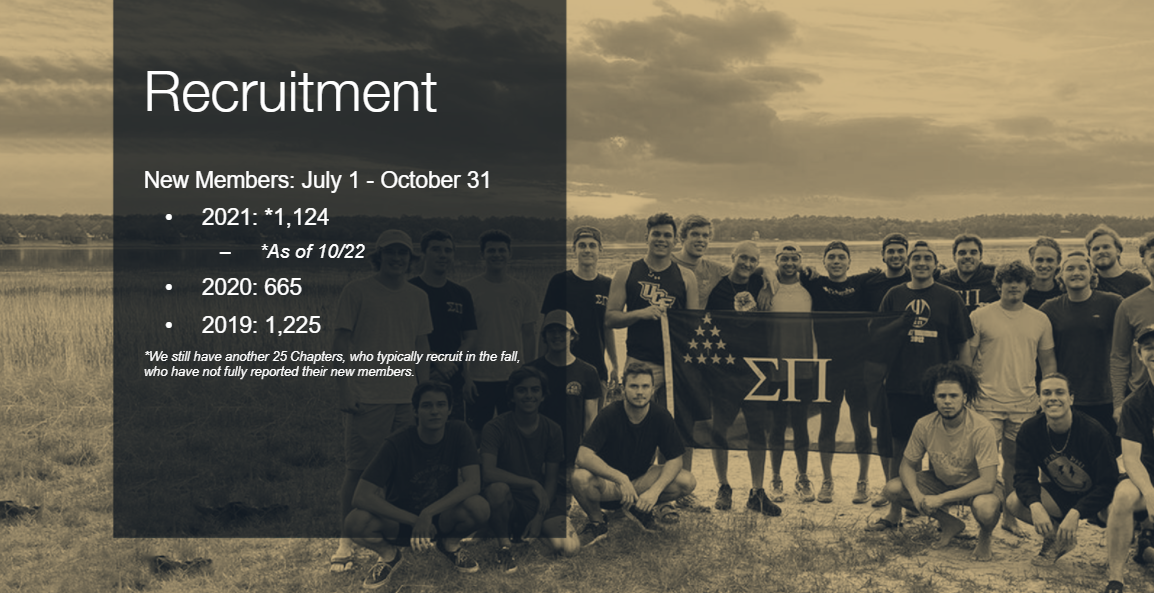 Our Fraternity has seen an exciting start to the 2021-2022 academic year for our young men across North America. We are seeing that all across our 104 Chapters/Colonies, men notice the value of being a Sigma Pi, and recruitment numbers are gaining on fall 2019 numbers. At the same time, we have had hundreds of alumni and friends join us at over 15 events that have taken place around the country. We are also seeing increases in the number of you who are making charitable investments into our scholarships, Chapter Educational Funds, and educational programs. Below I will highlight a few key items of just some of the great things that are happening in Sigma Pi, and we look forward to your continued dedication and support.
Back in August, our staff and volunteers held a Virtual Back to School Summit in which over 339 Chapter Officers and Committee Members attended. This training was done as they were preparing to resume in-person activities. We felt it would be beneficial to discuss their concerns, plan, and provide information to help them implement their initiatives. In the picture above, you can see that our undergraduate brothers are using the training to highlight the value of membership in Sigma Pi, and that is producing results on their campuses with recruitment. Bear in mind, they had been away from in-person recruitment for over a year, and for those who joined virtually this past year, their first time being a part of in-person activities. The success our brothers are having is inspiring. I am sure they would love to have you join them virtually or in-person to share your experience and provide advice on how to stay focused and use this time in college to prepare for life after graduation. 
"Every man has to budget his time between friends, family, career, and activities; but a smart man knows he can benefit from staying active in the Fraternity" – Sigma Pi Manual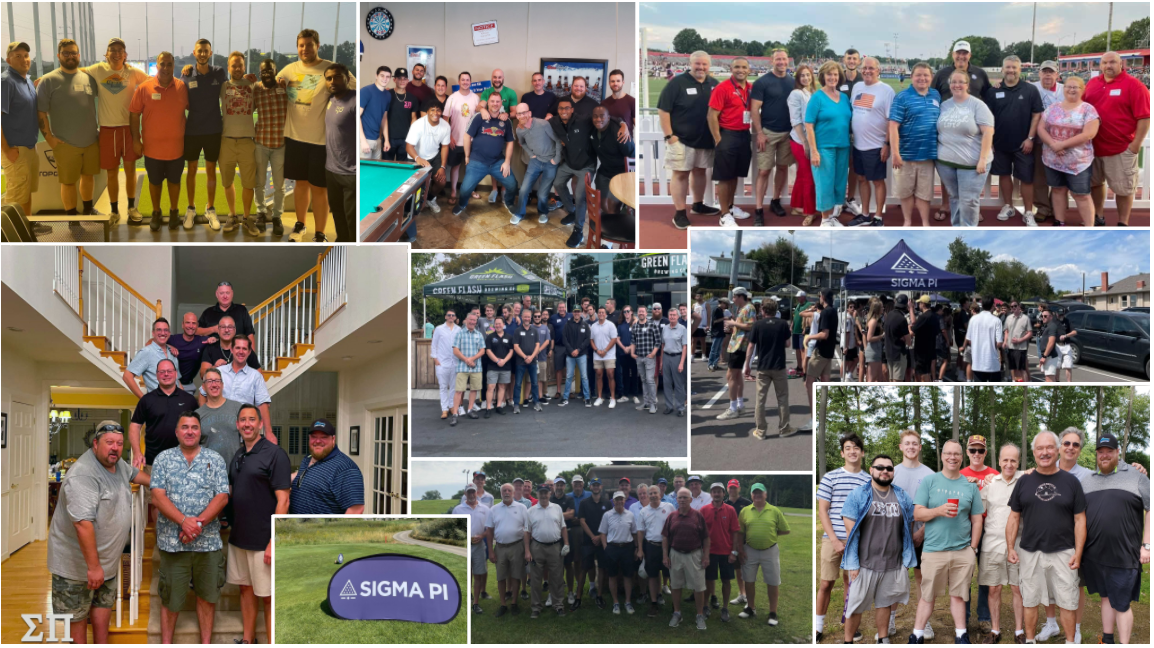 This past summer, our staff, and Grand Council began hosting and joining in Chapter hosted events to get out and see our alumni and undergraduate brothers. This was important not only to meet our alumni, but as we all know, the pandemic impacted mental health for many people, and we felt it was important to provide opportunities for social interactions with Fraternity brothers. We had over 600 alumni, and friends participate in 15 events. Personally, I truly enjoyed meeting many of you, sharing the State of the Fraternity, and getting to learn about your careers and families. On behalf of our Grand Council and Foundation board members, we thank all of you who came out and participated, as these events would not be successful without your presence. If you are curious where to find an event in your area, click here, and you can find information on events taking place all across the country.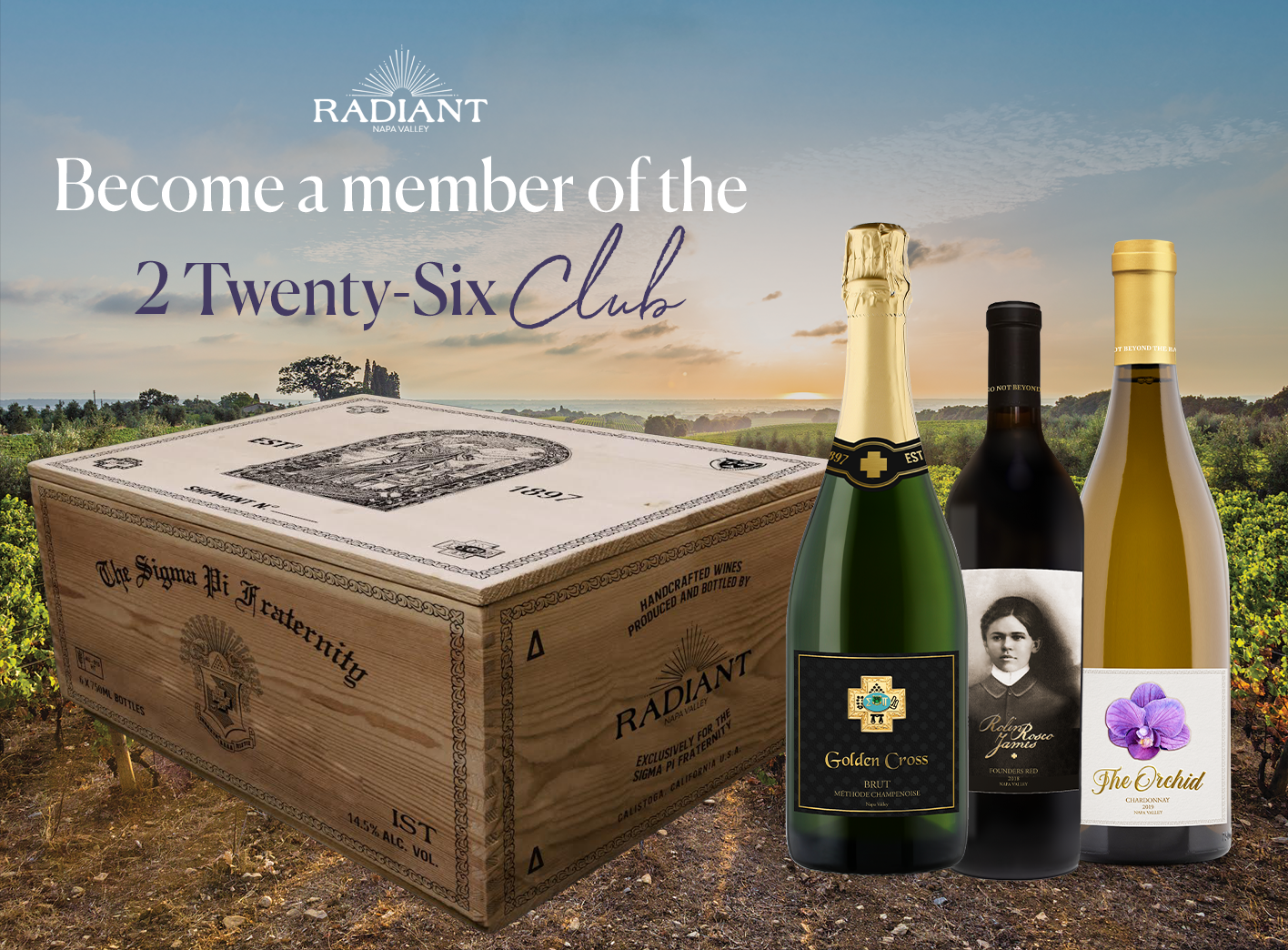 One of the new initiatives we launched this year was our 2 Twenty-Six Club through Radiant Napa Valley. In just a short time, we have almost 100 members who will be receiving the beautiful crate seen above and the first of many great lines to enjoy during holiday seasons and special occasions. The best part of the Club is that 20% will be donated to support educational programs and scholarships. Thank you to all of you who have signed up and will be signing up, and if you haven't, sign up today at radiantnapa.com.