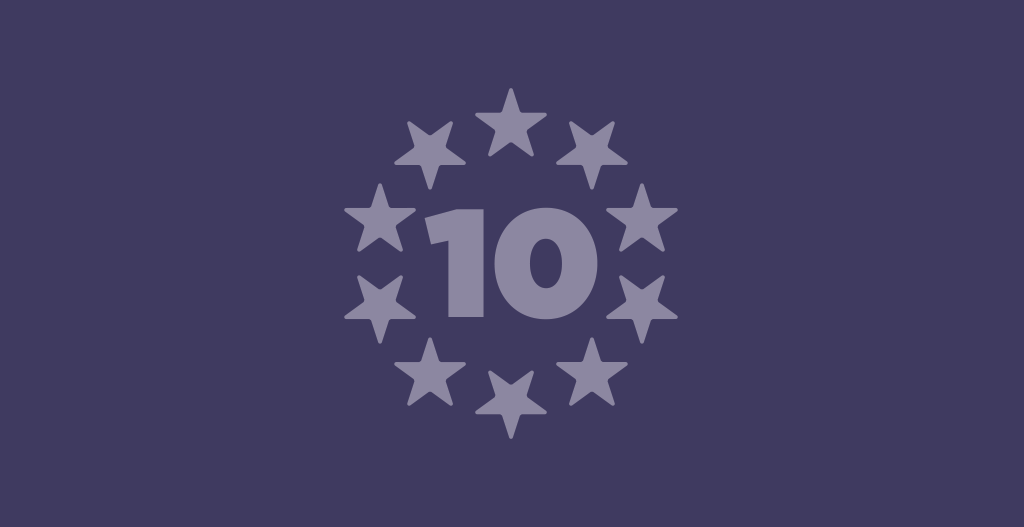 During the month of February, Sigma Pi hosted its first-ever 10 Stars Campaign. The fundraising effort centered around the idea of "give $10+ and ask ten," where we ask our members to give what you can, whether it's $10 or more; then, we hope you will ask ten of your friends to do the same.  
Through the efforts of our brotherhood collectively, we raised over $61,000 from 187 donors! Thanks to those gifts, we were able to not only hit our original goal of $25,000 but go above and beyond both of our stretch goals of $35,000 and $50,000. 
Here are a few other notable achievements through your gift-giving:
130 of the gifts were given directly to the General Fund, allowing the Sigma Pi to allocate the funds to various educational and programming efforts
35 different chapters were represented by donors
Theta-Omega at Middle Tennessee had the most donors with 28 total, while Epsilon-Nu at Cal State Fullerton and Theta-Beta at Saginaw Valley State followed up with 23 and 17, respectively
This is a tremendous accomplishment for our inaugural 10 Stars Campaign. Because of you, we have not only made Sigma Pi history but ensured the continued success of our organization.
With the money raised, Sigma Pi will be able to: develop new resources and materials for our chapters, reimagine programming to fit the needs of today's undergraduates, and increase focus on the growth and investment into our volunteers.
We asked, and you supported. It really was that simple. 
We are proud to recognize the following donors as part of the 10 Stars Campaign:
Arkansas State (Alpha-Pi)
Cory Sanders ('95)
Bridgewater State (Eta-Eta)
PGS Edward Levesque ('89)
Matthew Quimby ('00)
Andrew Fagan ('16)
Cal Poly (Eta-Delta)
William Cusick ('83)
Cal State Fullerton (Epsilon-Nu)
Michael McDonald ('78)
PGS Larry Rovira ('80)
Greg Honore ('81)
Scott Sperber ('82)
Scott Allen ('87)
Jay Rojo ('87)
Rick Grubbs ('87)
Curtis Marcell ('87)
Robert York ('87)
Paul Roman ('88)
Chris Newman ('88)
Michael Culwell ('88)
Scott Bauer ('89)
Bryan Wadkins ('91)
Joseph McBride III ('00)
Evan Salgado ('17)
Ryan Villanueva ('18)
Angel Gaxiola ('19)
Sebastian Galelli ('19)
Joseph Conway ('78)
Dean Vincent ('79)
Tyler Leeson ('01)
William Leiby ('20)
Cal State Long Beach (Beta-Omicron)
GTC Justin Todoroff ('01)
Nelson Farris ('63)
California-Irvine (Eta-Upsilon)
Charles Pankenier ('95)
Taylor Lapsys ('04)
Drury (Epsilon-Rho)
Robert Dillon ('93)
East Carolina (Eta-Kappa)
Todd Griffin ('90)
Eastern Illinois (Beta-Gamma)
Brian Hess ('97)
Eastern Kentucky (Epsilon-Lambda)
Vincent Jones ('85)
Daniel Daugherty ('88)
Matt Sears ('09)
William Roberts II ('96)
Embry-Riddle (Zeta-Beta)
Leonard Grassley ('84)
Matt Kuhn ('88)
Fairmont State (Gamma-Epsilon)
Mitch Carr ('73)
Kevin Moats ('85)
Scott Quinlan ('95)
Greg Selasky ('87)
Ferris State (Theta-Theta)
Adam Dibble ('03)
Eric Cole ('07)
GFoC Brian Kurisky ('07)
Florida (Zeta-Zeta)
Paul Militello ('84)
Scott Chastain ('89)
Georgia (Alpha-Phi)
Jason Walker ('92)
Grand Valley State (Theta-Rho)
Quentin Groce ('06)
Colin Daly ('06)
Illinois Wesleyan (Epsilon-Gamma)
Kevin Carey ('09)
Indiana (Beta)
Scott Palmer ('94)
Indiana of Pennsylvania (Theta-Epsilon)
Alexander Pettigrew ('15)
Iowa (Xi)
Craig Clark ('68)
Matt Dudek ('06)
Iowa State (Sigma)
Anthony Carroll ('03)
Johnson & Wales (Eta-Omega)
Adam Golomb ('96)
Kentucky (Epsilon-Beta)
GFC Kent Varney ('97)
Long Beach State (Beta-Omicron)
John Richardson ('09)
Michigan State (Zeta-Mu)
Jim DiVita ('00)
Middle Tennessee (Theta-Omega)
Todd Miller ('83)
GH Paul Wydra ('96)
Jonathan Strantz ('07)
Zac DeFrancesca ('07)
Christopher Nicholson ('07)
Neil Honey ('07)
Cole Monroe ('07)
Michael Leitzke ('07)
Seth Howell ('07)
Joshua Richardson ('07)
Neil Thorsbakken ('07)
Brad Craig ('08)
Casey Carroll ('08)
Chris Carter ('08)
Matt Corn ('08)
Caleb Gulley ('09)
Duane Vanhook ('09)
Caleb Marlow ('13)
Colin Sullivan ('13)
Treyton Peters ('17)
Casey Brown ('07)
Kevin Prater ('09)
Anthony Burks ('10)
Jordan Sherrell ('12)
Wilson Love ('17)
Minnesota (Iota-Zeta)
Dan Kobler ('12)
Missouri S&T (Alpha-Iota)
Bernie Ebert ('62)
Bart Moenster ('68)
David Kleikamp ('84)
Jeffrey Mockaitis ('93)
Brian Kratz ('94)
Ryan Hahn ('94)
Tristan Blake ('14)
Missouri State (Alpha-Rho)
Greg Evans ('67)
Monmouth (Delta-Beta)
PJ DeBiase ('91)
David Reale ('92)
Robert Marrone ('98)
Steven Colvell ('00)
GS Joseph Palazzolo ('00)
Kevin Phelan ('01)
Christopher Lastre ('02)
Paul Salvesen ('05)
Andrew Grosso ('05)
Jeremy Victor ('12)
Guy Madsen ('16)
Chris Curran ('18)
Griffin Shields ('19)
Steve Nicholl ('18)
Danny Collis ('16)
Morehead State (Delta-Rho)
Kenneth Myers ('71)
Richard Ketelhohn ('72)
Charles Eldridge ('86)
Patrick Reimer ('94)
Kasey Nolen ('96)
Marcus Hundley ('05)
Murray State (Gamma-Upsilon)
David Presson ('77)
Joseph Mattingly ('87)
NJIT (Alpha-Mu)
Erik Murrell ('06)
North Carolina State (Rho)
Jeff Cline ('85)
Oakland (Zeta-Pi)
PGH Rob Pankau III ('02)
Mike Long ('03)
Ryan Kuhn ('07)
James Sklar ('10)
Ohio State (Gamma)
Chris Deetz ('57)
Old Dominion (Theta-Eta)
Benjamin Wenner ('08)
Steele Clay ('15)
Mike Whelan ('03)
Oregon (Iota-Epsilon)
James Connolly ('07)
Purdue (Eta)
Paul Ke ('88)
Rhode Island (Alpha-Upsilon)
Joe Jolls ('87)
Rutgers (Gamma-Eta)
Stephen Matlick ('88)
Paul Gorman ('93)
Ian Wolf ('12)
Saginaw Valley State (Theta-Beta)
Anthony Imbrunone ('11)
Brandon Baber ('12)
Rashed Aldubayyan ('13)
Jacob Camilleri ('14)
Zack Krueger ('14)
Wesley Bissett ('16)
Kevin Dedicatoria ('17)
Matthew Berg ('17)
Bill Eisiminger ('10)
Salisbury (Theta-Xi)
Benjamin Sorteberg ('14)
Santa Clara (Zeta-Eta)
Doug Gold ('88)
SE Oklahoma State (Zeta-Xi)
Mark Holloway ('85)
Seton Hall (Delta-Epsilon)
Dwayne Harris ('87)
Slippery Rock (Gamma-Delta)
Dennis Kikola ('87)
UC-Irvine (Eta-Upsilon)
Adrian Miranda ('97)
UCLA (Upsilon)
Rick Owens ('61)
James Lipow ('75)
Douglas Glantz ('86)
Jay Ross ('90)
Liron Nelik ('00)
UMSL (Delta-Zeta)
Alan Rovira ('88)
Brian Newton ('98)
Gregory Ritchie ('98)
Jonathan Frost ('99)
Chris Ruth ('07)
Zachary Littrell ('12)
UTSA (Iota-Delta)
GSC Rhett LaRose ('08)
Matthew Kenny ('11)
Valparaiso (Beta-Tau)
Paul Hansen ('77)
Vincennes (Alpha)
Rob Pipes ('88)
Eric Griffin ('05)
Bradly Ferguson ('07)
Wake Forest (Alpha-Nu)
Kevin Fahey ('02)
Rich Soja ('83)
Charles F Bauer ('87)
West Alabama (Theta-Gamma)
Jeremy Sheffield ('09)
Friend of Sigma Pi
Daniel Bennett
Darrin Camilleri
Frank Camilleri
Alisa Caruso
Melina Corona
Leilani Gross
Rogelio Guzman Jr
Adam Moose
Michelle Stepp
Kari Murphy
Helen Nicholas
Bradley Parker
Manuel Quiroz
Piper Tobias
Jennifer Wyatt
Patrick Zajac