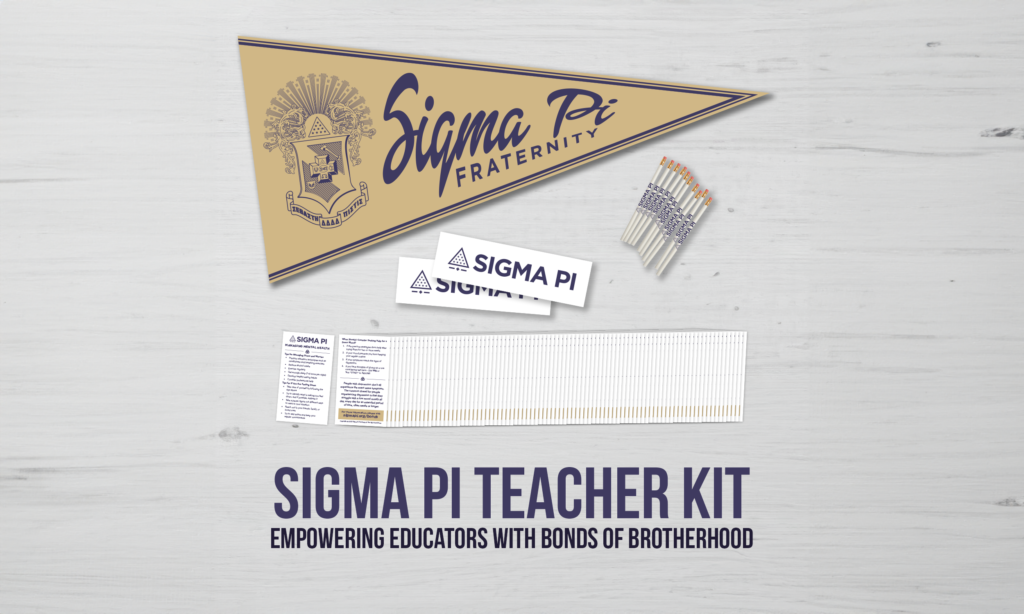 At Sigma Pi, we believe in supporting our members in all aspects of their lives, both inside and outside the fraternity. As part of our ongoing commitment to mental health and safety, we are thrilled to introduce the Sigma Pi Teacher Kit, designed exclusively for our members who are educators.
As teachers, you play a vital role in shaping the minds of the next generation, and we want to recognize and empower you in your quest. The Teacher Kit is a small token of our appreciation for your dedication and commitment to education. Each kit will include the following items:
One Sigma Pi pennant to proudly display your affiliation
10 pencils to equip your forgetful students
2 decals to showcase your Sigma Pi pride
100 handout cards from the Fraternity's Bonds of Brotherhood program, focusing on Mental Health & Safety, to share important resources with your students
We believe that by equipping our educators with these materials, we can foster a sense of unity and promote mental health awareness within our classrooms and schools. It is our hope that these items will not only enhance your teaching experience but also inspire conversations about the importance of brotherhood, support, and emotional well-being among your students.
If you are a Sigma Pi member who is currently working as a teacher, we invite you to fill out the form below to express your interest in receiving a Teacher Kit. We have a limited number of kits available, so we encourage you to act quickly.
Please note that this opportunity is exclusively for Sigma Pi members who are actively engaged in the field of education. Kits will be limited. We kindly ask that you respect this eligibility requirement.
Thank you for your dedication to both Sigma Pi and the field of education. We truly value the impact you have on the lives of your students, and we are honored to support you in your journey as an educator.