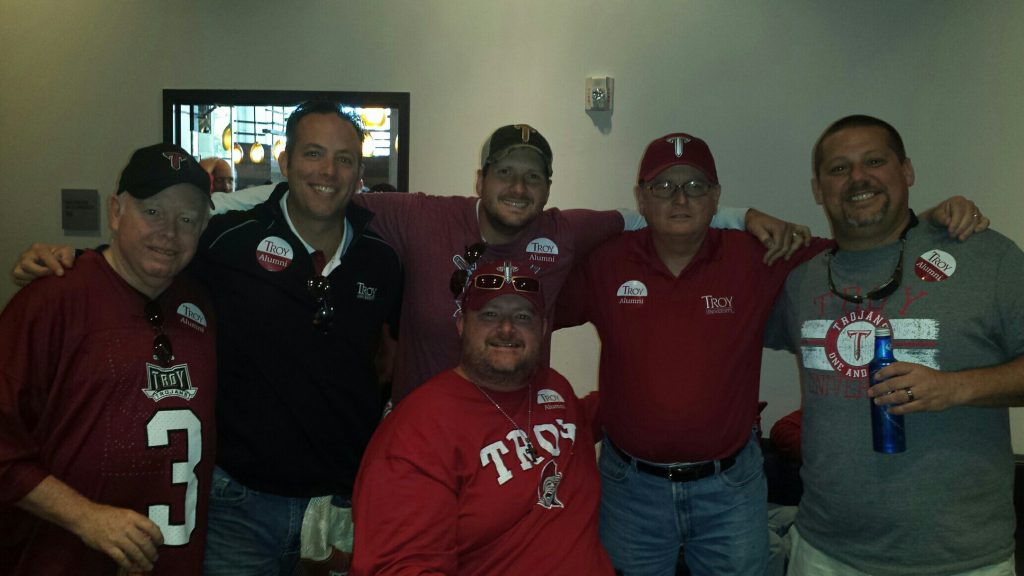 Troy University Sigma Pi members (from left to right) Harold Tynes '78, Phil LaPrad '99, Jason Shores '95, Adam Shores '98, Bryan Helms '78 and Tim Yandell '97 meet at the Troy University vs University of Wisconsin football game.
"I'm a former Sigma Pi staff member and alumnus from Delta-Psi Chapter at Troy University.  This past weekend a few of my chapter brothers and I met up in Madison, WI for the Troy-Wisconsin game.  Troy is a pretty small school in Alabama, so you can imagine that we were vastly outnumbered by the Wisconsin faithful.

We ran into a couple of guys also wearing Troy gear and got to talking with them.  We hung out with them for about an hour before we finally discovered that they were Sigma Pi members from the 1970's.  It was just so amazing that in a sea of about 60,000 Wisconsin fans, two groups of fraternity brothers from our little school were able to connect with each other.

I've attached a photo from our chance encounter and thought I would pass it along to you.

Fraternally Yours,

Adam R. Shores (Troy University, '98)"
Great photo, Adam! What a strike of luck.