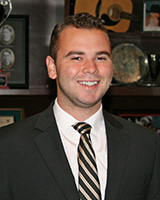 The Executive Office of Sigma Pi Fraternity, International is proud to announce that Michael Davis (IK, Central Florida '13) has been hired to fill the position of Regional Director within the Undergraduate Services Department, and will report to Kevin Pons, Assistant Executive Director of the Undergraduate Experience.
The Regional Director is broadly charged with strategically and sustainably growing and developing Sigma Pi chapters in number and strength in one of five Sigma Pi regions, as well as working closely with those chapters to increase average chapter size. Davis will serve as the primary contact for the chapters, alumni clubs/associations, house corporations, host institutions, and members within his established region.
Davis has served as an Expansion Consultant since 2013, and has brought success by assisting in the colonization of four colonies, as well as the charterings at Central Michigan University and University of Kansas.
"I am thrilled to have the opportunity to serve as a Regional Director for our great Fraternity," Davis said. "With my experience working in the fraternal realm for the past two years, I am looking forward to working with more of our members to advance our ever-long Quest for Excellence."
"After a lengthy search and interview process, we felt that promoting Michael Davis to Regional Director was the right move," said Executive Director, Michael Ayalon. "His commitment to excellence within Sigma Pi, his familiarity with our systems and processes, and his proven track record over the last two years in Sigma Pi's Expansion Department made it obvious to us that Michael was the right person for the job. Everyone is delighted to have Michael use the tools he's developed with our colonies and now broaden his work with 25 chapters. It also gives us another resource for chapters that are struggling with recruitment to learn from someone with Michael's expertise. We couldn't be happier for him and for the Fraternity."
Sigma Pi Fraternity was founded in 1897 at Vincennes University, in Vincennes, Indiana. Our Executive Office is located in Lebanon, Tennessee. The Fraternity is one of the top men's collegiate organizations in North America, with more than 120 active chapters and colonies in the United States and Canada. With over 100,000 alumni and 5,300 undergraduates; our men strive for excellence by living our core values to promote fellowship, develop character and leadership, advance heightened moral awareness, enable academic achievement, and inspire service. Sigma Pi is the only Greek letter organization with an international service program, The ACE Project, specifically designed to give back to our host institutions.