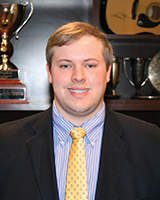 Sigma Pi Fraternity announces Chris Carter has been hired to fill the position of Director of Communications at the Executive Office.
Carter will develop and maintain the fraternity communication efforts, including the fraternity magazine The Emerald, as well as social media, the fraternity website, and other media. He will also continue to maintain unity in the fraternity's branding and partnerships.
"Since the day Michael Ayalon became Executive Director, I've seen a continued effort from the entire Executive Office to improve the branding and overall appearance of Sigma Pi," said Carter. "I'm excited to build upon the foundation that Todd Shelton has put in place, and for the opportunity to assist in the growth and accomplishments of Sigma Pi and it's members."
Carter (Theta-Omega, Middle Tennessee '11) has a Bachelor of Science in Visual Communications from Middle Tennessee State University. He has previously served as Director of Marketing for Comas Montgomery Realty & Auction Co., in Murfreesboro, Tenn. His background also includes production manager for the MTSU student-run newspaper Sidelines, as well as being a former First Counselor and Pledge Educator for the Theta-Omega Chapter.
"We are very excited to have Chris on staff. Chris is a very passionate member of Sigma Pi that leads with his graphic design talents and has the production experience with the MTSU newspaper that will serve him well in continuing the progress that we've made with The Emerald magazine. His creativity and collaboration will allow every department within Sigma Pi to reach new heights," said Michael Ayalon, Executive Director.
In his spare time, Carter has worked with various organizations as a freelance graphic designer, including Greenhouse Ministries and Leadership Rutherford, both of Murfreesboro, Tenn.
Sigma Pi Fraternity was founded in 1897 at Vincennes University, in Vincennes, Indiana. Our headquarters is located in Brentwood, Tennessee. The Fraternity is one of the top men's collegiate organizations in North America, with more than 120 active chapters and colonies in the United States and Canada. With nearly 95,000 alumni and 5,300 undergraduates; our men strive for excellence by living our core values to promote fellowship, develop character and leadership, advance heightened moral awareness, enable academic achievement, and inspire service. Sigma Pi is the only Greek letter organization with an international philanthropic program, The ACE Project, specifically designed to give back to our host institutions.
# # #