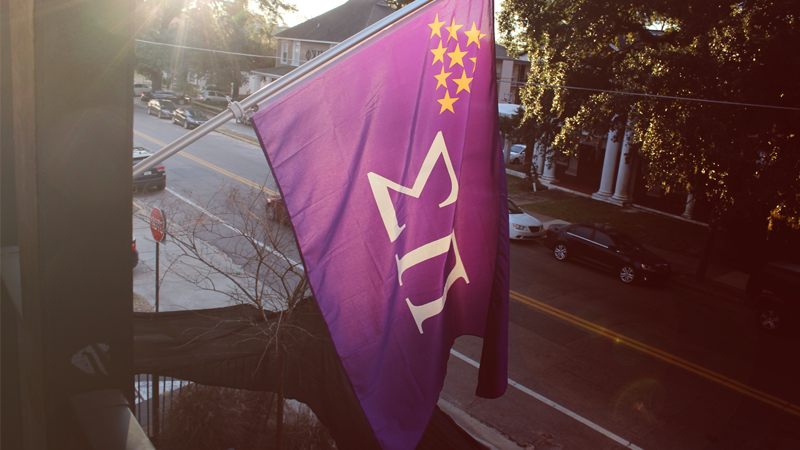 Province Archon of the Quarter
Paul Ke (Purdue '88)
Paul Ke has exemplified great values of the fraternity through his time with his undergraduate chapters in the Missouri Province. After chapter visits, Brother Ke would not only have meaningful conversations with the undergraduates but communicates meaningful observations back to the Executive Office. This moves the fraternity toward providing a better experience for our undergraduate's health, safety, and development. Areas of opportunity for the chapter, asking for clarification on current Executive Office requirements, and frequent communication overall, are just a few examples of his volunteership. With many great candidates to consider, Brother Ke truly stood out this past quarter. Thank you Brother Paul Ke for all the excellence you do for our organization.
Chapter Director of the Quarter
Guy Madsen, Sr. (FDU-Metropolitan '84)
Since stepping into his position as Iota-Iota Chapter Director, Guy Madsen has been an extraordinary alumnus for not only Montclair, but also our Fraternity on a national level. As the Chapter Director for Iota-Iota, he has advised the chapter on many different areas since taking on his new role including: finances, recruiting, philanthropy/community service, and building relationships between the chapter and alumni. Since he is an alumnus from our Epsilon-Xi chapter at FDU-Metropolitan and his son was initiated at our Delta-Beta chapter at Monmouth, Brother Madsen has played a huge role in supporting the New Jersey Province. Additionally, he has been an active alumni supporter for our Colony at the University of Maine, especially in getting them a house on campus, working alongside PGS Ed Levesque (Bridgewater State '89). Due to his efforts as an alumni volunteer, Brother Madsen is deserving of the title, Chapter Director of the Quarter. Thank you Brother Guy Madsen for everything that you do for the Fraternity.
Sage of the Quarter
Tier I: Kyle Singletary (Alabama '16)
Kyle Singletary has truly been making strides to get Theta-Omicron chapter to be one of the top-tier organizations at Alabama. He has been working with his EC and chapter to create a new identity and image for the chapter. Along with recruitment, Kyle has ensured that the chapter is going above and beyond in their Greek community. They have established great relationships with the other Greek communities and are looking to get more involved in community service and philanthropic efforts. They have created a new event known as "Sonny Days" in honor of their late brother and former Director of Chapter Management, Sonny Age, where the focus is on mental health, specifically suicide awareness and prevention. Kyle continues to better his chapter in all aspects on a daily basis as he hopes to build a strong, sustainable chapter for years to come.
Tier II: Ben Oliver (Wake Forest '18)
Ben Oliver has continued the success of his predecessors within Alpha-Nu chapter and exceeded expectations. Taking many credits, working part-time, and being involved on campus, Ben has become a true leader both in his chapter and at WFU. The chapter had a strong recruitment class and are continuing to be one of the best IFC fraternities on campus. Their involvement with philanthropy and community service along with their relationships with other RSOs on campus, have given them a positive identity on campus and by other Sigma Pi chapters. Overcoming obstacles along the way, Ben has proven that he is worthy of Tier 2 Sage of the Quarter, with his sights set on bringing the Grand Sage Cup to Alpha-Nu chapter, come Convocation 2020 in New Orleans.
Tier III: Shannon Chesterfield (Southern Indiana '17)
Not only has the Theta-Psi chapter had excellent recruitment, beating their two-year average, but has shown great initiative to direct their chapter in a new way. Shannon has worked closely with his EC and chairmen to put on events for the chapter by starting new tactics. Shannon practices balance of overseeing the chapter operation, and allowing the brothers to be creative in their positions. When conceptualizing a Sage performing well in their role, Shannon's drive sticks out due to his attention to detail on a daily basis for his chapter.
Tier IV: Jason Fimbres (Cal State Dominguez Hills '17)
While most undergraduates were enjoying a well-deserved summer, Jason Fimbres, the Sage of the Cal State Dominguez Hills chapter, was planning out the fall semester and engaging in transitioning. Jason understands that being a Sage is not just simply a president of young men enjoying brotherhood in their undergraduate years. Jason sees his chapter as an organization to develop. Most Sages would share the same mindset, but what makes Jason unique is his ability to seek guidance from all areas to get what he needs done. After a few calls to the Executive Office, it was clear that Jason has shown attention to detail, protection of his chapter, and bouncing off ideas to see results.