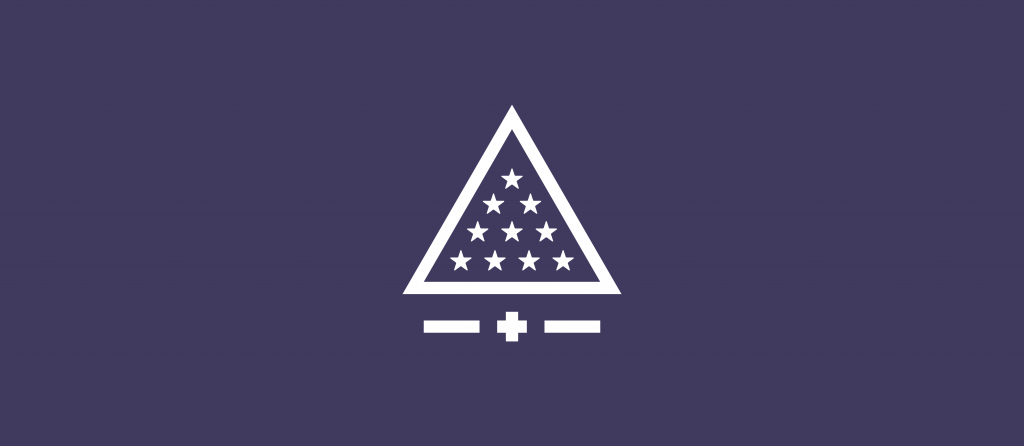 In case you missed it, the following feature is in the Summer 2021 issue of The Emerald. To read the issue, visit here.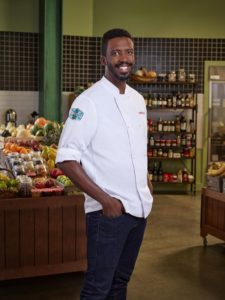 Q&A with the Restaurateur and 'Top Chef' Competitor
Meet Chris Viaud (Johnson & Wales '09), owner of two restaurants (Greenleaf and Culture), 'Top Chef' contestant, father, and proud member of Sigma Pi. Did we mention he's accomplished all this by 30? While the pandemic set many back, Chef Chris didn't let it slow him down! Chef Chris sat down with us to share his experience as a brother, how he opened his second restaurant during the pandemic and competed in season 18 of Bravo's 'Top Chef.'
FRATERNAL EXPERIENCE
What does it mean to you to be a Sigma Pi?
I joined Sigma Pi in 2009 [at Johnson & Wales], and it was the time of my life. The bond of brotherhood is real, and I am extremely grateful for that opportunity as an undergraduate. That was a time of meaningful growth for personal development while also interacting with people who shared the same mission of camaraderie and community service. I am so grateful I still have connections with those brothers.
If you could give any advice to the younger version of yourself or to an undergraduate now, what would it be?
Take advantage of all the opportunities at the school, whether it be additional learning services or community development; take charge of your own actions, but make sure you're having a great time while doing it.
LIFE AS A RESTAURATEUR
You've opened two restaurants before the age of 30. How did you accomplish these milestones at such a young age?
To open two restaurants before 30 was an incredible feat for me. It was just a case of being in the right place at the right time and knowing the right people. You just need to put yourself out there and be vulnerable. Involve yourself with the people around you, and it will pay off.
Tell us about your first restaurant, Greenleaf.
Greenleaf is an upscale farm-totable experience that is seasonally inspired. The goal was to be involved in the community and get the best food in the area.
Culture Bread is the sister restaurant to Greenleaf. How did it come to fruition?
Culture is a bakery and sandwich shop that came out of necessity. We were making our own bread for Greenleaf, and there were no sandwich shops around, so I decided on Culture. We're now able to utilize products that would have gone to waste prior.
How were your businesses affected during COVID-19?
At the beginning of Covid, Greenleaf had a dramatic drop in sales, but once forced closure came, we switched to take out. Greenleaf was not prepared. We hardly had any togo containers to begin with, so we decided to shut down for two days, scratch the entire menu and create something new, specific to take out only. Letting staff go was hard, but by June, we picked back up on a smaller scale. Culture opened in August 2020 and was perfectly suited for the quick "grab and go" experience that came with the pandemic.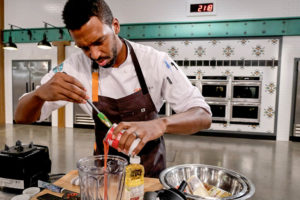 TOP CHEF COMPETITION
What was it like coming into the competition? Were you excited, nervous, or a mix of both?
All of the above, every emotion you can feel, I felt. I was very anxious and nervous the entire time. There's no amount of preparedness to get you ready, and there is so much involved physically and mentally. It's a balance of knowing you're gone for an extended period while figuring out how to put your best foot forward and then knowing 'I am worthy of competing on Top Chef.'
Your season was filmed amidst the pandemic. What was that like?
It was completely different from past seasons. Production did an excellent job taking steps to keep us safe; we always wore masks while we weren't filming.
In a trailer, judge Tom Colicchio says, "this could be one of the best collections of chefs we've had in 18 seasons." What does this mean to you to be a part of this?
That gave me the chills to hear him say that. We went through a lot to get here and be able to stand in the Top Chef kitchen and to hear Tom say that was a feat on its own. Thinking of prior seasons' chefs, it was great to hear.
COOKING
What is your favorite dish to cook?
Tough, tough question, but I'd have to say our signature from Greenleaf. It is herb-crusted cod with spring vegetables.
The easiest meal for a Sigma Pi undergrad to cook?
Soup is the easiest thing. You can utilize scraps and things in your fridge from previous meals and just have fun with it. You could go for a simple puree or chicken noodle soup!
Season 18 of Bravo's 'Top Chef' premiered on April 1, 2021. Chef Chris had a tough start facing elimination in two of the first three episodes but persevered for nine weeks of competition until he was asked to "pack his knives and go" after his pasta dish fell short in his last competition. Visit Chef Chris at Greenleaf or Culture, both located in Milford, New Hampshire.