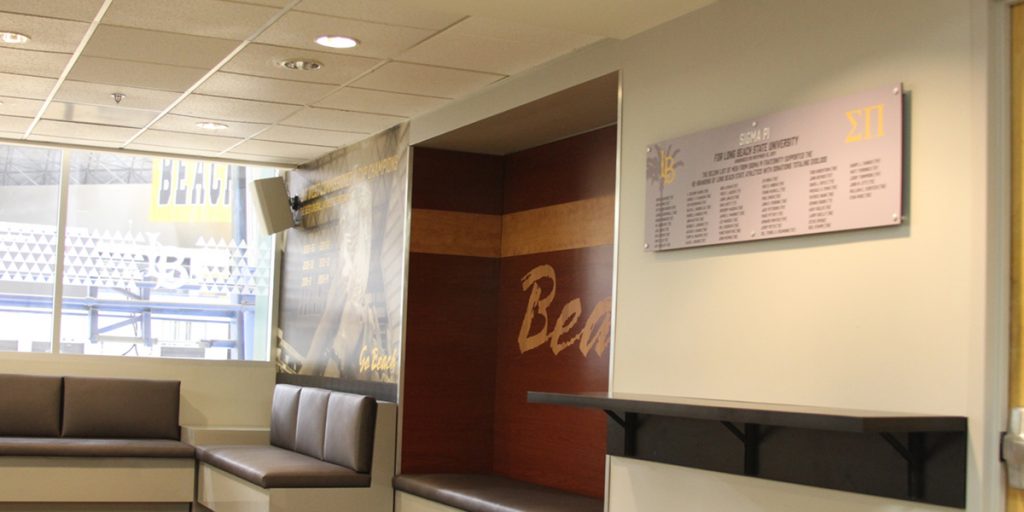 At Long Beach State, 56 Sigma Pi alumni brothers joined forces financially to leave a legacy that scored points bigtime on campus and will greatly benefit the brothers who follow.
It all started when alumni from Sigma Pi toured the school's Pyramid where home basketball and volleyball games are played. Mike Ryan (graduating class of '63) noticed that there were no Fraternity or Sorority organization names on the donor boards in the hospitality suite. Pete Boothroyd ('64), Nelson Farris ('69) and Ryan decided that should be changed by Sigma Pi, even though the minimum to qualify was $100,000.
Pete and Nelson discussed a donation with Athletic Director Vic Cegles, who gave a very positive response: "this gift from a [Fraternity] is the first group gift of its kind." This providing more positive exposure for Sigma Pi than could have ever been hoped for. "Your donation will play a major role in re-branding the school's athletics history and success." By working with the Athletic Department to round up contributions during most of 2014, not only was Sigma Pi honored with a sign in the hospitality suite, but also in two additional locations near the entrance to the Pyramid for a total of three signs.
In addition, Sigma Pi donors were invited to present the $100,000 check at midcourt during the homecoming basketball game before 4,500 fans.
The following week when Long Beach State played Kansas State, Vic Cegles thanked Sigma Pi for its generous "first ever" donation during a halftime interview on national television. Even the new university president, Dr. Jane Close Conoley, praised Sigma Pi for what we have done for the school, for taking the Fraternity and Sorority system to a new level on campus.
With the legacy signage now in place, the active chapter will be able to use this alumni gesture for many years to come as they attract and rush the very top candidates available to join the best fraternity on campus… Sigma Pi.
Note from an alumnus of the Chapter – "Some of the new pledges mentioned that their parents told them to join Sigma Pi because they were at the homecoming game! Good work!"