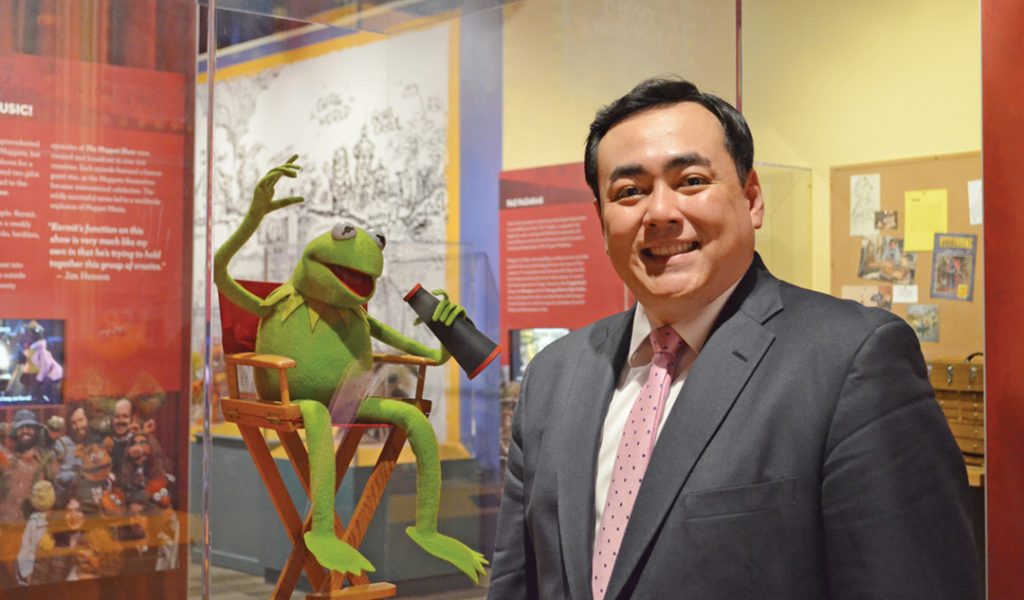 This story was printed in the Fall 2016 issue of The Emerald magazine.  If you do not receive printed issues of the magazine, but would like to, then please opt-in at sigmapi.org/updateinfo.
When University of Georgia alumnus Allen Yee (Georgia '99) learned a museum to house his favorite childhood characters was to be built, he knew he had to be involved. So in 2012, he joined the Board of Directors of the Center for Puppetry Arts in Atlanta as it launched a massive expansion dedicated to the work of the world's most famous and beloved puppeteer Jim Henson. Working with the Henson family, the Center opened the official World of Jim Henson museum three years later to much fanfare (including features in Smithsonian Magazine and national television coverage on CNN) selecting Yee as its new Chairman in the process.
The $15 million dollar, 15,000 square foot, "Kermit-green" wing houses the definitive collection of Jim Henson's work with memorabilia such as his Emmys, original artwork, and even the desk from his office. Interactive exhibits, including a puppet workshop and a TV studio allow school children to try their own hand at performing with puppets on camera. The highlight of the collection are originals of popular characters like Miss Piggy, Big Bird, Cookie Monster, and of course Kermit the Frog. "It is only one of three places in the world the public can see Henson's original work, one of the others being the Smithsonian, so we are in good company" explains Yee, who adds "but our collection in Atlanta is the biggest and best." The Center expects to host over 250,000 visitors annually at the new attraction and its existing arts and education offerings.
Jim Henson educated and entertained generations of children and adults alike. Programs like Sesame Street, Fraggle Rock, and the Muppet Show as well as his work on movies like the Dark Crystal and Labyrinth have been seen around the world. "The world loved Henson and his creations and mourned his sudden death in 1990. It is a great honor to have his work permanently showcased in Atlanta" says Yee. "And it is humbling to be entrusted with helping ensure those priceless treasurers continue to educate and entertain for years to come."
For Yee, an attorney at The
Coca-Cola Company, ensuring that future generations have access to education and arts is not just limited to Muppets and Fraggles. He also serves on the boards of the Sigma Pi Educational Foundation, The Atlanta Opera, and is an active alumnus and generous supporter of his alma mater and chapter. For his community leadership, Yee was recognized by the University of Georgia Alumni Association in 2013 as one of its "40 Under 40" outstanding young alumni.
"Sesame Street was my favorite educational show as a child and I studied for seven years at the University of Georgia" says Yee. "It is fitting that my way of giving a little back to education is helping out with Jim Henson's museum, the University, and of course Sigma Pi."
Have a story you want to share? Submit it to us at theemerald.org/submit. It may be featured here on The Emerald Online, or in one of our printed issues of The Emerald magazine. If you do not receive the printed issues, please opt-in at sigmapi.org/updateinfo.