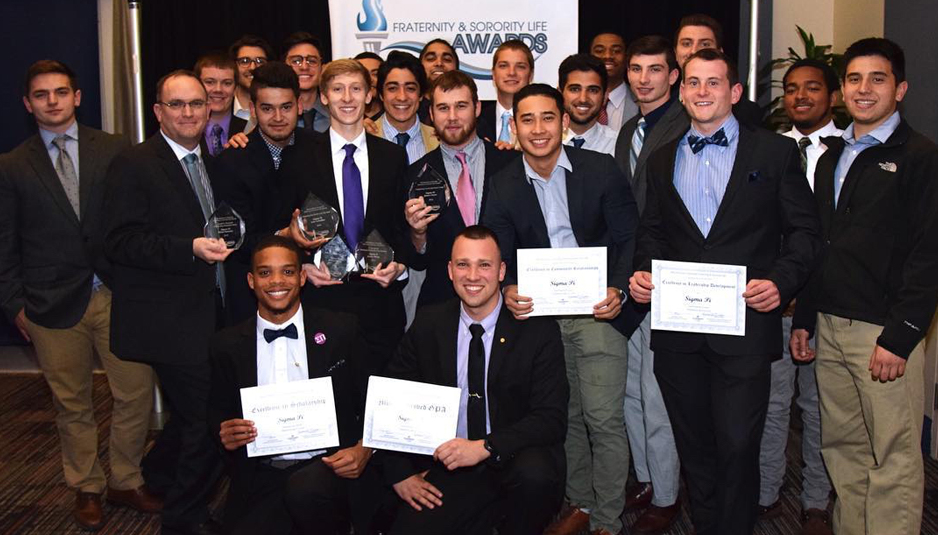 Theta-Eta Chapter (Old Dominion) and it's members took home six awards at the Fraternity & Sorority Life Awards hosted on April 11, 2016. ODU's Fraternity & Sorority community hosts an annual awards ceremony to recognize organizations on campus that are successful in many different ways, including community outreach, new members, and service for others.
Most Improved GPA – Fraternity
Philip "Tip" Connell Award – James Kling
Donald K. Marchand Outstanding Alumni – Dr. Brian Kurisky
Outstanding Community Service – James Snow
Outstanding New Member, IFC – Luis Ceballos
Dr. Dana Burnett Outstanding Fraternity Man of the Year – James Kling
The Old Dominion Fraternity & Sorority Life community participates in an annual comprehensive standards evaluation that focuses on the following core principles: Scholarship, Community Relationships, Leadership Development, and Integration of Values and Purpose. This comprehensive model includes a self-evaluation, peer presentation, stakeholder evaluation, and administrative evaluation. Theta-Eta Chapter achieved excellence in the following area(s):
Scholarship
Community Relationships
Leadership Development
In addition to being recognized at the Fraternity & Sorority Life Awards, the chapter's accomplishment for achieving excellence in one or more area of the Standards Evaluation will be acknowledged as part of the Student Engagement and Enrollment Services Awards Ceremony on April 19.
To learn more about our Fraternity & Sorority Life Awards and their criteria please visit ODU's Fraternity and Sorority Life blog.