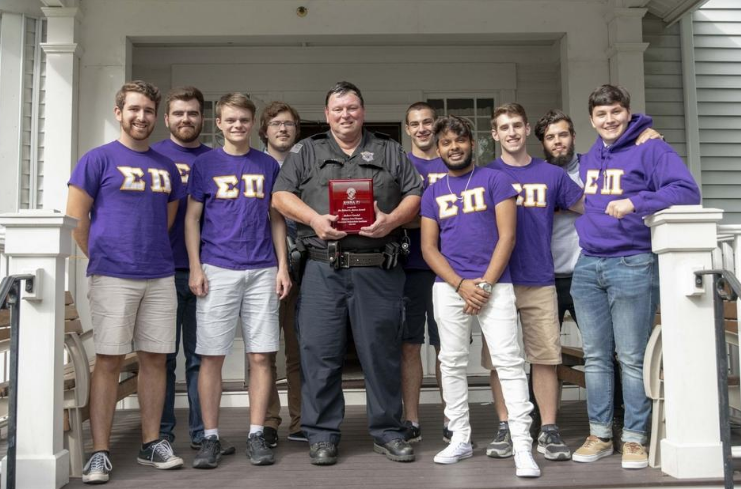 Editors Note: The section below originally ran in an article on telegram.com and was written by Bonnie Russell.
Worcester Polytechnic Institute campus police Officer Robert Vandal never expected to be a fraternity advisor, let alone an award-winning one.
He has faithfully served as the advisor to Gamma Iota, WPI's chapter of Sigma Pi, for almost a decade and a half and recently received the Dr. Robert L. Burns Award for his dedication.
Officer Vandal, who has spent more than four decades in public safety, the last 23 of them with campus police at WPI, became a familiar face to WPI's fraternity community when he served as a liaison for campus Greek Life, giving safety talks and risk management training to each campus chapter. In 2004, a couple of members of Sigma Pi asked him to serve temporarily as their adviser.
"I didn't know if I could do this as a police officer," Mr. Vandal said, recalling that he checked with WPI Police Chief Cheryl A. Martunas and was given the go-ahead to assume the role of adviser, a position he thought would be very brief.
A few weeks turned into three months and then six months and finally Sigma PI announced it had arrived at a decision for a permanent adviser. Their choice surprised Mr. Vandal.
"They wanted me. I agreed to try it for a year," Mr. Vandal said.
Fourteen years later, Mr. Vandal is still offering advice and serving as a liaison between the fraternity and the university, and, most important, being a mentor and offering a listening ear.
Not only do the fraternity members cherish his advice, they have welcomed him as a brother.
In 2008, Sigma Pi member David Magnano, then a WPI senior and now alumnus and New England province archon (a volunteer position as head of alumni volunteers for the New England Region), proposed that Mr. Vandal become a brother.
The vote was unanimous to extend an invitation to Officer Vandal, and after going through the proper channels he became a full-fledged brother of Sigma Pi and "he became my little brother," Mr. Magnano said.
Almost 10 years later, Mr. Magnano nominated Mr. Vandal for the Burns award, a biennial award given to a fraternity adviser who increases and supports scholarship and/or enhances university relations, and who has a close relationship with his campus chapter.
Thomas White, president of WPI's Gamma Iota Chapter of Sigma Pi, said of the relationship, it's a "bond that is really special to a lot of members. We really like meeting Officer Vandal up on the hill. It really brightens our day."
The feeling is mutual for Officer Vandal. "I've been an officer for 40 years and there are kids on campus who are 40 years younger. To think they choose to be a lifelong friend," Mr. Vandal said, adding that after the students graduate many become his Facebook friends.
Mr. Vandal says he plans to keep advising Sigma Pi until he retires.