Bayard Membership Experience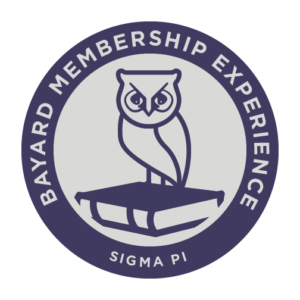 About the Program
The Bayard Membership Experience is an innovative new program that impacts the lives of brothers on and off campus, as well as university partners and communities at-large. The six-week comprehensive course was developed to educate and support prospective new members as they transition into brotherhood. However, the initiative, which has opportunities for in person and virtual learning, will have a tremendous ripple effect on all those associated with Sigma Pi.
---
Prospective New Member
For new members joining the organization, the Bayard Membership Experience was developed to enhance the educational aspects of Sigma Pi, while making the process more accessible for all. Fresh, consistent and relevant content focused on personal growth, financial literacy, time and stress management as well as Greek life will be delivered to new members in a sustainable, easy to digest format.
Key takeaways:
Robust, comprehensive online learning program tailored to the needs of new brothers in today's world.
Real, applicable resources for personal skill development, leadership training and college and career success.
---
Alumni
Even though the Bayard Membership Experience was specifically crafted to connect with today's college student, alumni can also benefit from and support the program. Due to the flexible nature of the online experience, there are opportunities to expand the curriculum based on alumni knowledge and even create mentorship programs for continued brotherhood development from college through career.
Key takeaways:
Opportunities to shape curriculum to ensure continued preparedness for college and career.
From education assistance to voluntary giving, alumni can leave a legacy on a brother's future.
---
Campus Professionals
The Bayard Membership Experience will not only build better brothers but it will also foster a better Greek life, campus-wide. In fact, the goal of the program is to provide content that introduces new members to fraternity values and delves into important topics for personal growth and safety. Thus, removing a layer of education and responsibility that often falls on campus professionals. Understanding and innovating on student's needs and expectations for learning will provide chapters with new avenues of development, strengthening their ability to live up to the purpose and principles of Sigma Pi.
Key takeaways:
Greater fraternal responsibility and enhanced educational initiatives to ensure a safer campus community.
Content created specifically to speak to real-time campus challenges and solutions.