Spring 2020 Graduate Recognition
Congratulations, Graduates!
As our lives have transformed over the past few months, we want to take the time to recognize the spring 2020 graduate members of Sigma Pi. Thank you to all the members who completed our questionnaire on what your experience with Sigma Pi means to you. We hope that you and your chapter brothers will take the time to reflect on your impact on your local brotherhood, and the impact that brotherhood made on you, during this period of time.
As always, Sigma Pi is for a lifetime, and we welcome you to join 100,000+ other brothers who moved into the Omega status within the organization.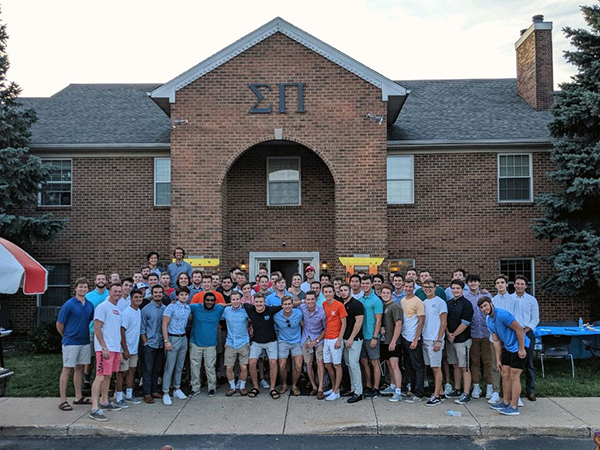 Jacob Young (Grand Valley State '16)
"The development I went through as a Sigma Pi is something that I will cherish for the rest of my life. Not only did I meet friends that I will have for a lifetime, but I really think I became a better person. I became more confident, more social, and better prepared to be successful later on in life."
Trey Martin (Washington State '17)
"This house saved my life. The friends that I have made in this house are the best friends I could have asked for. Having brothers like this has motivated me to try for a better relationship with my blood brother.You never get these four+ years [of college] back. And looking into the void of adulthood is scary, but I'm proud to say that being a brother of Iota-Nu Chapter has made me a better man, a better person. Through all of the glorious highs and the lowest lows I've ever felt, my brothers have been there for me. I love you all, and this house means more than words could have expressed."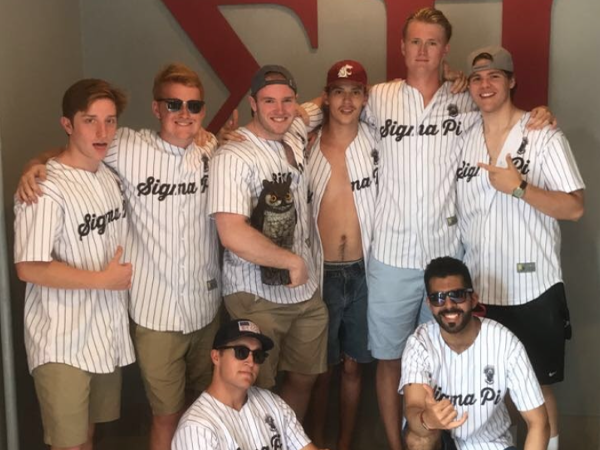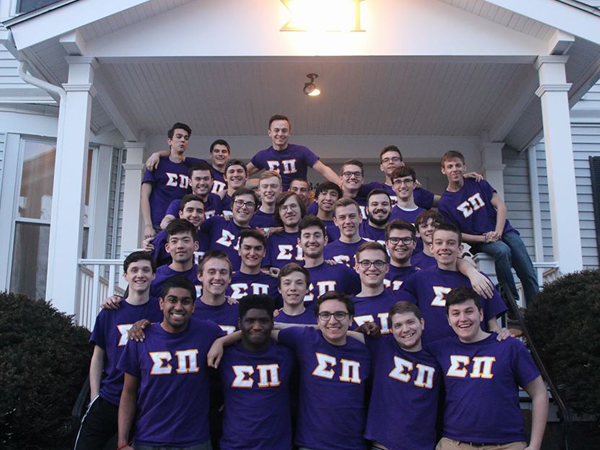 Bailey Joseph (Worcester '17)
"Sigma Pi has given me everything and more I could ever need or want in my collegiate years. All of my best friends are brothers I was initiated with. As more classes of Gamma-Iota Chapter came into our house, I got more and more friends I would never have met otherwise. I have traveled the world with my brothers, and I would not have wanted to do it with anyone else. I did not join Sigma Pi for the letters on the house; I joined it for the brothers."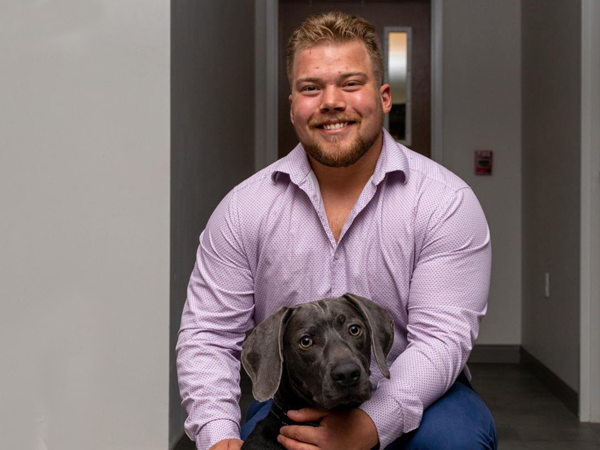 Mason McGavock (Missouri S&T '15)
"Filled with fun yet trying times, Sigma Pi turns boys into men. Being a part of a larger organization has helped me lead meetings in the job force during internships and co-ops, how to show myself professionally, and learn to deal with tough times. I grew up as an only child, so working well within a team was always my greatest weakness. The Fraternity changed that quickly, and now I am often the first choice for team leads in projects at work or in school. Without Sigma Pi, I would not be the man I am today. I owe much of my professional attributes to the lessons I learned as a brother of Sigma Pi."
Quincy Gonzales (Cal State Fullerton '16)
"During my undergraduate years in Sigma Pi, I was able to have many opportunities that benefited my professional endeavors. I was the Public Relations chairman for two years, being in charge of social media management, content creating, promotions, campaigns, and branding. With that background, I was able to obtain two professional internships with social media management. I was then elected as the Director of Public Relations for the university's Interfraternity Council, which governs all fraternity chapters on campus."
Kyle Rosa (Fitchburg State '18)
"Joining Sigma Pi resulted in a total 180 in my life. I have so much going for me after joining. I became a better man as a result. I became better socially, and I found friends I otherwise would not have found had it not been for this Fraternity. It taught me what it means to be a good leader and what it means to work hard. It allowed me to discover these things through experience and gave me a platform to leave my mark on. What began as an attempt to be active on campus has resulted in my personal transformation as a person, and it will no doubt have a profound effect on my future success."
Beau Blazek (Iowa State '17)
"Overall, I have thoroughly enjoyed my experience as a member of Sigma Pi the past four years. I am grateful for the countless life long friends that I made from being a member, not only within the chapter but in other fraternities and sororities as well. Being a member of the greek community has been such a great and rewarding experience. I would recommend it to all incoming freshmen, and I can guarantee they will not regret it."
Ernesto Goldberg (FDU-Florham '17)
"The best experience in my life so far. I never thought I would be a Founding Father of a fraternity, but here I am, three years later leaving the chapter I founded. The Iota-Phi Chapter has given me so many memories, my fellow founders, and I have been through many hardships, but we've also had good times. Being in Sigma Pi will always be an invaluable experience to me, I have brothers for the rest of my life and memories I'll never forget."
Jorge Montemayor (Houston '16)
"Being a member of Sigma Pi for the past four years has definitely been one of the best decisions I've ever made. I've had countless leadership opportunities leading within my own chapter as Herald and 4th Counselor, as well as leadership experience on the IFC board. Truly it has given me a group of brothers to rely on, and I look forward to furthering the goals of Sigma Pi as an alumnus."
Chris Tracy (Worcester '19)
"To keep it simple, Sigma Pi was a place where I could grow into a man. It was a place to make mistakes, learn, and be a better person."
Nathan Graziani (Cal Poly '17)
"I loved my experience, it was the best decision I made in college."