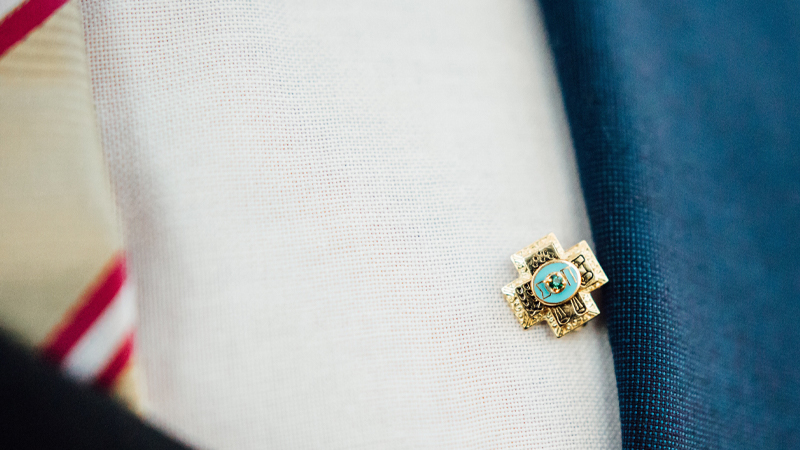 If you know a volunteer or undergraduate who should be recognized in the Quarterly, fill out this simple form. The volunteer recognition is not limited to Chapter Advisors and Province Archons, and the undergraduate recognition is not limited to Sages.
Volunteer of the Quarter
With Many Hands
Bob Blake (Sacramento State '88) on the Importance of Alumni Connections
"The benefits of a fraternity are endless, and it's really true that the more you give, the more you get." Bob Blake (Sacramento State '88) got much out of his Sigma Pi experience, including as chapter president of Eta-Alpha. His brothers have remained close for generations, thanks in part to Sacramento's local group, the River City Alumni Association.
"We were fortunate to have had previous leadership help keep us connected as alumni," Bob said. "It's just an honor to do my part in continuing our strong traditions.
Right now, the association's priority is helping Eta-Alpha return to campus. Alumni are enthusiastic about the cause, which has helped the association grow as well! Its contact list has grown by the day thanks to many devoted Eta-Alpha alumni and some help from the national office.
"With many hands, the lifting is light," Bob said of the group. "Julian Wyer ('08) is working day and night, mining the alumni lists we have received from national. Mac Contreras ('07) is planning every step of the process for these new members and has a full advisory board setup to help them going forward. Lawrence Hemsley ('93) has helped us incorporate as a nonprofit and open a corporate bank account. Hopefully, our path will be a strong blueprint for other new and returning chapters."
Bob knows that our lives all have different chapters, some of which leave little time for Sigma Pi, but his own experience shows how the brotherhood is always there when you're ready.
"I've attended several events where nobody from 'my time' was there, but it doesn't take long to find out we all have something in common and have a great time," he explained. "That's a great thing to have when we are in the tough chapters of life."
Eta-Alpha's journey has shown Bob and his brothers how large Sigma Pi truly is; people can often recommend potential brothers to another chapter somewhere in the nation. "Think how you could change the life of that one young person for the better."
To connect with Bob (or send a recruitment recommendation for Sacramento State), write him at 1bob.blake@gmail.com.
---
Undergraduates of the Quarter
Fore a Great Cause
Theta-Rho Golf Outings Support The Hero Foundation
"I really gained a sense of purpose within myself, and I think I can speak for the whole chapter when I say everyone else felt that too. Turning a round of golf into a philanthropy event that raises both awareness and money for a great cause is what really motivates us to keep putting on this event." –Kevin Caballero (Grand Valley State '21)
Service is a core value of Sigma Pi instilled in undergraduates from the day they join. For Theta-Rho Chapter members at Grand Valley State University, a particular partnership with The Hero Foundation has grown over the years. The organization's goal is simple: provide financial assistance to Michigan families dealing with cancer.
Who Are the Heroes?
"Every person involved in getting The Hero Foundation off the ground has a connection to Grand Valley in some way," said Adam Henige, president of The Hero Foundation West Michigan. Adam is a member of the Grand Valley State University Alumni Association, and he is proud to keep that connection with the University through Sigma Pi.
Approached by Theta-Rho Chapter in 2019 for a local philanthropy partnership, the foundation was glad to work with undergraduates and alumni in organizing an annual golf outing. Adam was impressed by the chapter's organizational skills throughout preparing the event.
"The planning process was very collaborative," said former Chapter President Kevin Caballero (Grand Valley State '21). "I worked alongside Vice President Max Tyree (Grand Valley State '21) and Philanthropy Chairman Devyn Henson (Grand Valley State '20) to set up the whole thing. When you put in a lot of hard work, it develops a deeper connection with the cause."
Sigma Pi Support
The Hero Foundation is 100% volunteer-based, relying on the hard work of people committed to supporting these families in need. Theta-Rho's undergraduate members have many aspects of college life to balance, but Kevin recognized the importance of brothers taking time to impact the lives of local families.
Even during COVID, Theta-Rho stepped up to help when The Hero Foundation needed support. Fraternity events played a major role in ensuring smooth operations during a turbulent time.
"We were able to help multiple families through the holidays with the money we raised even in the first year," Adam mentioned regarding Theta-Rho's first golf outing. The holidays are a challenging time for any family, especially those with a loved one battling cancer, so fundraising assistance from Sigma Pi proved especially beneficial.
Connections through the Cause
Theta-Rho's annual golf events aren't just an opportunity to work on one's game while raising money—the outings bring alumni and undergraduates together to share values of brotherhood and service.
"One of my favorite parts about being in a fraternity is the long-lasting connections you build with people," Kevin said, appreciating the chance to bring brothers together alongside The Hero Foundation. "Setting up this event is going to be something I talk about at my wedding and tell my kids about."
Volunteers at The Hero Foundation find motivation in the energy that Theta-Rho brings to their partnership, and Sigma Pi is proud to help the organization continue their mission to help families.
You can connect with Adam at ahenige@netvantage.me and Kevin at caballero.kevin019@gmail.com.